GVL | Seymour remains on top with scrappy win over Mansfield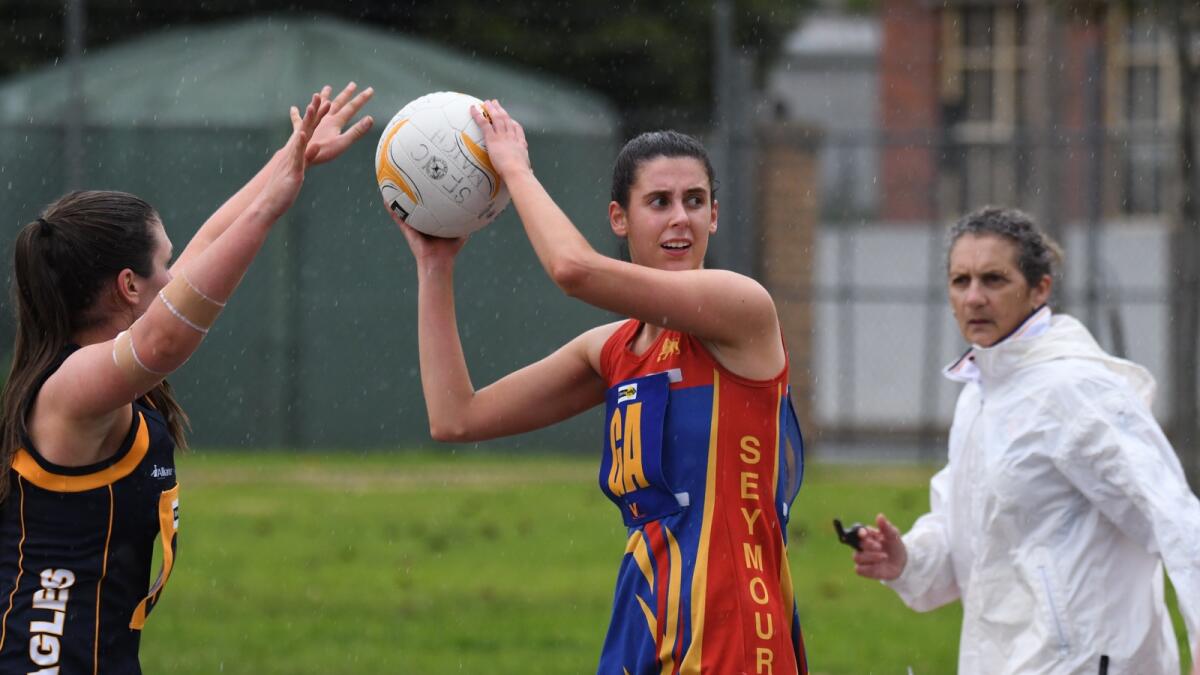 Seymour maintained its stranglehold on top spot of the Goulburn Valley League A-grade ladder with a clinical 61-35 win over Mansfield at Kings Park.
Braving the cold and wet conditions, Seymour was challenged for much of the first three quarters by the young Eagles, who to the surprise of many found themselves within 12 goals halfway through the third term.
But the class and experience of the Lions came to the fore in a brutal last quarter as they celebrated the 150-game milestones of stalwarts Sarah Szczykulski and Georgia Engel in fine style.
Seymour coach Ellie O'Sullivan said it was a professional outing from her team.
"It was really good. It was a really solid performance from Mansfield who kept us guessing, so for us to rise to that challenge was very pleasing," O'Sullivan said.
"We tried a few different combinations today which I was impressed with, while we also welcomed Ella Tenant back into the team after a few weeks.
"Overall it was a positive day for us as we continue to build."
Despite coming away with a 26-goal win in the end, O'Sullivan admitted there were still some areas the Lions needed to clean up as they continued their push to finals.
"We just wanted to shorten our game up a bit given the wet weather conditions," she said.
"We probably could have adapted a little bit quicker than we did today, but Mansfield kept coming at us which forced us to really battle hard there.
"There are some areas we will keep looking to improve moving forward."
As for the standout players on the day, O'Sullivan said it was her fellow goaler who led the way with a dominant display of shooting.
"Jess Lallo got our best-on-court today after another dominant performance," she said.
"I thought she was really confident in the ring, shot the ball really well and was fantastic in directing our offensive structure."
Making the win all the more special was two of the club's favourite characters marking their 150-game milestones, with a packed crowd gathering to celebrate the occasion.
O'Sullivan said it was satisfying to get the result for Szczykulski and Engel on their special day.
"It was really nice to get the win for both of those girls," she said.
"They are both much-loved around the club and put in great performances, which was great to see."
It was a dominant day all round for Seymour on the netball courts with all five of its teams recording victories.
The under-15 clash was the highlight of the day, as the Lions claimed a thrilling 30-29 victory on the back of a best-on-court performance by Lucinda Salmon.
The B-reserve girls prevailed in similar circumstances, coming together late to win 47-45.
B-grade was dominant in its efforts, recording an 88-32 victory, with Lucy Zott putting in a clinical performance.
The under-17s also showed their class with a big 53-20 win.