Umbrella unfolds an amazing story
The invention of the foldable umbrella, the Tatura Internment Camp and the creative and artistic exodus from Austria prior to World War II come together in a remarkable new musical based on the book Driftwood.
Acclaimed soprano Tania de Jong is not just part of the cast of Driftwood – The Musical, she is a part of the story.
Slawa Horowitz-Duldig, whom she plays in the musical, is her grandmother, the inventor of the foldable umbrella who fled Austria with her sculptor husband, Karl Duldig, and eight-month-old daughter, Eva (Tania's mother).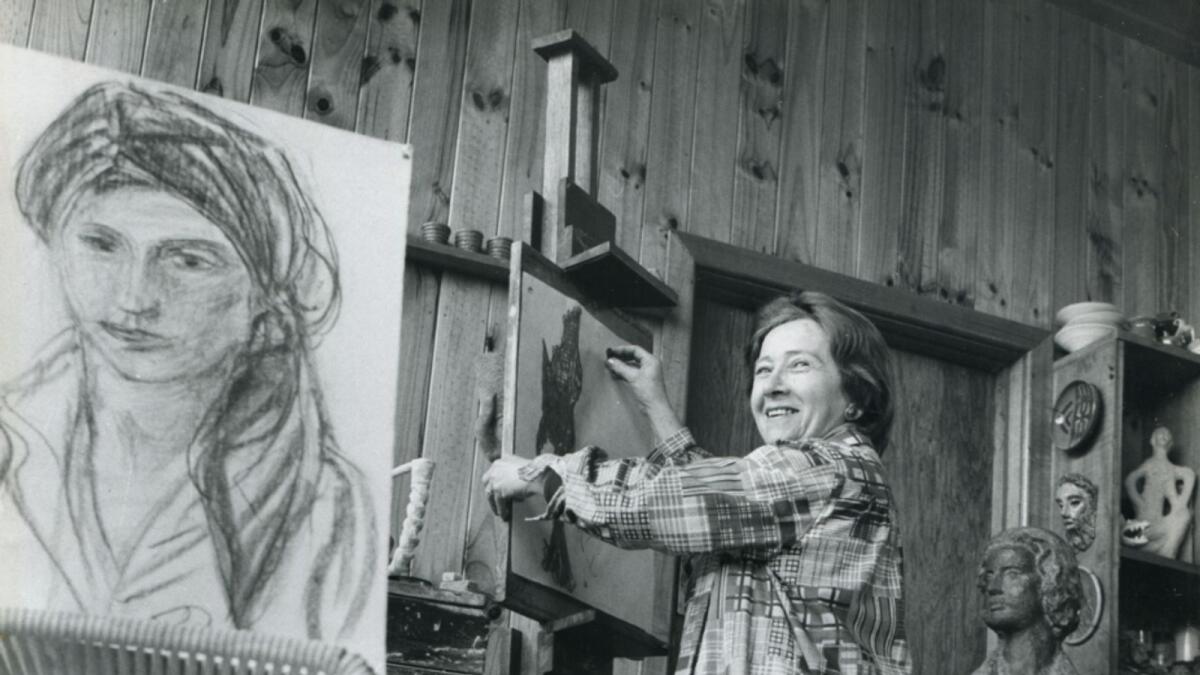 "My grandparents were born in Poland but went to Vienna as children and met as students at the art academy," Tania said.
"They met and fell in love and went on dates to museums and galleries."
On one of those occasions, Slawa was frustrated by her large and cumbersome umbrella and wondered aloud why someone didn't invent one that would fit in a handbag.
"She purchased some umbrella spokes and started experimenting for months until in September 1929 she patented the 'flirt', a foldable umbrella," Tania explained.
Royalties from the invention helped Karl and Slawa establish themselves in Austria's thriving arts community.
In 1938 Germany invaded Austria and Jews were expelled from all cultural, economic and social life; they were hounded on the streets, their property was confiscated and many were summarily imprisoned.
Those with the means fled and some like the Duldig family were very lucky.
Karl modelled a bust of an immigration official who helped them get to Switzerland and then they went on to Singapore.
"Once again they were forced out, but in a sense it was lucky because it was just before Singapore fell," Tania said.
The family arrived in Australia on September 18, 1940, aboard the former luxury liner Queen Mary, which had been converted into a troop ship.
Classified as 'enemy aliens', the family was sent to an internment camp at Tatura.
"They were behind barbed wire with searchlights and guards, they were in that camp for two years," Tania said.
Upon release they established themselves as artists and teachers in Melbourne and the home they eventually purchased in East Malvern is now the Duldig Studio - a public museum and art gallery.
Tania said while the story dealt with dark times, it was still uplifting.
"There are so many themes: resilience, survival, love, freedom, and family," she said.
"It is just an incredible story, the triumph of good over evil, finding and establishing a new home again where you can feel at peace, invention and creativity and how art helps us to find our sense of place and hope.
"The music is divine, it is a tragic story in parts but it is also uplifting, there is light as well as darkness and a real spirit of redemption in the musical."
Approximately one third of Austria's Jewish population perished in the Holocaust.
Slawa lost contact with her sister Rella and each thought the other had died. Separated in 1938, they would be together only once again, in 1968 in Paris.
"We must never forget that when we ostracise people and create different classes in our communities that can lead to terrible atrocities, so this is also about tolerance, inclusion and celebration of diversity," Tania said.
Driftwood – The Musical is playing at the Alexander Theatre at Monash University on May 13 and 14 and at Chapel Off Chapel in Prahran from May 18 to 28.
"Hopefully we can bring it to Shepparton too, but I would really like to invite people to come down, it is a wonderful opportunity for the community to come and see see this show and visit the Duldig Studio," Tania said.
Details and bookings at www.driftwoodthemusical.com.au