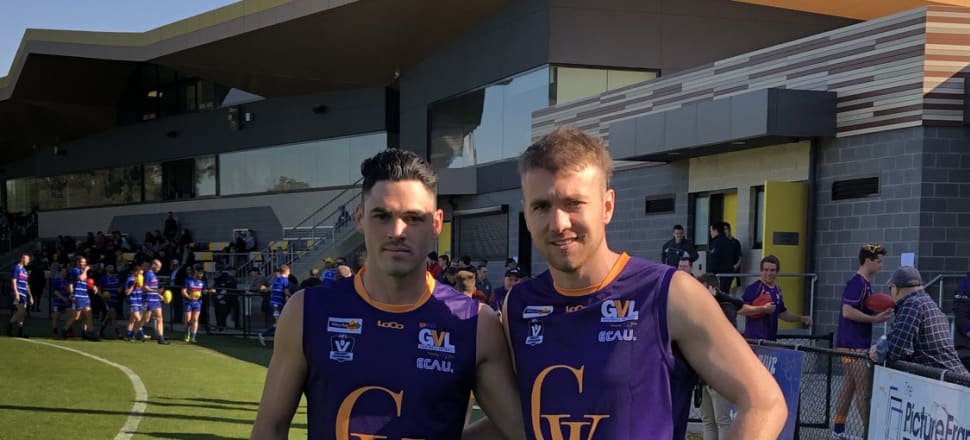 5370537724001
Benalla duo Brody Webster and Nick Warnock showed plenty to represent the Saints superbly in an all-star line up of Goulburn Valley's best in Saturday's interleague match.
And to cap the day Goulburn Valley League cemented a 41-point win against the Western Region Football League at Werribee's Avalon Airport Oval.
Settling into the forward line, Webster (two goals) and Warnock (one) joined Kayne Pettifer (three) and Kyle Mueller (two) in entertaining the big crowd with plenty of attempts to sit on opposition shoulders — with more than a handful coming to fruition.
"Our forwards had a lot of opportunities, some of them probably could have had really good days — we were a little bit wasteful — but we walk away with a pretty good win in the end, so we're all pretty happy,'' GVL interleague coach Brad Campbell said.
''It was a good, hard-fought game, a really contested game, which we knew it was going to be a little bit like that.
''Probably in that second quarter we were able to get a little bit of open ball and get some goals and good opportunities as a result.''
Meanwhile, Benalla Saints' Sam Little joined Campbell as assistant coach of the senior team.
The triumph will likely rank the GVL fourth in the Victoria Community Championships rankings heading into next year's match — meaning the purple and gold men will have the opportunity to win their way into the top interleague match next season when they battle likely opponent Geelong.
And in the earlier under-18.5 match between the two leagues, Saints Riley Johnson and James Davies lined up to help GV league beat Western Region by 23 points, with Wally Armstrong joining the duo as assistant coach for the team.
Seniors score: Goulburn Valley 11.14 (80) def Western Region 4.15 (39)
GV Goal-kickers: K. Pettifer 3, B. Webster 2, K. Mueller 2, N. Marrone, M. Mattingly, P. Marks, N. Warnock
Best players: M. Mattingly, Z. Keogh, B. Ryan, B. Mahoney, K. Pettifer, E. Lindon
Under-18.5 score: Goulburn Valley 9.13 (67) def Western Region 6.8 (44)
GV Goal-kickers: W. Devlin 2, T. Panuccio, J. Carn, J. Serra, L. McMahon, M. Daunt, H. Ingham, D. Cook
Best players: M. Daunt, D. Cook, R. Smith, T. Panuccio, S. Bogdan, H. Ingham