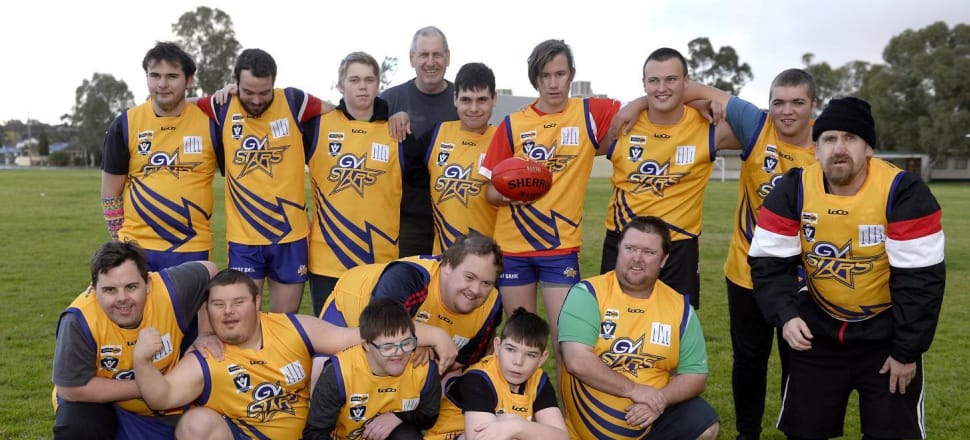 5370537724001
Goulburn Valley Star footballers are keen to train and play, rain, hail or sunshine after receiving new football shorts.
AFL Goulburn Valley marketing officer Tegan Fairley said it warmed her heart to see the all-abilities players excited after receiving new shorts for their kits.
She said the shorts were donated to the football team through a fundraising 'Boot Bank' event.
''Boot Bank is an initiative of AFL Goulburn Murray where people donate their football boots,'' Ms Fairley said.
''We have them industrially cleaned, replace their laces with the Zaidee's Foundation laces and on-sell them to the general public for $15. All of the proceeds then go towards the GV Stars.''
GV Stars coach Darren Cook said having received the jerseys from last year's bank and the shorts this year, the players were able to look and feel like a team.
Mr Cook said when first starting out about six years ago he was able to get funding for some equipment but found it difficult to provide the team with apparel.
''That's when Boot Bank came on board, which was really good.''
Mr Cook started coaching the team when his son Sam wanted to follow in his brothers' footsteps.
He said by coaching the team, he had the chance to be a part of seeing the players take part and enjoy the sport they loved.
GV Stars is one of five teams which make up the Victorian FIDA Football League. Other teams come from Bendigo, Echuca, Wodonga and Wangaratta.
Mr Cook said each month the league held a carnival, where the GV Stars took part in a round-robin format.
''They don't worry too much about their skills, they're just happy to be playing the game,'' he said.
Ms Fairley said the AFL Goulburn Murray appreciated the chance to present the team with the new shorts.
She said the donation of shorts was made possible by sponsors Rocky Gagliardi from Gagliardi Scott Real Estate and Chris Smith from Chris Smith and Associates.
Mr Gagliardi and Mr Smith were among those who attended the presentation.
''It's great to be able to put a smile on their face,'' Mr Gagliardi said.