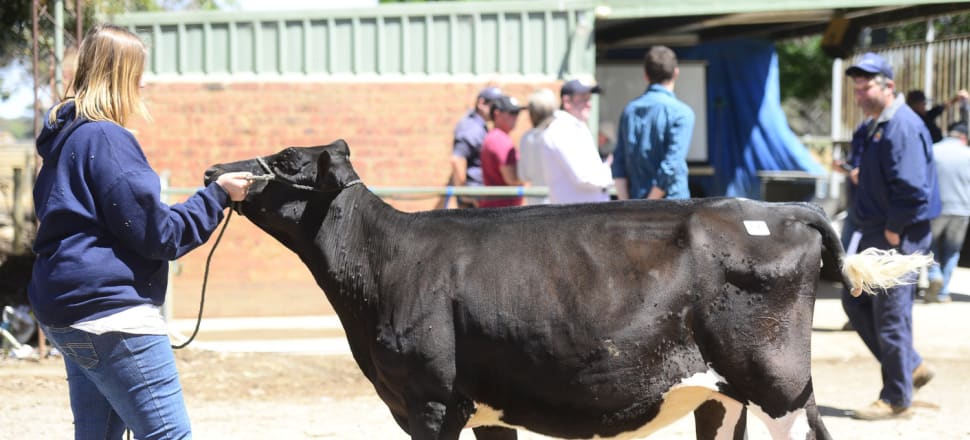 5370537724001
In the first event of its kind at Cherrylock Cattle Co, Brad and Jessica Gavenlock held an on-property tag sale on Melbourne Cup Day.
The event was a multi-vendor sale with a youth handler competition, races on the big screen, and a jumping castle for the kids.
Friends of the Gavenlocks came from as far away as Taree, on the NSW mid-north coast, to support the event.
Murray Polson met Mr Gavenlock 14 years ago, and owns a dairy farm at Taree with 350 Holsteins.
His wife Jane Polson said they wanted to support their friends and entered three cows in the sale.
"We brought down cattle in our trailer, it's a 12-hour drive but they travel really well," she said.
The tag sale was held throughout the day at the Tallygaroopna property on Tuesday, November 5, and all cattle had a set price prior to the event.
In the three days leading up to the sale, buyers placed intentions to bid at the set price.
If there were two bids on the one animal, a bid-off then occurred on the sale day.
About 50 buyers came from across Victoria and NSW, and one lot was sold to Queensland.
A total of 40 lots were sold at an overall average of $4633.
Two lots tied for top price of $9200 — a Halscott Oliver P Vogue Jersey sold to John Lindsey from Wauchope in NSW, and a Gene Pool Calypso-et Holstein sold to Brian Dickson of Garvoc in Victoria.
Nineteen Holsteins sold, with an average of $5052 and topping at $9200, while 17 Jerseys averaged $4220 and also reached $9200.
Two Brown Swiss averaged $5050 and two Illawarras averaged $3725.
Dairy Livestock Services auctioneer Brian Leslie said it was an outstanding result.
"It was well run by Brad and Jessica and the animals were well presented," Mr Leslie said.
Mrs Gavenlock said it was great to tie in the event with the Melbourne Cup races, as farmers don't usually celebrate the public holiday.
"We made it a fun, kid-friendly event, which is important to us," she said.
"It's been a great turnout and lot of the cattle sold will be at dairy week, so it's good timing."
Mrs Gavenlock grew up on a dairy farm in Minnesota and moved to Tallygaroopna four years ago.
The Gavenlocks' property was once a horse stud, and when they built the sale shed they had envisioned hosting a sale one day.