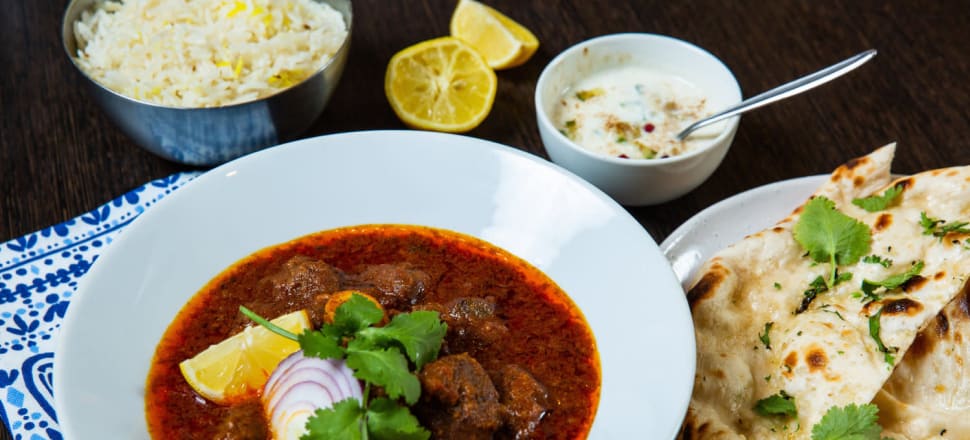 5370537724001
Taking place every October, the Goatober food festival celebrates terrifically tasty goat meat.
Although goat can be cooked in a variety of ways, goat curry is a favourite in many cultures.
Two Sydney restaurants have shared tasty goat curry recipes for you to try at home.
Goat on the Bone Curry
Ingredients:
1kg goat meat (on bone – leg preferred)
1 medium onion, sliced
1 tomato, sliced
2-3 curry leaves
1tsp ginger and garlic paste
5g cinnamon
1 tbsp curry powder
1 tsp chili powder
Pinch of turmeric powder
½ tbsp salt
600ml water
Spice Mix
½ tsp cumin seeds
1 tsp fennel seeds
1 tsp peppercorns
½ tsp cloves
Method:
1. Heat oil in a pan and add curry leaves, sliced onion, ginger garlic paste and sauté for a few minutes.
2. Add curry powder, chili powder, and turmeric powder and sauté for 1 minute.
3. Add diced tomatoes and cook for 2 minutes.
3. Add water and bring to boil. Add goat meat and cook on low heat for 20 minutes.
4. Combine and blend the spice mix.
5. When the goat meat is soft, add the blended spice mix. Once brought to the boil, turn off the heat.
6. Garnish with curry leaves and serve with plain basmati rice or suduru samba yellow rice.
Railway Goat Curry from Bombay Street Kitchen
Ingredients:
1 kg goat meat (with bones) diced into cubes
Marinade
1 tbsp garlic paste
1 tbsp ginger paste
2 tsp ground chili powder
2 tsp turmeric powder
3 tsp garam masala
Salt (to taste)
Curry mix
2 tbsp vegetable oil
2-3 cinnamon sticks
3-4 black cardamom pods
3-4 bay leaves
4 medium brown onions, finely chopped
2 tomatoes, finely chopped
4 cups of water (approx.)
Method:
1. Mix all marinade ingredients together with the goat meat and let it sit for 30 minutes.
2. In a thick-based pot, add oil, cinnamon, cardamom and bay leaves and sauté.
3. Once they are sizzling, add chopped onions and fry until translucent.
3. Add marinated meat and cook on high, stirring continuously for 5 minutes.
4. Turn to low and simmer with lid on for 10 minutes.
5. Add tomatoes and stir, and enough water to cover the meat.
6. Simmer on medium heat with lid on for 30 minutes or until meat is tender.
7. Garnish with a wedge of lemon, sliced red onion and chopped coriander and serve with basmati rice, naan bread or papadums.