Stats stars form 'dream team'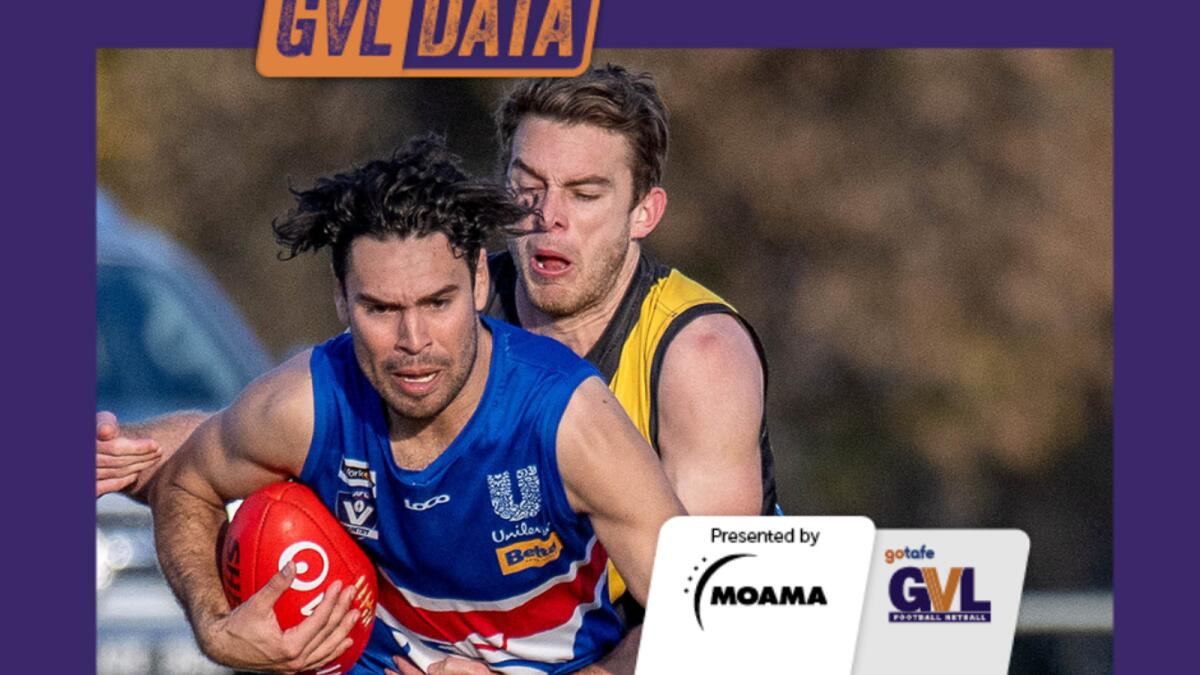 Picking the Goulburn Valley league's best 25 players from the opening 14 games of the 2022 season was a fun exercise, but that frivolity may change as it's now time to invite the passionate feedback that is often attached to such a selection process.
Statistics don't often tell the full story of the game itself, as any "old school'' supporter of Australian Rules will be at pains to point out, but for the modern follower of the game the statute for selection should be an enjoyable exercise.
For the old-school football fans among our readership, please provide some leeway as the high-possession and uncontested style of modern-day football teams heavily influences the make-up of the team.
In fact, that's been the sole criteria of the GVL Data Stats Stars team for the GVL 2022 season.
Every player selected features prominently in one or more statistical categories.
Nathan Buckley, Kane Cornes and Nick Riewoldt's are constantly under the pump from their media colleagues about the selection process for the AFL All Australian team.
It appears as though it is my turn now. So here goes.
From the backline . . .
Shepparton's Ted Lindon is the Goulburn Valley's leading player in regard to rebounding from the defensive 50-metre arc and while he is a key defender for his club he is in a back pocket for my team.
From 13 games Lindon has cleared the ball from the danger zone on 138 occasions (30 more than next best, Benalla's Samuel Harris), by far the best in the league.
Lindon also has the most one percenters in the GVL to his credit (20 clear of the man we have next to him, Mansfield's Jack Hutchins) and he also averages almost 26 possessions a game.
Tatura's Billy Cooper is third in the rebounding statistic, but has several other strings to his bow.
Among them a great ability to find the ball, third only in total possessions to Benalla's Will Martinello and Seymour's Jack Murphy.
Cooper averages 32 possessions through the midfield, but much of his work done in Tatura's defensive end.
He is one of the competition's leading give and go players, his running capacity and kicking preference (293 kicks, only 87 handballs) making him perfect for the other pocket.
He is there to take the kick outs, with the play on rule from the goalsquare to his advantage.
Bombers key position star Lachie Smith and Mansfield's Jack Hutchins fill the two major defensive roles in our GVL Data stats stars team, Hutchins in between Cooper and Lindon at full back.
They are the two leading intercept markers in the competition, Smith averaging six intercept marks a week and Hutchins four.
Smith averages 18 possessions and 10 marks a week, while Hutchins ranks top five for one percenters — averaging four spoils and five rebound 50 stats a week.
On the half back flanks are two different players, Seymour's Dylan Scopel and Echuca's Logan Prout.
Scopel averages 24 possessions and seven marks, while Prout is similarly strong in the air and has the statistical anomaly of averaging almost four inside-50 and rebound-50 stats every week.
Only a handful of players in the competition have similar averages for clearing the ball from defence and sending it deep into attack.
Adam Giobbi is probably unlucky to miss out, but I've pencilled him in on the bench.
Midfield
Unbeaten Echuca, not surprisingly, has a few representatives in the team as the Murray Bombers lead several categories as a team.
Echuca has the most disposals, leading contested and uncontested possession counts, the most inside 50 entries and is even second in one percenters — showing they are very much a two-way team.
Echuca contested football beast Jack McHale gets the nod as the team's centreman, through his all round excellence in the important midfield categories.
He has the second most contested possessions in the competition (behind Benalla's Will Martinello) and is ranked third in clearances (where Martinello again leads the GVL, along with Rochester's Christopher Jansen).
McHale has pushed forward to 10 goals and has 17 scoring assists to go with his weekly average of 26 possessions (16 contested).
He is among only 22 players to have had more than 300 disposals this season.
Seymour's Jack Murphy and Rochester's Jordan Harper are the two players I've gone with as my wingmen, Murphy because of his ball-winning ability and marking prowess and Harper because of his running ability.
Harper has collected 177 handball receives this season, 30 more than Shepparton Swans star Brayden Squire (ranked second) and the Rochester star has also kicked 14 goals.
Murphy is one of only two players (Will Martinello the other) to have collected more than 400 possessions this season.
He has taken 95 marks (seventh in the competition) and has more uncontested possessions than any other player in the GVL (302).
Like Harper, the Seymour star has also kicked 14 goals for the season.
Benalla ball magnet Will Martinello has to settle for a forward flank because his team has managed just three wins for the season. That's the only reason.
Martinello is the number one player for Data Points (GVL Data's Fantasy Football equivalent) and is one of only two players to have collected more than 400 possessions this season.
He is a top-three clearance player and his 14 ground-ball gets are the equal of Echuca star Jack McHale, the GVL's leader in the category.
Kyabram strong-marking and straight-kicking forward Tom Holman has the most score assists in the competition, despite missing two games.
He has kicked an extremely accurate 27 goals and seven behinds, is the most prolific tackling forward of any top 20 goalkicker and is top five in contested marking.
Shepparton Swans ball winner Zac Banch gets the nod on one half forward flank for several reasons, among them his ability to draw free kicks.
Banch is not only a top-10 GVL ball winner, but also has16 goals to his credit and has been included in the stats stars forward line because he has laid 61 tackles and is the league's fourth most prolific player in regard to inside-50 delivery.
Banch is also very easy on the eye for the umpiring fraternity. He has won more free kicks than any other player in the competition (52).
Forwards
Not surprisingly Echuca spearhead Ruory Kirkby and Mooroopna's Christopher Nield make up two parts of the three member forward line.
Nield has 60 goals from his 92 shots on goal, while Kirkby (53 goals, 24 behinds) has five more assists than the Mooroopna star.
The pair stand head and shoulders above the rest of the competition in regard to marks inside 50. Kirkby has 91 marks in the forward zone from one less game than Nield (84).
Kirkby leads the competition in the marking category, two more than Kyabram's Lachie Smith.
Nield's only statistical concern is the fact he has given away 24 free kicks and drawn just seven in his 14 games.
Acting as a third wheel to the GVL's leading goalkickers is Euroa's Jett Trotter, who himself has 35 goals from his 14 games. His ability at ground level will allow Nield and Kirkby to confidently fly for everything coming their way.
Trotter averages 16 possessions and ranks top five in the forward 50 marks statistic. He has two bags of six goals this season, along with a five and a pair of four goal matches.
Followers
Mooroopna ruckman Liam Beston gets the nod for his brilliant 14-game season, averaging 17 disposals (11 contested), 10 ground-ball gets and four tackles a game.
While Kane Morris remains the premier ruckman in the competition, with Zac Norris and Andrew Smith not far behind — Betson's statistical return stands alone among the competiton's big men.
Of the league's top ruckmen only United's Edward Adams averages more touches and Benalla giant Joshua Marchbank is the only ruckman to have had more hit outs.
Backing up the big Cat in the following division is Benalla's Christopher Welsh.
His profile reads well for the on-ball division, averaging 110 Data Points and with the sixth most touches in the league.
Welsh has the most inside 50 entries of any player in the competition and has the fourth most clearances this season. He also averages 29 possessions and six marks a game.
Rochester star, and my tip for this season's Morrison Medal, Christopher Jensen has racked up 40-plus touches twice this season. He is ranked fifth for inside 50s, second for clearances, is eighth for disposals and has kicked 10 goals.
Interchange
I've pencilled in seven players on the interchange, Riley Smith (Echuca), Bayden Squire (Swans), Edward Adams (United), Adam Pigatto (United), Sam Willoughby (Echuca), Adam Giobbi (Euroa) and Harry Mahoney (Mansfield).
These are the reasons why, in summary form. Riley Smith is 13th in disposals and has the third most inside-50s for the year.
Squire averages 29 touches and does work at both ends of the ground, while Adams has the highest possession count of any ruckman in the competition and with 10 goals is second only to Echuca's part time ruckman Liam Tenace.
Adam Pigatto has laid 25 more tackles than any other player and still manages to average 22 possessions, while Willoughby averages six tackles, half a dozen clearances and 21 possessions a week.
Adam Giobbi features in every category that you would want a defensive star to attract and Ben Rigoni's 88 tackle, 351 possession, 81 clearance season gets him the nod as the 25th player.
Benalla's Samuel Harris fills the last spot in the team, averaging 25 disposals a game and ranked second in rebound 50s for his under pressure outfit
GVL STATS STARS
B: Ted Lindon (Shepp), Jack Hutchins (Mans), Billy Cooper (Tat)
H-B: Dylan Scopel (Sey), Lachie Smith (Ky), Logan Prout (Ech)
C: Jack Murphy (Sey), Jack McHale (Ech), Jordan Harper (Roch),
H-F: Will Martinello (Ben), Tom Holman (Ky), Zac Banch (Swans)
F: Jett Trotter (Eur), Ruory Kirkby (Ech), Christopher Neild (Moor)
FOLL: Liam Betson (Moor), Christopher Welsh (Ben), Christopher Jansen (Roch)
INT: Riley Smith (Ech), Bayden Squire (Swans), Edward Adams (United), Adam Pigatto (United), Sam Willoughby (Ech), Adam Giobbi (Eur) and Samuel Harris (Ben)
*statistical information is from rounds 1-14.