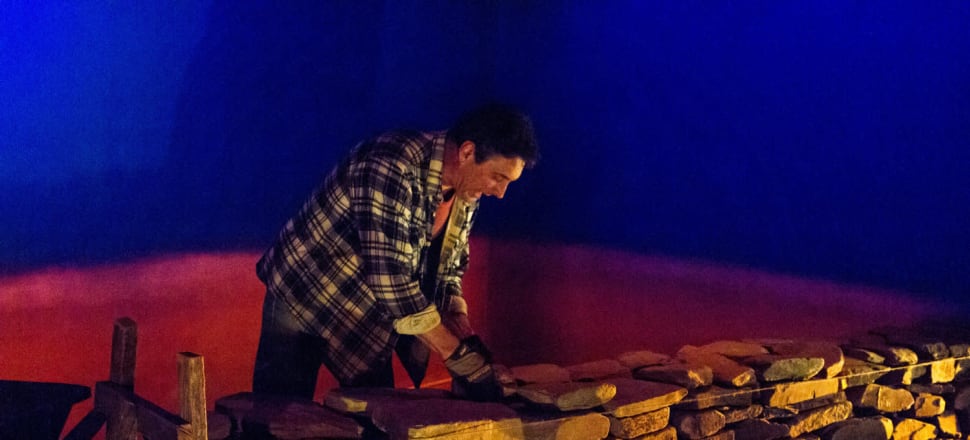 5370537724001
How do we deal with sudden, inexplicable violence? Could we have prevented it? What could we have done differently?
These are some of the questions asked in American Song, a confronting, powerful play that explores America's obsession with guns that comes to Mooroopna next week.
Melbourne's Red Stitch Theatre brings acclaimed Australian playwright Joanna Murray-Smith's 2016 play to WestSide Performing Arts Centre with actor Joe Petruzzi in a riveting solo performance as the father of an innocent teenager-turned monster who has joined the terrifying list of gun-obsessed teens and committed the unthinkable.
Andy Mancheski is a regular, reasonable sort of guy who has a romantic view of the American dream, full of nostalgia and a rose-tinted view of the past.
As he heads off to work to give the biggest presentation of his career, Andy wishes his teenage son Robbie goodbye. Eight hours later, everything has changed.
The story unfolds as Andy builds a flagstone wall at his remote rural property and reflects on the building blocks of his own life - how has it come to this?
Mr Petruzzi said Murray-Smith's metaphor of the wall was brilliant.
"It is one of the most masterful metaphors. You lay a block and continue building, and then you realise that if you had put a particular block in a different place it would be a completely different wall," Mr Petruzzi said.
He said although the play dealt with extreme gun violence, it had universal themes.
"It talks about the personal cost of what firearms bring into our community when control is lost. At its core, it's about the responsibility a parent takes for a child's actions," he said.
"We all try to live our lives in a reasonable sort of way, but we are all one decision away from disorder," he said.
He said reactions to the play so far had ranged from emotional to pragmatic.
"People have come up to me afterwards in tears, while one bloke said 'that wall is never going to stand up mate'," he said.
As a parent, Mr Petruzzi said the play's theme resonated on a personal level.
"I have a boy and I'm glad he has never been touched by gun violence or had to grow up in a society where guns are so common," he said.
However, he said the play did not take a political stance on gun ownership; it deals with the human cost of gun violence.
"What we do is offer a cautionary tale," he said.
American Song is at WestSide Performing Arts Centre, Echuca Rd, Mooroopna on Saturday, February 29, from 7.30 pm 8.55 pm.
Tickets are $39, full price or $34 concession from Riverlinks on 5932 9511 or riverlinksvenues.com.au