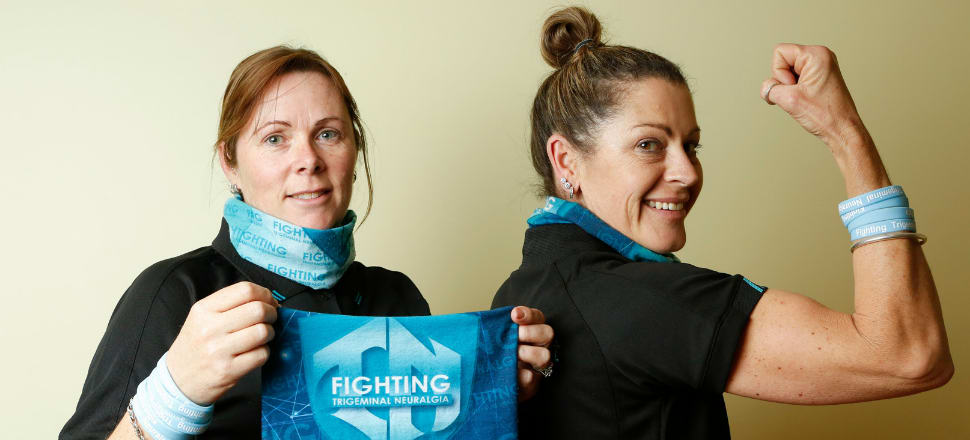 5370537724001
FOR Echuca trigeminal neuralgia sufferer Skye Davis, every day is a battle.
But she's not going to give up fighting if it means a brighter future for TN victims.
Also known as the suicide disease, TN is a chronic pain condition caused when the trigeminal nerve in the face is compressed by a blood vessel, distorting its messages.
Meaning eating, talking, smiling – even the light touch of a breeze – can cause excruciating pain.
Skye was diagnosed when she was 34 and quickly discovered there was little public awareness and no fundraising for the disease – leading her to launch local not-for-profit Fighting TN last year.
Twelve months later, she and best friend Peta Cameron – along with Echuca-Moama community backing – have raised nearly $6000 for the Brain Foundation's TN research.
It's been the toughest year yet in Skye's ongoing health battle, but she's hopeful the funds raised will give doctors much-needed answers.
"Where the pain used to be just in one side of my face, it's now in both," she said.
"I went to see the neurologist but he said there's nothing new to treat it since I saw him seven years ago.
"The only option has been to up my medication and that's put me back into a fog where it's difficult to even get out of bed. But the medicine isn't even really helping.
"I can't sleep because of the pain. But I'm fighting. I need to keep going for a lot of reasons. My grandson has just been born and I just really want to keep going for him.
"And I need to keep going so we can find answers and beat this."
Skye and Peta have been selling Fighting TN headskinz (tubular bandanas) and wristbands to raise money, and said they already had fans across the globe.
"We've been selling them in Canada, the UK, America," Skye said.
"We met with the Trigeminal Neuralgia Association in Melbourne recently and told them all about how we're raising money.
"One of the dads there bought a headskin. He went home and his little girl said he looked like a superhero. And he really is."
Skye said the more she heard of other struggles with TN, the more motivated she was to continue the fight.
"The Echuca community is unbelievable and that's what has got us to where we are today," she said.
"And by doing what we're doing, we're finding people in the community who need us. Since we started last year we've discovered there are five people with TN in Echuca and two in Moama.
"And this doesn't just affect them but their family and friends. So by giving to Fighting TN, we are giving back to the community."
A Fighting TN fundraising barbecue will be held on Saturday, October 12 at Hopwood Gardens from 10am to 2pm.
Drew Walker will perform live and there will be a jumping castle, snow cones, face painting and plenty of raffles.
For more information and to donate, visit fightingtn.com.au