A carefully curated and eclectic mix of old and new combine to create a warm and inviting family home, filled with colour, comfort and love.
STORY: CAITLYN GRANT. PHOTOGRAPHY: MEGAN FISHER
Crossing the threshold of Leonie and Cameron O'Mahony's home in Arcadia is much like taking a step back in time — but with a vivacious modern twist.
Nestled in a picturesque rural area, the nostalgic dream palace has souvenirs from each decade since the 1920s.
From rag dolls to velvet riches, the home is teeming with brightness and colours, blending into one another with a seamless ease.
And to the untrained eye it may appear that way, haphazardly organised in a stroke of luck that each piece works together.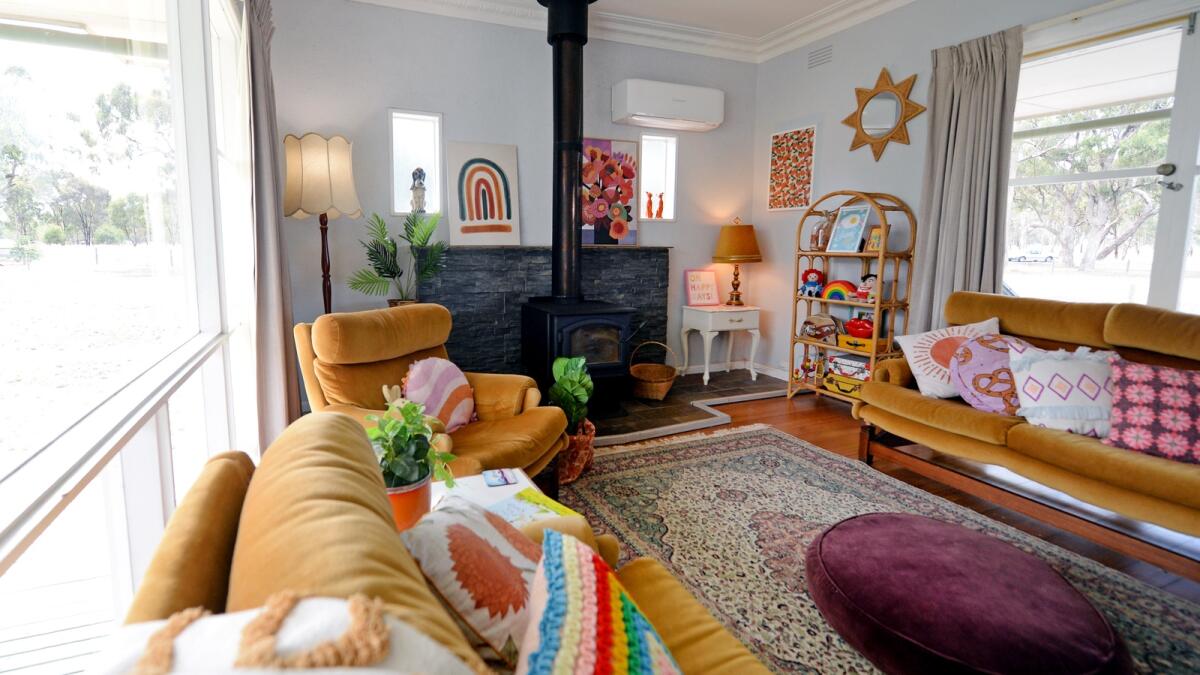 But on closer inspection the home is a work of art, meticulously created by Leonie's knack for piecing together a puzzle of sorts — including sourcing every single item.
"I'd say a lot of time went into it but honestly when you love it, it's not work," she said.
Strolling through the open spaces, you'd never guess that Leonie and Cameron — with their three children Matilda, 15, Alfie, 11, and Herb, 4 — had only occupied the home for seven months.
With sprawling windows and wooden floorboards, making the move back to the Goulburn Valley from Tasmania was a no-brainer.
"I knew, the second we stepped foot in the house, I knew this was what I wanted," Leonie said.
"The fact that it's '60s/'70s is right up my alley, I just knew I could have so much fun here.
"There's no point in us having a modern home, it just wouldn't work. I think you need to have the style and the home, altogether."
Leonie said her style instincts had always come quite naturally, and was something she hoped to pursue in her career — much of which has been influenced hugely by her grandmother.
"I just go with what I love without really have to try or think. I've always been a bit of an old soul," she said with a laugh.
"I remember going to Nan's on holidays and just admiring her sifters and her canisters, the colourful dishes that she gave out food on.
"I remember her clothes — even as a teenager I wanted to wear her granny cardigans, her dresses.
"I reckon she's played a part in everything."
Sentimentality plays a huge part in the home's character, with many pieces holding a story for not only the O'Mahonys but guests too.
Cane bookshelves are home to colourful toys reminiscent of a childhood before the digital age, with Humpty Dumpty, Raggedy Ann and a Cabbage Patch Kid sitting contentedly.
In the sitting room, wooden floorboards flow with the mid-century furniture making the hues of mustard and emerald greens right at home.
Contrasted further by the bright pops of colour in cushions, rugs and throws, the rooms balance the line of retro, vintage and boho-chic — it's the stuff of any trendy Pinterest board.
Except that rather than spending thousands of dollars on achieving the perfect look, the O'Mahonys have made a lifestyle in finding their own style on a budget.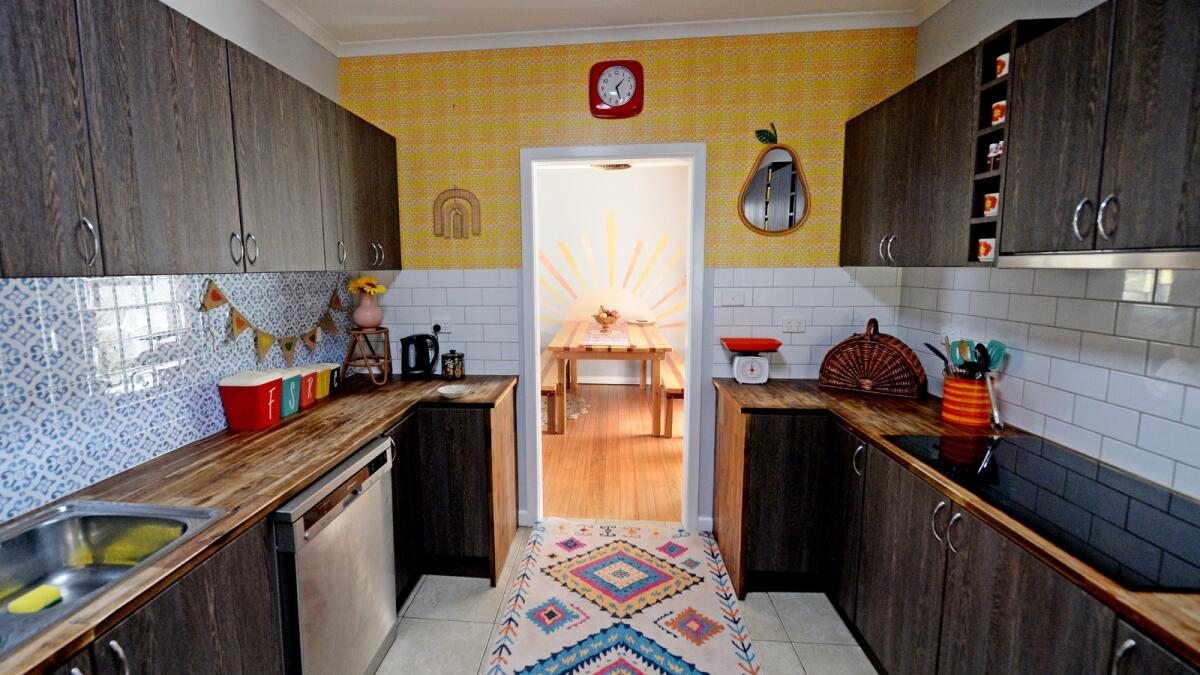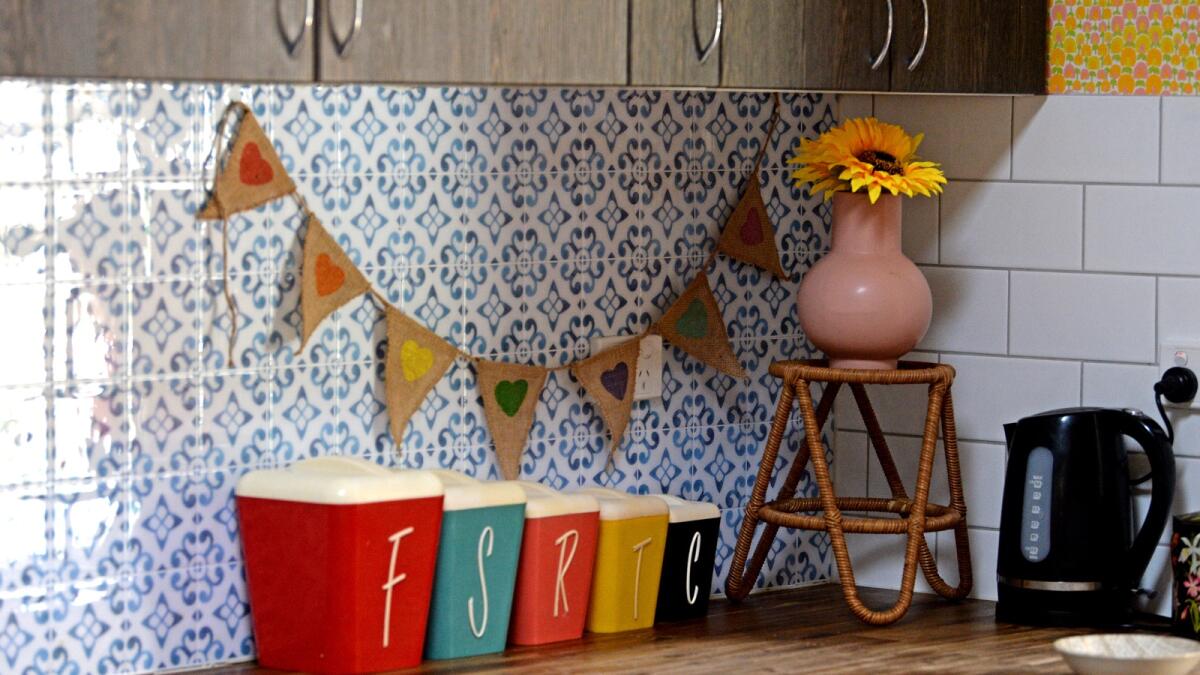 In a match made in heaven, Leonie's husband Cameron is just about as nifty as her.
"It just means a lot to me. Friday nights I am always so excited going through the garage sales and which markets are on in the coming days thinking, 'oh my God, this weekend is going to be so fun'," she said.
"Obviously apart from my family, it's at the top of my list of what makes me happy, that's for sure."
Op shops, antique stores and the tip have all been go-to spots in Leonie's 12 years of collecting, along with Facebook Marketplace being a huge contender in recent times.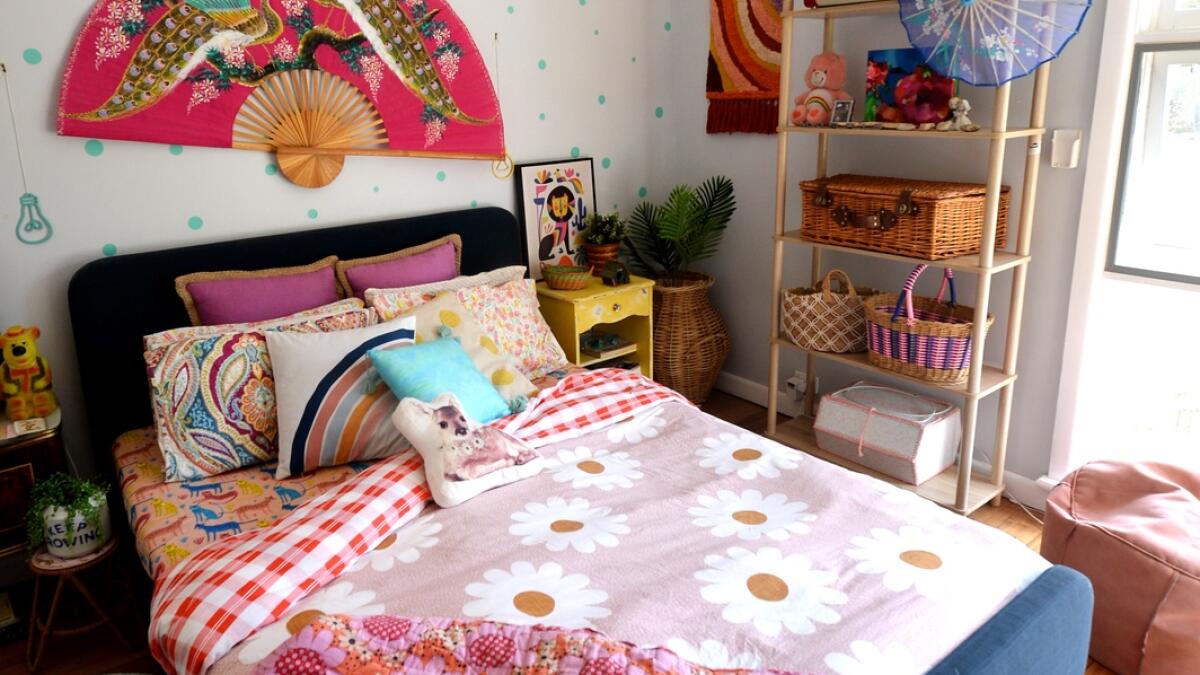 Individual rooms tell an unwinding tale — the master bedroom an eclectic masterpiece of patterns on patterns, while the playroom is captured straight from a scene in a 1980s arcade, jukebox and all.
And while Leonie said it might not be everyone's cup of tea, each has been layered with careful consideration and love.
"It's your home and it's your biggest investment, and I always say that your home should be an extension of you," she said.
"I'm really old school but I'm young at heart and I'm quite kiddy.
"I love my vintage stuff, I'm really very easily pleased with the little things in life — all this stuff plays into how I am and how my home is styled the way it is.
"Whether it's vintage, modern — your home should just be an extension of you."
Follow Leonie's styling journey on Instagram at thesifterandshifter.
Reuse, recycle — it makes anything remarkable
Everything has more than one use. Leonie suggests buying fabric, silk scarves or tea towels and putting them into frames. Artwork without the price tag.
Facebook Marketplace is your best friend — don't be afraid to start scrolling.
Leonie recommends the kids' section for all your pastel and rattan needs. From nurseries to dollar stores, she says the sections are often overlooked but make for some sweet but hip additions to any room.
It's no surprise furnishing your home can cost a pretty penny, especially in lighting. Light fittings in the O'Mahonys' home are accompanied by cane baskets flipped upside down with the bottoms cut out, making for an on-trend light shade.
Finally, don't be afraid to try new things.
"One thing can change the whole room; I always try to think of other ways I can use things," Leonie says.
"It's funny because people come here and they just love it, how different it is.
"I think that there's no talk about it if it's just boring."