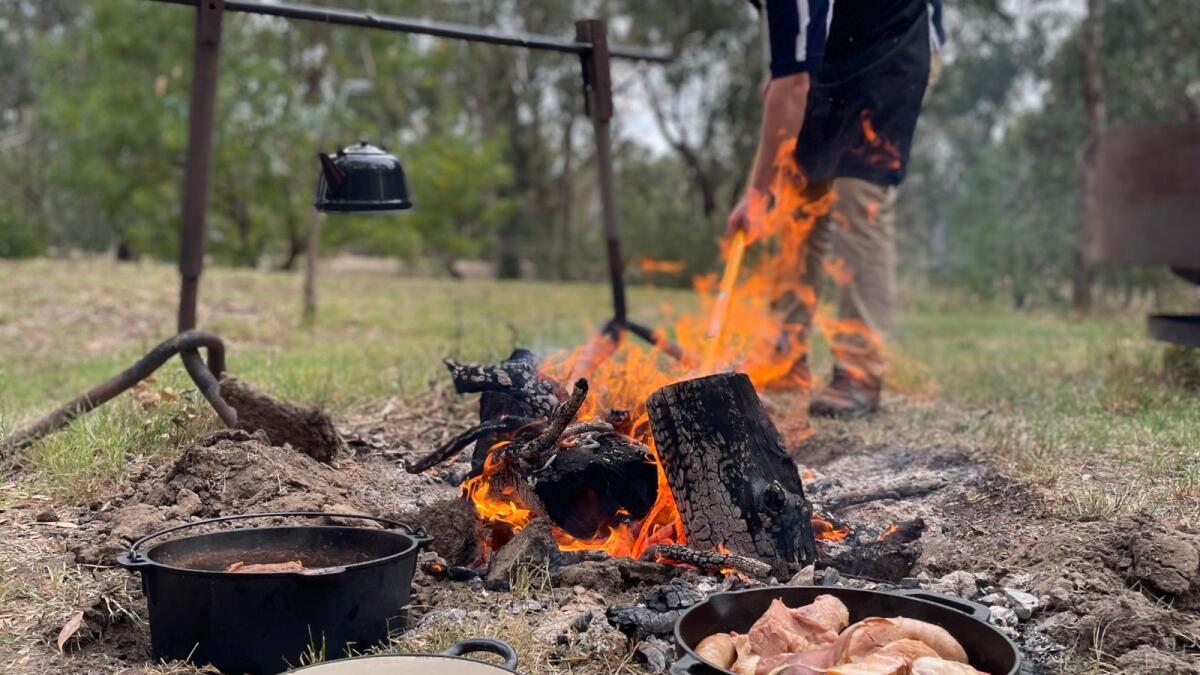 As the weather cools and open fires beckon, do more than just warm your toes beside the coals. Try cooking on them instead.
STORY: GIANNI FRANCIS.
There is a resourcefulness that one employs when cooking over an open fire and, while challenging, chef Richard Hayes says the experience is incredibly rewarding.
Richard earned his stripes working in European Michelin-starred restaurants Wild Honey and The Ledbury.
After meeting his fiancée in Paris, he moved back to his home town of Euroa and now works at the Butter Factory Restaurant.
He developed a passion for outdoor cooking after spending time with his fiancée's family in southern France, where her grandfather had a strong connection with open fire cooking.
Richard and his fiancée keep alive her family's cultural tradition by often cooking together over an open fire.
"The smoky fire taste in meat when it's cooked directly on the coals is just fantastic," Richard said.
"The sky is the limit with outdoor cooking."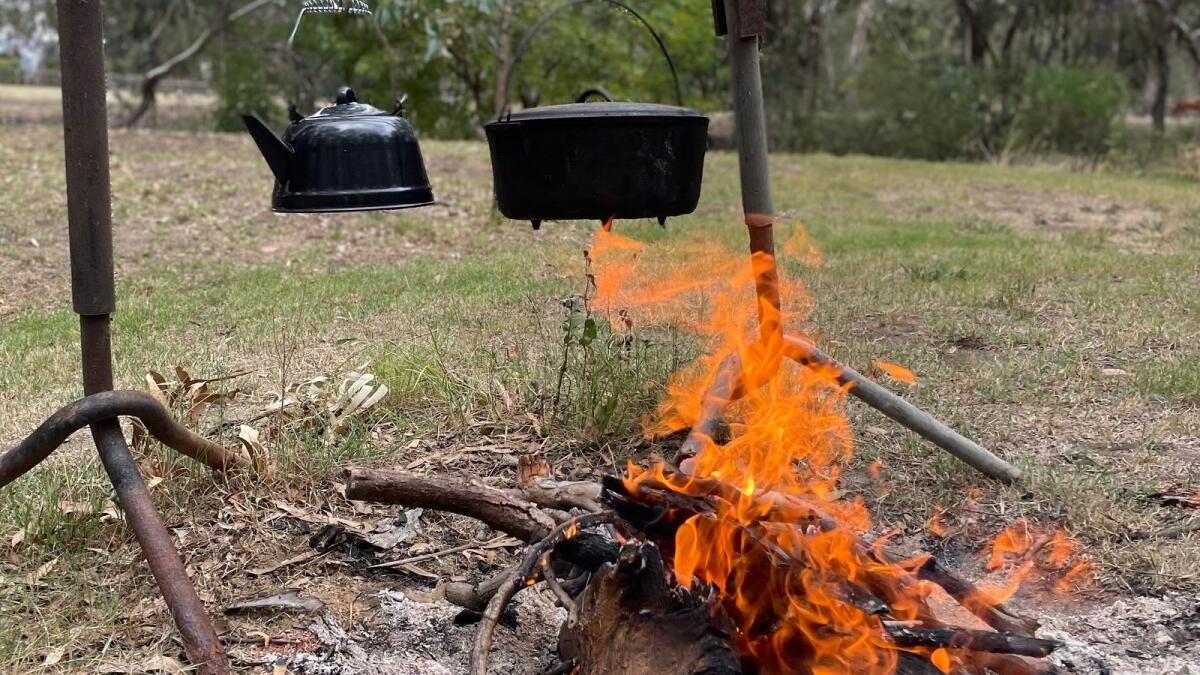 Richard says the introduction of the gas barbecue has deprived Australian culture of a cooking method steeped in history.
And while fire restrictions make open fire cooking difficult during summer, the cooler winter and autumn seasons are perfect to enjoy the ambience of outdoor cooking.
"In my friendship circle we all enjoy cooking and eating and hanging out together," Richard said.
"We get excited when this autumn weather comes through, and there's a change in the weather and you can have ... the first fire of the season, where we can sit around and share some good food and wine and friendship."
Richard has prepared some easy recipes for open fire cooking that are simple to execute, using ingredients sourced form your local butcher and supermarket.
The first recipe is a delicious roast lamb with curry sauce cooked in a camp oven, with some of his favourite spices.
"It's a nice warm thing that you can get the nice smokiness from the fire into and sit around with your friends and share it easily."
The second recipe, Choucroute Garnie, is a meeting of two cultures, coming from Strasbourg in northern France on the border of Germany where his fiancée grew up.
"It has the German influence of sauerkraut, which is fermented cabbage. And it has a lot of sausages and smoked ham and bacon and different meats through that, typically from that region," Richard said.
"It's completely different to the Australian style of cooking, but it's just an amazing pot of sour cabbage and riesling with a lot of smoked meat.
"And I think it's a great thing to share with people as well."
CAMP OVEN LAMB CURRY
Ingredients:
1 lamb shoulder or leg
3 grated carrots
3 sliced brown onions
4 chopped garlic cloves
1 tbsp grated ginger
2 chillies (hot or mild, as preferred)
300ml pouring cream
2 cans of tomatoes
Spice mix:
2 tsp black peppercorns
1 tbsp fenugreek seeds
2 tbsp smoked paprika
10 cardamon pods
1 tbsp cumin seeds
1 tbsp curry powder
1 tsp caraway seeds
2 tbsp amchur powder
Method:
Add all spices to a blender or spice grinder and blend well. This can be done prior to the camping trip and be stored in an airtight container or jar.
Heat camp oven over hot coals and add a few tablespoons of oil followed by carrots, onions, ginger, garlic and chillies. Season generously with salt and stir until softens and colours slightly.
Remove from hot coals and stir in spice mix and keep stirring to toast spices but be careful not to burn them.
Add cream and tomatoes then fill tomato tins half with water and add the water.
On a grill over some hot coals, colour the lamb on all sides. This adds a great barbecue smoky flavour to the curry.
Place the lamb on the curry sauce in the camp oven and cover with the lid.
Dig a hole, shovel hot coals then place the camp oven and cover with hot coals and some dirt. Leave to cook for three to four hours.
Once curry has cooked remove camp oven from hole and serve with rice or potatoes.
CHOUCROUTE GARNIE
Ingredients:
1 pickled pork roast
500g smoked uncut bacon
1 smoked ham hock
6 pork and fennel sausages
1 kabana
1 white pudding sausage (optional)
2 jars of sauerkraut
2 large onions, coarsely chopped
4 large garlic cloves, coarsely chopped
8 juniper berries
3 large bay leaves
½ tsp caraway seeds
1 tsp freshly ground black pepper
1½ cups riesling or pinot gris
Method:
Rinse the pickled pork and pat dry with paper towel then place a grill over some hot coals and grill the sausages and pickled pork. Once a nice colour is achieved set aside.
Rinse the sauerkraut in cold water and squeeze dry. Heat your camp oven over hot coals with a few tablespoons of oil then add the onion and garlic, season with a pinch of salt. Stir until soft and lightly caramelised.
Stir in the sauerkraut, juniper berries, bay leaves, caraway seeds, black pepper, stock and wine and bring to a rolling boil over high heat.
Nestle all the cuts of meat in the sauerkraut and place the camp oven lid on top.
Place the camp oven in a small hole with coals in the bottom. Shovel coals on the lid and let cook for two hours.
Serve the choucroute with boiled potatoes and assorted mustards.
Note: The types of meat cuts used is totally optional and most smoked meats can be used as replacements.