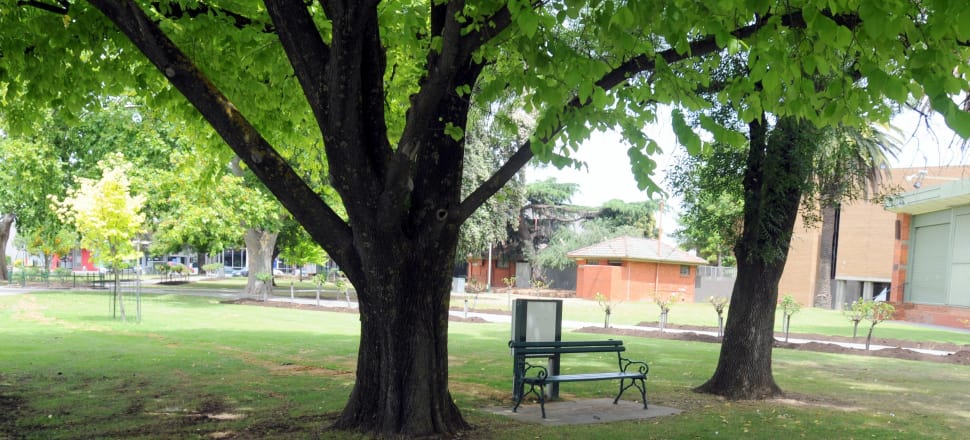 5370537724001
Tomorrow is going to be a scorcher.
If you're out and about and near the lake take a gander at the eastern foreshore and its hideous lack of black summer shade — the kind of heatwave refuge we're so grateful for at the Queens Gardens.
The lake, lawns, landscaping, built facilities and playgrounds are splendiferous, even iconic, but tree-planting has been inadequately scant, except for an orderly north-south row of ornamental pear trees, not known for canopy shade.
Sure, our chief executive is having a go at greening the municipality but our city mothers and fathers need to grow a few emerald thumbs, don't you think?
Will proposal come to fruition?
Concept designs for a new pedestrian overpass at Shepparton railway station, together with complementary council-related Shepparton railway station shared pathway linkages concept plans, will be exhibited for public comment from Monday until February 18.
''... the construction cost has been estimated at approximately $18826500 which would be met by the State Government,'' and ''as part of the project, the construction of shared pathway links would be constructed (sic), coming to an estimated cost of $4748300, which is expected to be met, in part or full, by Council''.
The possibility of such a proposal coming to fruition is quite remote in my view — based on demand and cost, in the medium and even long-term.
It seems as if there are many of our residents (Rodney Champness, Letters to the editor, The News, December 28), who share that view, including seasoned council faultfinder Robert Dodds (The News, December 26) — recent knocker of mall inaction and Welsford St northern upgrade works.
Robert declares our council as ''bonkers'', presumably jointly and severally, declaring them as ''... becoming a laughing stock and an embarrassment to all ratepayers''.
Not all of Robert's dissertation dishes denigration.
In truth, there could be ''miniscule benefit to the CBD'' — more research needed there for instance.
Robert poses the question, ''Why don't they (council) have the guts to ask ratepayers if they approve of spending such a huge amount of dollars?''
That opportunity, Robert, in part, is what council's six-week exhibition and comment exercise is all about.
Does Robert also require ratepayer sign-off for the similar mall rejuvenation spend-up?
Rod also seeks a detailed costing of the proposed footbridge for ratepayers.
It's worth noting the bridge project component, if, or when, approved and budgeted for by the State Government, is the province of the relevant department — as was the Shepparton Law Courts recent landscaping work.
Let's be realistic, even if the footbridge doubtfully ticked all the boxes, realistically, the chances of completion in the next decade are diminutive — don't you agree?
Don Horsey (The News, January 1) suggests grassing the former lakeside servo and placing a cafe there.
Good suggestion Don — eatery already planned for as part of the new SAM, adorned with works of art, together with community spaces, all to attract visitors while lifting the cultural temperature of our lower Goulburn Valley.
Don's suggestion of council buying and developing the burned out centre-of-town hotel, with money strictly earmarked for an art museum, would scarcely stack-up even if condoned by funding governments and the property was on the market.
Great to see residents using our newspaper to have their welcome say.
Wisdom worth noting
Boxing Day yielded another meaty letter to The News editor. This time from a gentleman whose political wisdom is usually worth noting — Bill O'Kane.
Well, yes I do know him, have done for something like 40 years, and I have come to highly respect his general judgement, particularly his astute assessment of political horseflesh.
What was he venting his spleen about this time?
His first sentence summed it up precisely — The Victorian National Party is in disarray.
Citing the massive shrinking of support in 26 years, from 18 total state seats to a meagre seven, and the colossal flogging here in Shepparton after a ''nasty and expensive campaign'', Bill rounded up on Nat's state parliamentary head-honcho Peter Walsh calling for his immediate leadership resignation.
A succinct conclusion followed, ''The people of Victoria deserve better''.
What thinking rural dweller would argue with that?
Nats' pre-selection policy, after a 1996 debacle for the federal seat of (then) Murray was disastrous for the Nats, sorely needs a rebore and we've yet to hear the possible future of the ''community picks its National candidate'' experiment recently trialled in Shepparton.
On top of all that, The Age yesterday ran a full-page story on the emergence of a well-resourced NSW-based 'Anti-Nats' group, founded under the moniker of 'Anyone But Nats'. We'll hear more from them.
Tough times ahead. The one-time horse-trading bush socialists need someone of the calibre of a Ross-Edwards or a ''Black Jack'' McEwen to get them out of this murky malaise.
Shepparton's John Gray has vast experience in local government, urban water reform and natural resource management.