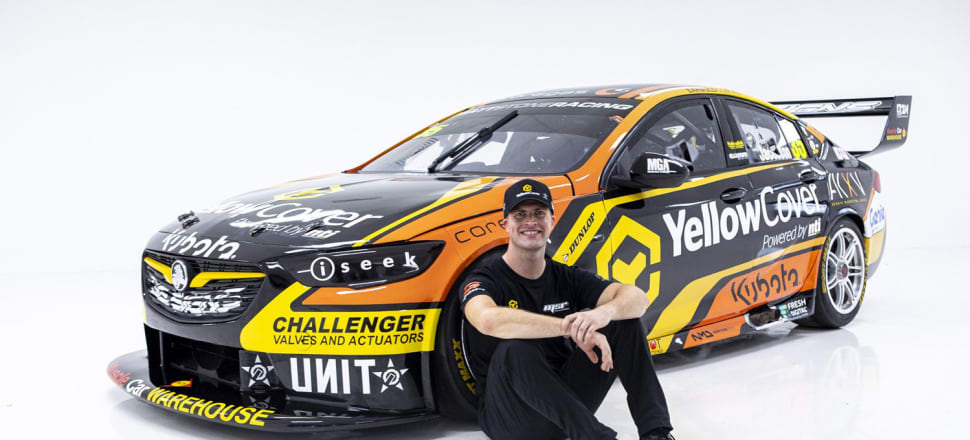 5370537724001
The next phase of Garry Jacobson's V8 Supercars career begins this weekend in Adelaide.
Having compiled an impressive rookie season for Kelly Racing, Shepparton's fastest man will debut for new team Matt Stone Racing looking to continue his ascent up the motor racing ladder.
Swapping his run-down Nissan for a powerful Holden Commodore, Jacobson is not shying from the challenge of pushing further up the field, believing top-10 testing pace showed his new wheels have plenty about them
But the new car is just one major change in the 27-year-old's life, having relocated to the Gold Coast to join his new team.
"It's been a fantastic experience so far," Jacobson said.
"Being a Shepparton boy and loving that country atmosphere I've always tried to make it work with Melbourne-based teams, that's been a big part of my journey.
"But the opportunity to race for Matt Stone Racing came up, we're a Queensland-based team, so I decided to make the move, so the team knows I am 100 per cent committed to the cause and to being as competitive as possible.
"The transition has been really cool and I've enjoyed it, although the weather has just been a lot of rain — we've had 600 mm in the last two weeks. Everyone was saying to come to the Gold Coast because the weather's beautiful, but it's definitely not as good as Shepp's."
After an off-season spent clanging and banging in the gym — not to mention popping over to the United Kingdom for two days of training with renowned Formula One driver coach Rob Wilson — Jacobson is ready to attack the new campaign after lightning-quick testing speed.
"We've had a rookie test day at Queensland Raceway and the official launch day on Tuesday, and we feel really well prepared," he said.
"There's a lot of relationships to get used to, the engineer department, the crew working on the car, even the corporate team, and everything has jelled really well. So far we've jumped in the car and shown top-10 speed, so we've got tremendous confidence heading into the season."
While grateful for the opportunity Kelly Racing had given him in allowing him a debut season, Jacobson said he felt far more equipped heading into the new campaign with plenty more grunt under the hood.
"In my learning year, it was a tough challenge to compete in an eight-year-old Nissan," he said.
"It was a team to get me going and the opportunity was great, but now I'm in an updated car, the Holden is a very competitive car. Seeing top-10 speed is very inspiring, it just helps to turn up to a fight with the right weapons.
"I feel like last season I was turning up to a gun fight with a knife."
The season begins today with the first practice session in Adelaide, while the racing kicks off on Saturday and Sunday with two 78-lap races.
Jacobson said a positive step forward was the clear goal for his season after finishing 23rd in last year's championship.
"We showed flashes of top-10 qualifying pace even in the Nissan, so a couple of top-10 qualifying performances would be great to show I can use that extra speed," he said.
"If we keep ticking boxes, top-15 race results seem a more than achievable goal for the first five races while we're still getting accustomed to everything, but after those first five races we'd love to push on again and strive to get up the order into the top 10."