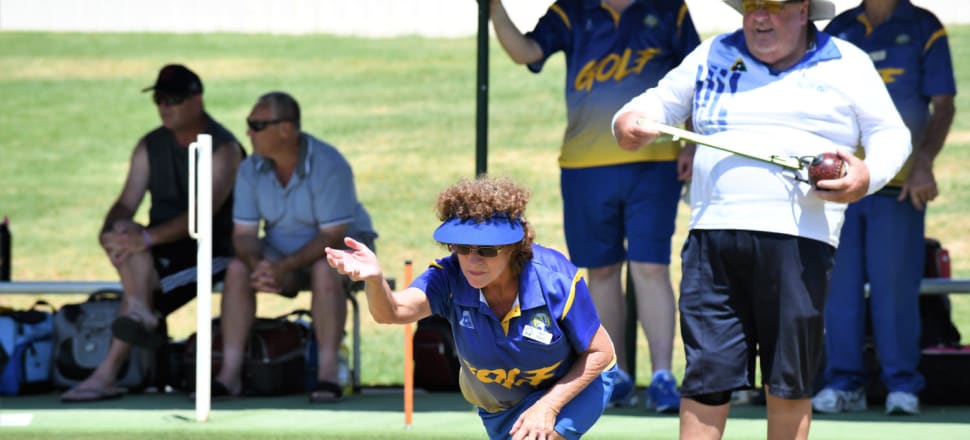 5370537724001
With just one round left before Goulburn Valley Bowls Division finals, the second-tier top four is well and truly set.
Top-three sides Tallygaroopna, Shepparton Golf and Shepparton Park all won well during Saturday's play, while a loss for Tatura did nothing to harm its chances of making the post-season.
Tally took care of Tatura 110-83, winning three of four rinks in the process.
Jason Carter pinched two points for Tatura with a 23-20 rink result, but the rest were Tally's, with Mark Ryan (35-17), Mick Hanna (28-19) and Joey Lia (27-24) all producing Ws.
Shepparton Golf was also in great touch, sweeping the four rinks in a 110-80 triumph against Seymour.
Graeme Waddell's rink was not taking any nonsense, coming up with a 32-19 win to give its side a stranglehold on the game.
Park had no trouble against Hill Top, winning three rinks and drawing the other in a 111-83 result.
Ashleigh Williamson continued to build a reputation as perhaps the best skip not regularly picked for division one, proving dominant in a 32-18 shellacking.
And Kyabram came up with just its fourth win of the season, beating Mooroopna 109-81 with the rinks split.
Both the Power's rink wins were hefty, with Peter O'Brien (31-12) and Maree Boswell (31-20) taking control.
● Division three action had Mooroopna Golf maintain top spot on the ladder with a 22-shot win against Rushworth in a top-of-the-table clash.
Golf only needed two rinks to bag the 10 points, with Craig O'Shannessy producing a solid 20-shot rink win.
Mooroopna also came up with a nice upset, beating third-ranked East Shepparton by 31 shots in a comprehensive result.
The Cats claimed all four rinks, with Graeme Power and Arthur Smith each winning 26-13.
Kyabram did the job against Dookie, taking 16 of a possible 18 points in a 104-77 drubbing.
Nardo Di Petta was not playing around, winning 34-10 in a great performance.
And Golf bested Park in the Shepparton derby, winning 110-90 with Kris Wright and Frank Ivak taking 11-shot triumphs.
● The apple cart was well and truly upset in division four, with the top two sides rolled by lower-ranked opposition.
Top-ranked Hill Top had a tough day against Merrigum, falling 100-82 as Rob Dennis won 33-8 to put his team in control of the fixture.
Tallygaroopna had a more competitive match, but also could not secure the 10 points, with Noel Slater's 31-15 rink the defining score.
Shepparton had a stroll in the Park, spanking Rushworth by 68 shots and claiming all 18 points in the process.
It was a similar day for East Shepparton, seeing off Murchison by 36 shots.
Euroa beat Shepparton RSL 105-84 to keep its chances of playing finals alive.
● Stanhope wrestled top spot in division five off Seymour by beating that same team by three shots.
In a match of the season contender, Stanhope only needed one rink to get the choccies, with Brian Stokes winning 26-18.
Colbinabbin remained in good touch with an 80-58 result against Mooroopna Golf, while Hill Top (77-70 v Violet Town) and Dookie (89-49 v East Shepparton) were also on the winners' list.
● Division six east winners were Avenel, Shepparton Park and Euroa, while Shepparton Golf, Hill Top and Mooroopna Golf won in the west.