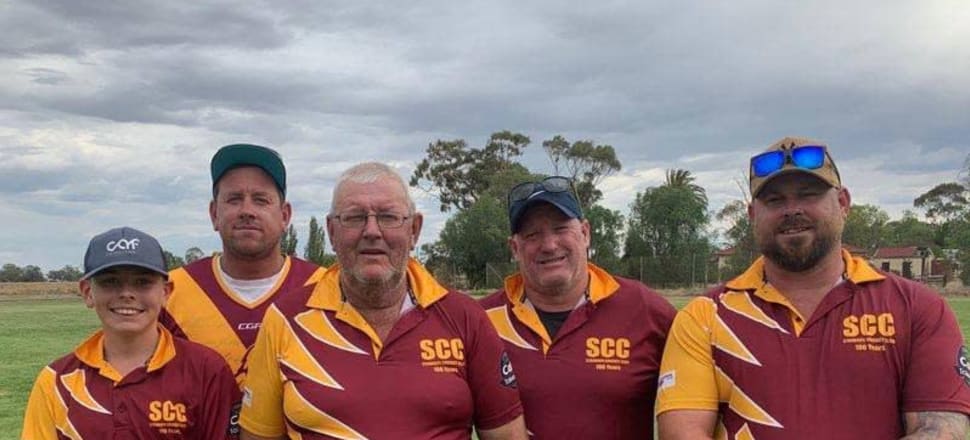 5370537724001
The Webbers cooked up a family feast for Stanhope Cricket Club last weekend as the family name almost filled half of the club's D-grade side's cricket line-up.
Five Webber family members took to the field on Saturday in Stanhope's round 13 clash against Bamawm-Lockington United in the Goulburn Murray Cricket D-grade division.
With the player's age ranging from 60 to 13, it meant three generations pulled on the maroon and gold colours in the action-packed family affair.
Ian Webber and his two sons Dayne and Beauden took to the field alongside Ian's brother Shane, while Beauden's son Tanner rounded out the quintet.
The momentous day was brought about when the eldest of the group, Ian, found his way into the line-up at selection night and joined the remaining quartet.
Ian's son Dayne - playing in his first season at the Lions - said playing alongside four of his family members would be a day to remember.
"It was a lot of fun having all five of us out there, it's something we will remember for a long time," he said.
"Playing with the old man was great, we (had) been trying to get him in for a game for a while and hopefully now we can get him to qualify for finals."
"And winning the game topped everything off, the boys put in a really good performance.
"It was nice to see uncle Shane come through with the goods with the bat."
Each Webber played a role in Stanhope's 55-run win, none more so than Shane, 51, who belted a superb 50 not out off 51 deliveries.
Shane crunched seven boundaries and two sixes in his damaging half-century knock, as the Lions reached 207 batting first.
Dayne (1-24) and Beauden (1-25) each collected wickets, while teenager Tanner took a catch.
However, the highlight of the day came late when the result was already in favour of Stanhope.
The Lions' captain Cobey Aynsley told the eldest Webber to begin warming up for a trundle and before long, Ian had the kookaburra firmly in his hands.
Wanting to show the rest of the family how it was done, Ian delivered a whirlwind over that had it all.
After firing out loose deliveries all over the pitch, Ian finally landed a jaffa and picked up a famous wicket that will be replayed at family gatherings for years to come.
"Going off that performance I don't really think he was much of a sportsman," Dayne said with a laugh.
"He got an over in and picked up a wicket, so he was pretty pumped.
"I think he nearly bowled a 12-ball over and even his wicket ball nearly bounced twice before it hit the stumps.
"It was all heaps of fun and no doubt something we will relive again and again."