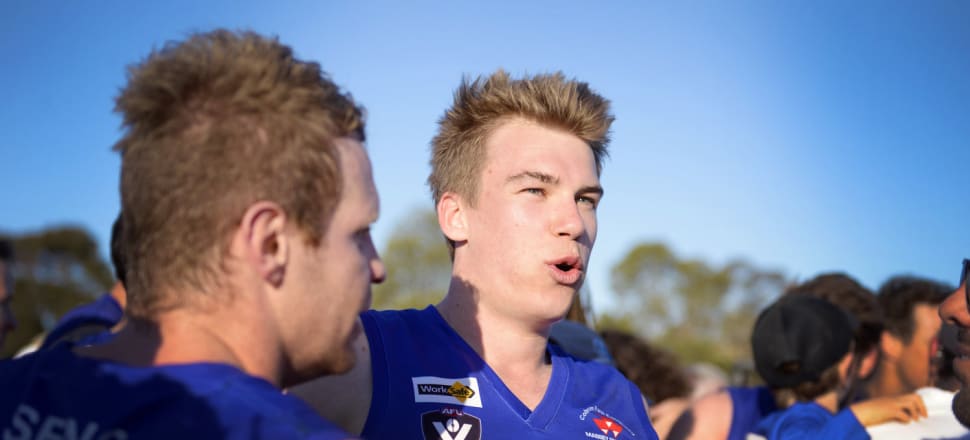 5370537724001
THE SCORE
Strathmerton 3.3, 5.7, 8.10, 12.15 (87) d
Waaia 1.1, 3.3, 6.6, 7.7 (49)
Grand finals are won and lost on the big moments and whenever Saturday's Picola District Football League decider called for a team to stand up, Strathmerton seized the opportunity.
Ahead by 16 points at three-quarter-time after superbly shutting down much of Waaia's dangerous run, the Bulldogs had to go again to secure just their second premiership from six grand final appearances in the past seven seasons.
And go they did; while Bomber coach Matt Brown led by example with a silky goal in the quarter's first minute to cut the margin to 10, the Bulldogs had a number of responses, led by a Matt O'Kane long bomb from a tough angle.
With an elusive premiership slipping through their fingernails, Waaia ran and attacked at all costs, but could not strike a blow.
A cool set-shot finish from young Bulldog Sam Lewis took the game to breaking point with Strathmerton 23 points to the good.
With time quickly disappearing, the Bulldog backs would not relent and continued to repel waves of attack, with Connor Hargreaves snapping a goal to continue to build the margin before a freak finish from Bulldog defender Shankus Ryan put the game to bed.
It completed a masterful display from Strathmerton centred around elite defensive effort and genuine midfield class, with its forwards the beneficiaries and able to kick a winning score.
From the jump, the Bulldogs appeared to have found the right recipe, with their high intercept possession count enabling them to transition quickly into their dangerous forwards.
Charlie Burrows snapped the game's opener, but Strathmerton would reel off the next five goals; Hargreaves popping one home from close range before two silky goals in two minutes to best-on-ground Lance Oswald had it take a 14-point advantage to quarter-time.
Waaia's quarter-time address centred around lifting its work-rate, but it simply could not control the footy as the Bulldogs parked it in their forward half; Theo Thomas ran into an open goal before Zeke Bunge rucked, roved and drove the ball inside 50, with Tyron Hill able to mark and guide a set shot home for a 28-point buffer.
But finally the Waaia machine would click into gear, with strong lead-up play getting the team its first true spell of dominance - three consecutive goals highlighted by a 50m running roost from Aaron Shelton getting it back within 10 points at the half.
The game continued to ebb and flow like the Mekong after a monsoon; the Bulldogs took the initiative early in the third with two quick goals, but the Bombers clawed back, controlling the play with Connor Brown and Sam Richardson finding majors to get them back to just eight points down.
They continued to push in search of a defining, game-changing moment that would push them over the edge of the cliff and charge home to victory, but once again it was Strathmerton that stood up, with Zack Betson goaling on the run shortly before the three-quarter-time siren to help it turn for home 16 points in front.
It set the side up perfectly for the final stanza, in which it refused to let another premiership opportunity pass.
Oswald was the rightful recipient of the AFL Victoria Country and PDFNL best-on-ground medals for a game in which he was a class above, racking the ball up, using it with precision and scoring with elite efficiency.
But he was not the only Bulldog to shine; fans felt safe when O'Kane found the ball, Shannon Emmett, Matt Shannon and Adrian Crestani all defended their guts out, and Simon Russell produced more midfield magic to help his team take control.
When Waaia got cooking its cuisine looked delicious, but the problem was there just were not enough hot meals.
Ash Thompson was his prolific self and bursted the team forward at will, with winger Shelton also producing a lot of run.
Burrows found the ball, but further up the ground than he would have liked, with Mitch and Jordy Cleeland also impressive.
The loss was just Waaia's third in the past two seasons, but the campaign ended with yet more heartbreak that will fuel the side's motivation moving forward.