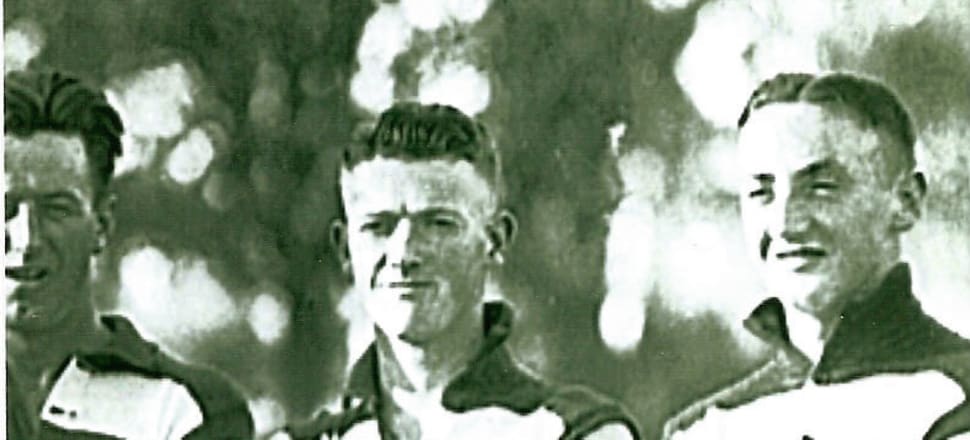 5370537724001
Yarrawonga Mulwala has produced a number of brilliant foot runners as well as footballers but not many can boast they have a number of prestigious accolades in both.
Yarrawonga born Leo Hicks was a marvel in footrunning, winning the Open Mile Championship and every distance he contested as a youngster before taking up football for his beloved Pigeons and being picked up by Fitzroy.
Runs with Collingwood and Camberwell followed before Leo gave up football to resume professional running which proved a great success with Leo's name on many foot-running awards.
The Chronicle went back through the archives and with the help of some of those very much in the know, found some background on the foot-running and football marvel, Leo Hicks.
Leo was born in Yarrawonga on a hot and sunny January in 1916. He was christened Thomas Leo Hicks, but everyone preferred to call him Leo.
Leo had plenty of company at home with eight brothers and three sisters. He went to Yarrawonga Primary School, then to Assumption College at Kilmore.
Shortly after joining Assumption in 1932, Leo took part in a Cross-Country run of about three miles. Brother Marks, the Sportsmaster was amazed to see Leo arrive back first. At 16, he was a lot younger than many of the others, and Brother Marks thought he had taken a short cut.
However, when it was proved he had run the full distance, Brother Marks apologised and offered to coach him.
Leo went on to win the Open Mile Championship, (of which he still has that treasured trophy) and every distance he contested. Leo attributed his fitness to going everywhere by foot.
This led to a lifelong love of running. Leo's prowess helped Assumption win the Associated Catholic Secondary Senior Cup in 1932.
The following years of 1933 - 34 – 35, Leo attended the Marist Brothers Juniorate in Mittagong NSW studying to be a Marist Brother. During this time, he won every distance race on the card against the best from all Marist Colleges Australia wide.
Thus, he was undefeated in distance races for the four years (1932 – 35) quite a record. Even when he was made to give a twenty-minute start in the cross-country he still won.
Leo returned to Victoria for his father's funeral towards the end of 1935 and suffered the loss of his mother a few weeks later. He did not go back to Mittagong but returned to Yarrawonga and lined up to play football for Yarrawonga in the 1936 season.
He was pleased to return to Australian Rules, as they only played rugby, soccer and hockey at Mittagong.
Leo was a spectacular success at full forward, kicking 12 of 13 goals against Corowa, which is still believed to be a club record. In 1937, he tried his luck at Fitzroy and made the senior list alongside three Brownlow Medallists in "Chicken" Smallhorn, Dinny Ryan and the legend Hayden Bunton, but after a few games he headed back to Yarrawonga.
Leo again made Fitzroy's list in 1938, but again returned to Yarrawonga to finish the season and kicked over 100 goals for that year where he was also runner – up in the Ovens and Murray League goal kicking.
Leo played in three Grand Finals, two with Yarrawonga in 1937 and 1938 and with Fitzroy reserves in 1942, where he was amongst the best players.
Leo gave football away in 1939 to concentrate on running, returning to Fitzroy in 1942, the year he married the love of his life Mavis Duggan. Leo switched to Collingwood in 1943, playing with magpie greats like Alby Pannam, Lou Richards and the famous fullback Jack Regan.
In 1939 Leo played a practice match with Camberwell in the VFA with the great Laurie Nash, so Leo can claim to have played with two of the very greatest to have worn a guernsey (Laurie Nash and Hayden Bunton.).
Press reports at the time commented that "Leo Hicks is a clever winger, plenty of pace and a good blind turn thrown in for good measure" and again "Hicks had the better of the duels. His superior marking and pace gave him the advantage"
During the summer months, Leo had been making his mark in the professional running ranks, winning several distance races at White City.
In 1941 he made news with a good third in the two miles Grampian Stakes at Stawell.
The next day, Easter Tuesday, he ran third in the mile at the Bendigo Easter Fair Carnival but the next day he took them on again in the two miles and won after competing three days in a row.
(Yet in the year 2001 we hear Olympic and World Champion athletes saying they can not compete two days in succession.)
When professional running resumed after World War Two, Leo won a mile at Maribyrnong, then went on to win the mile race at the Geelong Carnival.
He won another Maribyrnong mile in 1947 but could not perform at his best when favourite for the big two milers at Stawell.
The 1948 season produced some phenomenal results for Leo.
Starting in February he won the mile races at Benalla, Leongatha and Dandenong and just before Easter he won another mile at Maribyrnong.
Everything was set for the big one at the Mecca of professional running, the two miles Grampian Stakes at Stawell and Leo didn't let his supporters down, winning brilliantly in near record time.
The next day at the Bendigo Easter Fair Carnival, he conceded 22 yards to the eventual winner of the mile and missed out by a mere two yards.
On the Wednesday he saddled up again in the Colonel Williams Two Miles and won convincingly. Three weeks later, Leo put up the best performance of his career over the mile when he won in a time of 4 minutes 9 seconds off the mark of 45 yards and would have been the fastest mile in Australia that season.
In 1949, Leo ran second to the great T. P. Kelly in the Australian Professional Mile Championship. Leo could not regain form following a hernia operation. However, it was no disgrace to finish second to Kelly, who was a real champion and held a world professional record for two miles of 9 minutes 9.6 seconds.
Leo still has a pair of kangaroo skin spikes worn in many of his notable successes. They are worn down from ¾ inch to about 3/8 inch and are amongst his most prized possessions.
Asked for training hints, Leo stated that apart from getting miles into the legs, by gradual commonsense training, a runner should never race unless fully fit.
A tough race when half fit can do a runner harm and set him back.
On February 14, 1950, Leo had the honour of being the backmarker off 30 yards in the mile race at the World Professional Sprint Championship meeting at the Melbourne Showgrounds.
He was sharing the program with greats like Barney Ewell, John Stoney, Frank Banner and the Englishman Albert Grant.
Being a backmarker is a compliment but it is one Leo would rather have done without, and giving big starts made it impossible to win that night.
Eventually this led to his retirement from the track with wonderful memories of many great victories and life – long friends made along the way.