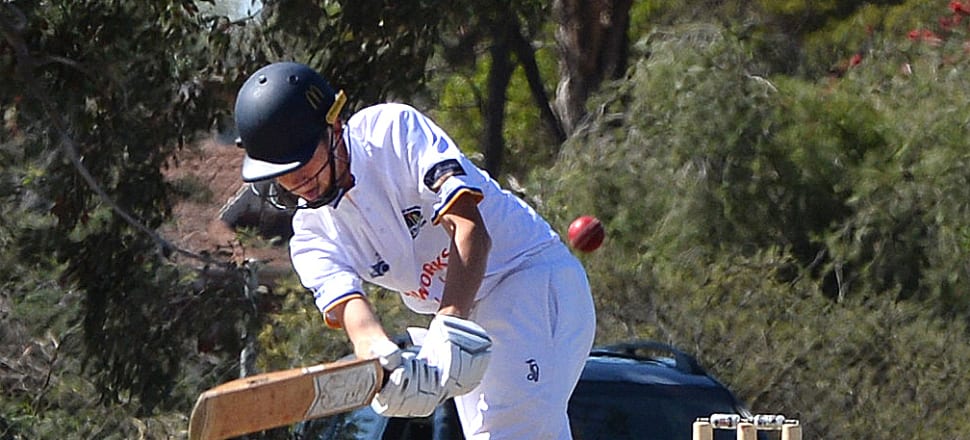 5370537724001
A grade
A brilliant bowling performance has seen the Yarrawonga Mulwala A Grade score a valuable victory against Delatite in Mansfield.
After making 194 runs last Saturday and having Delatite at 2 for 18 at stumps, the Lakers outfit returned to battle and with the second ball of the day Delatite third wicket fell without adding to the score.
The YMCC Lakers stuck to their line and length and wickets fell regularly to see Delatite all out for just 65 runs.
The wickets were evenly shared, and bowling was miserly.
Angus McMillan bowled 13 overs taking 2 for 5 with 11 maidens.
Corey McIntosh bowled 14 overs taking 1 for 6 with 10 maidens; Matt McCabe 2 for 3 off 4.4 overs; Brock McCabe 2 for 11 off 9 overs; Will Sharp 1 for 18 off 8 overs and Jim Irvine 2 for 8 off 3 overs.
With first innings points won the YMCC Lakers batted again.
They made 3 for 130 off 20 overs with Ben Irvine scoring 55 from 46 balls, Cory Pearn 30 not out, Harry Wheeler 19 and Ben Welsh 10.
Next Saturday the A Grade take on top three team Beechworth at Stan Hargreaves oval in Yarrawonga.
Get down and support the local team from 1 pm in what promises to be at top level spectacle in local cricket.
C grade
Ned Mullins has played one of the great cricket knocks in recent memories at the Moyhu Recreation Reserve.
Batting at number 4, Mullins came in with the score at 2 for 13.
He then proceeded to dispatch the Greta bowling attack to all parts of the ground compiling 21 fours and 3 sixes in his outstanding knock of 147 not out.
Mullins 147 not out was the highest score for a Yarrawonga Mulwala player across all Grades this year; and it is the 11th highest score in the Yarrawonga Mulwala Cricket Club's history across all Grades and the second highest in C Grade history at the club.
Rod Peters was second top scorer with 31 runs while Sean Mclarty scored 23 and Ben Pickering 17 to set Greta a mammoth task of chasing 6 for 248 off 36 overs.
With the ball the Lakers bowled good line and length restricting Greta to 6 for 196.
Captain Jason Sharp took 1 for 31, Austin Willett 1 for 57, Rod Peters 1 for 19 off eight overs, and standout man of the match Mullins took 1 for 29.
Next Saturday, the Lakers C Grade trek to Lonsdale Reserve in Mulwala for their Round 7 clash against Gapsted.
Make sure you get down and support your local teams with cricket being played in both Yarrawonga and Mulwala.
Under 16
The under 16 boys successfully chased down 41 on Saturday and making that their third win in a row.
Hudson Gillies and Zac Fraser got the boys off to a great start passing the 41 without a wicket lost and both of them retiring not out.
A few wickets were then lost, then Jyda House walked to the crease and made 25 hitting the ball clean from ball one.
Tyler Norman and Austin Willett then came out to bat and had a very nice partnership, Tyler making 22 rotating the strike really well and Austin hitting the ball to all parts of Vic Park.
The boys ended up on 7/154, another good win for the Lakers.
Under 14 Bulls
Heading into day two of their match against Wang Magpies, the boys who were playing one short this week, were keen to defend their total of 213.
Lachlan Phillips, Geoffrey Montgomery and Daniel O'Brien all bowled with good line and length with Geoff getting 2-17 to go with his 39 runs.
Daniel's 5 overs, only going for 6 runs, helped to build pressure on the Wangaratta side.
William Turnell came onto the attack and once he found his rhythm, he too took 2 wickets both being bowled.
TJ Docking also bowled well with the great figures of 5 overs for 9 runs.
Rudi Vodusek and Jeremy Baer both bowled well and are improving every week which is great to see, with Rudi taking an excellent catch at long on.
Two of the highlights of the day were first year players Pacey Haebich bowling good line and length and getting the first wicket of the day, and Nate Kreeck getting his first wicket in under 14s with a plum LBW.
The boys were so happy for him that Lachlan held him aloft like Simba off the Lion King.
All the boys are having fun and are certainly enjoying their cricket.
At the end of the day the Bulls score of 213 proved too much for the Wang Magpies who finished their day on 6-156.
Award winners were Lachlan Phillips 83no - Crusty Loaf Bakery, William Turnell 9 runs and 2 wickets - Ricky D's Pizza, Pacey Haebich 5 runs and 1 wicket as well as his improvement every week - Wingates Intersport, Rudi Vodusek for his terrific catch and always giving his best for the team - Yarrawonga Takeaway. On behalf of the YMCC the Bulls would like to thank their sponsors for their ongoing support of our great club. Go Bulls
Under 12 Rams
On Saturday morning the Rams took on the Benalla boys at the showgrounds.
After winning the toss the Rams decided to bowl first.
Nate Sheridan and Kade Michael opened the bowling and kept their lines nice and tight.
Van Kreeck and Lachlan Johnson were next to bowl and continued to do well before Darcy Hargreaves came on and collected himself a well-earned wicket.
Jack Burns and Ollie Watson also bowled well at the back end of the innings with the Benalla team finishing 2/74.
It was then the Rams turn to bat with Jack Burns and Ollie Watson opening the batting and taking the score to 13 before Watson was run out.
Nate Sheridan came and went, with Van Kreeck then coming to the crease next and proving a handful for the Benalla attack.
With Kreeck and Burns both retiring Darcy Hargreaves and Lachlan Johnson came in and hung around before Johnson was run out for 3.
Kade Michael then came in and got a nice ball removing his off stump.
Burns came back in and before long he was out caught for 4.
Kreeck came back in with Hargreaves and with the game in the balance they provided some great batting before finishing with, Kreeck not out on 32 and Hargreaves not out 6, with the score 5/74, and the game ending in a tie. Awards: Yarra Ice-creamery - Darcy Hargreaves. Yarra Videoland - Jack Burns, Wingates - Van Kreeck.