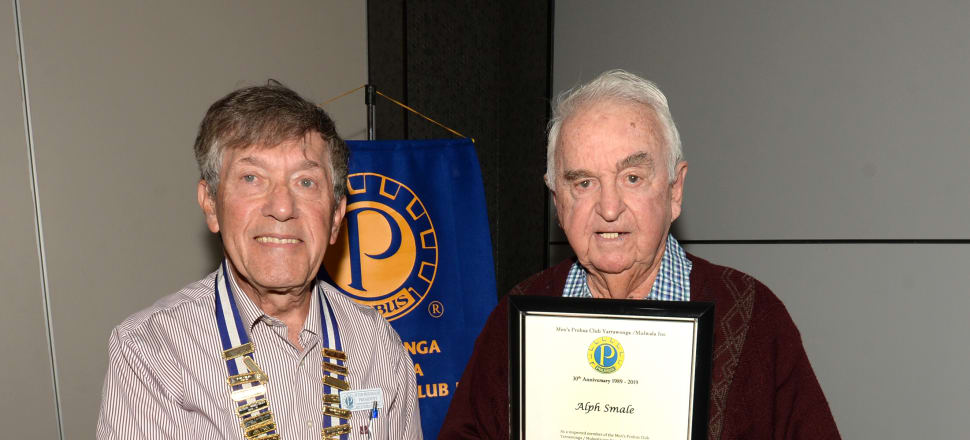 5370537724001
It was only fitting that the 30th year birthday celebrations of Yarrawonga/Mulwala Men's Probus at Yarrawonga Mulwala Golf Club Resort on Wednesday, November 13 had a strong Rotary presence.
After all, the original Probus Club concept was initiated by the Rotary Club of Yarrawonga Mulwala and last Wednesday, 20-year Rotarian including Past President and Past District Governor of 9790 and currently 9790 chair, Bernie Bott, was involved in the formal part.
Mr Bott spoke of the high quality of members involved in setting up the Men's Probus Club to stand it in good stead for the following three decades.
"Yarrawonga was one of the early places to take up Probus in Australia. It was very forward thinking," he told Probus members at their normal meeting ahead of a big luncheon.
"Men's Probus was the first Probus club established in the Yarrawonga/Mulwala area with the inaugural meeting on 8th November 1989 and was accredited by Probus Centre-South Pacific on 13TH November 1989."
In the history of the Yarrawonga/Mulwala Men's Probus before the 30-year milestone, there have been five Life Members; the constitution allowing just three surviving Life Members.
At last Wednesday's memorable occasion, Alphonse Smale became the sixth overall Life Member and the third surviving Life Member.
President of Yarrawonga/Mulwala Men's Probus Peter Proussalis presented Mr Smale with life membership for his "outstanding service over 30 years".
"I also present you with a Commemoration Name Badge as a foundation member and being elected president 1996-1997 serving with commitment, dignity and true testament to the Probus values of friendship, fellowship ad fun," today's president said.
"And finally, as a historian keeping all the club records together and photographs of fun times in past years."
In response, Mr Smale expressed his thanks to the Probus club committee and members for considering him worthy of the honour. "I've enjoyed my 30 years. I'm not in the same league as (past and present Life Members) John Grant, Phil Gruchy, Bob Ward, Ken Williams or Bruce Neal," the modest, newest Life Member said.
"Being an itinerant schoolteacher I lived in eight or nine towns and cities in regional Victoria and found it was beneficial to be involved in the local community.
"And in my case, membership of Apex in one town, Rotary in another, and for the last thirty years, membership of this Probus club."
After retiring in 1987 and moving to Yarrawonga in 1988, Mr Smale became a member of Yarrawonga Men's Probus Club which he said was formed as a result of Rotary's foresight and initiative, with 39 enthusiastic members.
"It grew in number to some 90 members but with the formation of three other Probus clubs in our twin-towns, and the inevitable ageing process, our members have declined but it is still very much a vibrant and active Probus club," he said.
"Thanks to Rotary with now four Probus clubs here, there have been over 400 of our mature-age citizens who have participated in what Probus has to offer.
"Over the 30 years of our club's life we have held over 350 meetings, issued over 350 club bulletins, heard over 350 talks from members and over 350 addresses from guest speakers; conducted an impressive variety of trips both local and interstate and even a couple overseas."
Mr Smale was a good footballer in the various towns he worked and his brother Ken Smale played with Collingwood. In conclusion, Alph acknowledged "the great assistance from the staffs of the ideal venues, initially ClubMulwala then Yarrawonga Mulwala Golf Club Resort over the three decades".
A Commemoration Name Badge with certificate was also presented to Life Member Bruce Neal by the president, with Mr Proussalis mentioning the same wonderful attributes as he said in respect of Mr Smale but adding: "Finally as a Almoner's reporting of our members' well-being, and mainly your joke telling, leaving all our members in laughter!"
Mr Neal said that the object of Men's Probus to socialize with fellow Rotarians and partners to enable a close-knit family fellowships to occur "achieved the best possible outcome".
"On the first Monday after our monthly Probus meeting we would conduct trips to far-away places and stay over and day-long trips to more localized places," he said.
Topping the list of 24 places mentioned by Mr Neal was "the big one" to Sydney with plenty of sightseeing in Sydney and surrounds as well as stopping at towns up and back to the NSW capital.
Other wonderful trips included Lake William Hovell at Whitfield, on to Porepunkah, Myrtleford, Beechworth, Woolshed Falls, Eldorado, Gold Mine Dredge; Lake Boga's Catalina Flying Boat Centre; Cobram Homestead, Sloane's Historic Homestead, Yarrawonga Manufactured Housing.
"Last and certainly not least, Ken and Ina Williams' generosity in making their Bundalong home available for many outings," Bruce said.
Unfortunately, foundation member Bill Monahan could not attend last Wednesday but was fondly remembered by his mates. Mr Monahan was to be presented with Commemoration Name Badge for his excellent service.
Members were pleased to see Life Member Ken Williams. He was presented with a certificate for his 25 years of wonderful service to Men's Probus.
Responding on behalf of her husband, who was dual president, in 1999-2000 and 2015-2016, Ina thanked Men's Probus very much for honouring Ken.
"Ken was very keen to be here today," Ina said. "He was always on the committee."
Members were pleased to either learn or be reminded about early days by 1989 Rotary Club President Barry Johnson, who, along with the late Bob Ward, pushed to have Men's Probus established.
Maurice Coster, who was president in 2004-2005 and 2013-2014, was unable to attend last Wednesday to accept a certificate in recognition of his loyalty, commitment and excellence. Mr Proussalis referred to Mr Coster being the club leader and emphasizing the core values in support of Probus ideals of friendship, fellowship and fun.
Mr Proussalis handled the 30-year anniversary celebration program in an impeccable manner. A luncheon to wrap up the day's celebrations was enjoyed by over 50 Probus members and their partners.