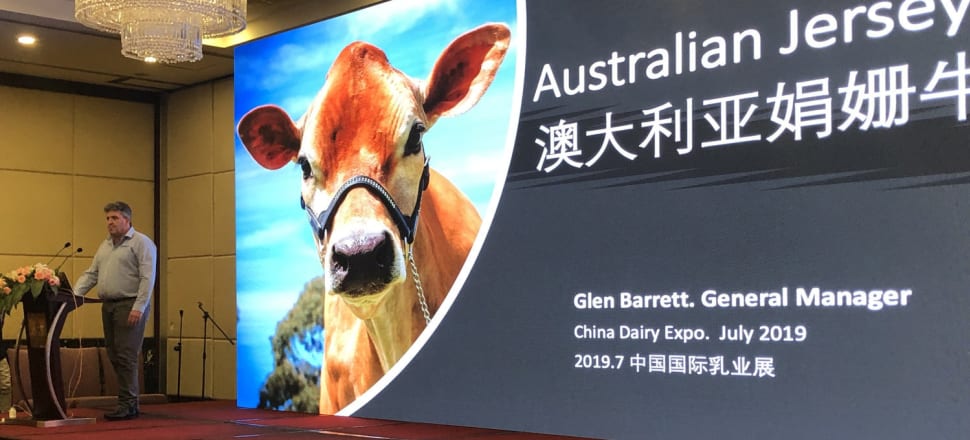 5370537724001
Australian Jersey farmers could be major beneficiaries from China's need for more dairy products, while addressing many of the issues confronting the country.
China needs 109 million tonnes of dairy product to meet current nutritional targets, but last year Australia exported only 840,000 tonnes.
A recent dairy trade mission to China has identified Jersey as a potential growth opportunity and has sought to clear-up misconceptions about availability of the breed.
Jersey Australia general manager Glen Barrett, who was part of the delegation, said Jerseys could be the answer to many of the challenges facing dairy in China.
"Their dairy herd is starting to get too big and has fertility, feed efficiency and heat tolerance issues — all things where Jerseys would be far superior," Mr Barrett said.
"It is mostly a Holstein market at the moment but the demand for Jersey is growing, particularly in southern China where the climate is warmer and the Jersey heat tolerance is beneficial."
Australia exports an average 10,000 Jerseys per year, but Mr Barrett said some exporters were telling Chinese buyers they couldn't buy Australian Jerseys.
"That is incorrect. By weight of numbers, we are a smaller breed but Jerseys are available," he said.
Mr Barrett said having a consistent market would encourage more Jersey breeders to enter the international market.
"If the market is inconsistent, it's hard to breed to supply to it.
"If there was consistent market year-on-year, breeders and farmers would breed heifers to meet that market.
"If the market is there one year and not the next, that becomes a bit of a challenge."