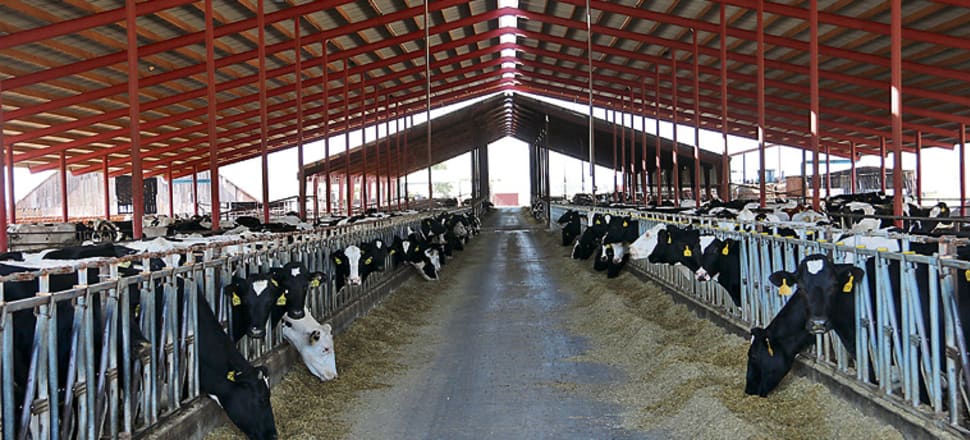 5370537724001
AS YOU read this, the factors affecting the outlook for global commodity markets are finely balanced, with much swinging on weather — so nothing new.
Europe has been baking — heat has clipped milk output, crops wither and silage reserves for winter appear depleted in several regions.
On the flipside, things across the ditch in NZ look great for a cracking season … so far … as an El Nino builds.
Commodity markets are positive but cautious — for starters, there is pressure for continued release of the SMP mountain from European government sheds, butter markets are fragile as buyers pushback on high prices, while the trade dispute between Trump and the Chinese government is worsening.
With all this in play along with our tough production conditions, it is easy to stay glued to the short term. Who even has the bandwidth to think past 2020?
Besides, whenever there's a discussion about the "positive dairy story in the long-term", a lot of people disengage. The short-term is so complex, there is little point, right?
Well, that won't work for long. Investors, customers, your next generation and a lot of others with large stakes in your milk game want to know.
Firstly, reflect on how we got here — what happened to the value of milk over the past 15 years?
While the rollercoaster of milk prices was extreme at times, the trendline over that time has lifted at nearly 3 per cent per annum over that period — more than CPI.
It is fact that farm input and overhead costs rose faster, which has made productivity a necessity for protecting margins and building wealth.
Some profound things changed over 15 years to support that trendline, despite the EU, US and NZ pumping out a combined extra 3 billion litres of milk each year.
China emerged as a large (risky) dairy import market, and a large population across South East Asia became committed dairy consumers.
Trade relations became more liberal through both multilateral and bilateral deals, improving access and affordability for new consumers. Very importantly, the EU and US all but stopped export subsidies.
Standing in today, looking "big and long", there are many things in play, but most are quite different to the influencers in the past. What will the world look like by 2030?
We decided to have a crack at answering that question. Let's beam out there to find out.
Imagine 2030:
Growing milk output got much harder in the past two decades, as the community pushed back against the impact of dairy farming on the environment.
New Zealand ran into barriers to the expansion of dairy, farmland values stayed flat for a decade to 2020 before the industry remade its future, intensifying and digging deeper for productivity as the land area under dairy shrank. That made it even more exposed to volatility but output has grown slowly.
European governments cracked down on the impact on the environment using some novel devices. Well-reported pressures on the Dutch industry in the previous decade took years of adjustment, but governments in other regions face ongoing vigilance by their communities to reduce dairy's footprint. The CAP remains but is purely about innovative environmental management.
Large-scale, highly productive US farms steadily grew in the face of similar pressures to run strictly closed systems. Smaller family units continued to exit dairy at more than 2000 per year. The US has become the biggest exporter of milk solids, but delays in innovating and the damage to relationships in the turbulent Trump era (before he spectacularly flamed out and was jailed) took time to fix.
600 million middle-class consumers across the ASEAN-6 now drive strong import demand, while household incomes in China are still growing 8 per cent per annum as a result of the drift to cities and to better jobs. Large supermarkets and fast food chains continue to roll out, putting a wider range of dairy foods in front of a larger number of people.
Russia came back to the global market after Putin's protracted demise and a more accommodating approach ensued.
Dairy drinks and foods have weathered tougher competition from synthetic alternatives and substitutes as flexitarian consumers seek diversity in their delivered, dial-up diets but a small segment remain highly sensitive to the use of any animals in food production.
GMOs and synthetic dairy lookalikes are mainstream for a growing segment of the market after the nut-juice fad was seen off by a well-managed campaign funded by the dairy sector highlighting the ludicrous amounts of water used in growing almonds, peas, macadamias and other nuts.
The trajectory for the value of milk continued to climb, despite each new niche and product differentiation quickly becoming "commodity". The commodity value of milk trended past $9/kg milk solids this year, but the wild gyrations in annual milk prices haven't gone away as weather continued to cause fluctuations in milk supply.
As a result, more than half of dairy farmers in Australia use milk price hedging tools linked to downstream customers to protect and smooth out the effects on their top line incomes.
The Australian dairy sector remains a niche player — importing commodities but exporting high-value solutions and consumer goods into small high-end markets.
Sounds fun? Who's up for it?
• Steve Spencer is a director at www.freshagenda.com.au