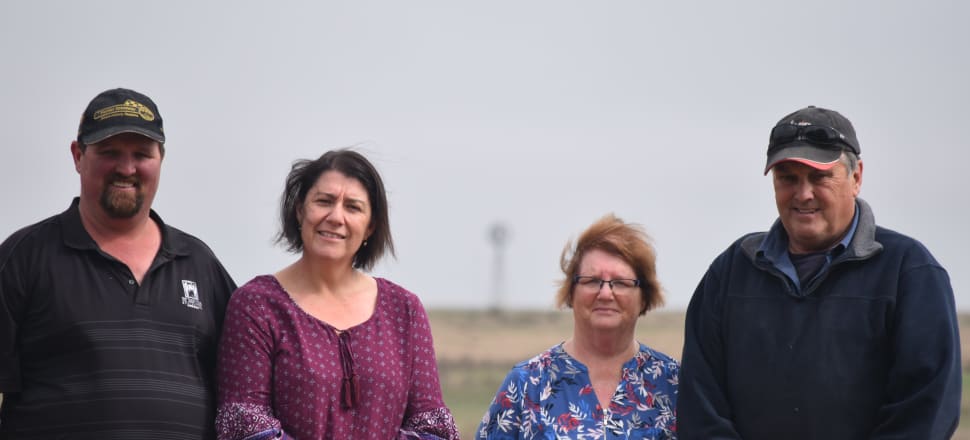 5370537724001
WHILE MANY dairy farmers are looking to the greener pastures of other farming interests, the Madden family of Ellerslie is investing in the future of dairy.
They're spending $750 000 on a new rotary dairy, a sign of confidence in the industry and their connection to the land.
Buoyed by a succession of good seasons and a decent milk price, the Maddens expect to increase numbers and production with the new dairy.
Mark and Tracey Madden farm with Mark's parents Paul and Helen. They have progressed from an original 10-a-side dairy with 120 cows to a 17-a-side, then a 16-double-up and now the 44-unit rotary.
Ground work has started and they hope to move into the new dairy by the end of May.
As a result, the milking herd will increase from 360 to 400 and a new feeding system is expected to lead to improved production.
"It is a show of confidence," Mark said.
"We were to the point that the dairy was at its peak and we had to either step up and look for something bigger or step out.
"We know how to farm this land so we decided to build the new dairy and we're pretty confident it'll be right."
Some neighbours and other dairy farms across the region have converted to beef, sheep or grazing, but that hasn't dented the confidence of the Maddens.
"I think too many have gone out," Mark said.
"There will be more demand for milk because of a lack of supply and I reckon those who stay will manage it a lot better and push production in the cows."
The 293 ha farm, including out paddocks, has a 60 per cent Friesian, 40 per cent Jersey herd, a mix that produces good production and test results for the Australian Dairy Farmers Co-operative suppliers.
It is essentially a family operation, supplemented by one part-time milker. Mark and Tracey's children Tess, 15 and Jack, 12, are already showing interest in the farm.
"Jack would leave school tomorrow to work on the farm if we'd let him," Paul said.
"In time if he wants to come home to the farm, we want it to be viable."
Over the decades, the Maddens have grown to know and love their land.
"We know what the land needs, what grass seeds work here, like Vic rye-grass, Tetila, Lightning, and what super rates we need, and we do a lime test every couple of years," Mark said.
Rainfall averages 711mm to 762mm a year. "It's the best kept secret up here," Paul said. "If you put money into it, you're going to get a return from it.
"When you have a look at other areas, they've had droughts then fires and then floods and in north Victoria they have it hard with water.
"You hope they all keep going but this area is usually pretty good. It's the end of February and we've got a green pick."
While buoyant about the industry, they don't have much confidence in the Australian Dairy Plan.
"We've got the same people sitting up there going on about what they're going to do," Paul said.
"If you paint an old house, it's still an old house. They need to bring in some fresh people and give them a go."
He also says all farms should get equal voting rights, irrespective of their size. "I'm just as important as the next bloke and no more important than another," Paul said.
Along with contracted professionals, the Maddens are managing the dairy project and helping with a lot of the work.
They hope to improve their average 400 kg/Ms to about 450 this year.
"We'll hopefully feed them better in the bale in the new dairy," Mark said.
"The cows will be individually fed which I reckon will make a big difference. We've got cows calving in September-October and we want to feed them differently to the cows that we've got calving in a couple of weeks.
"For the cows calving in March, we'll feed up to 6 kilos of pellets and the others we'll keep around four. With the new dairy we can individually concentrate on each cow as she comes in and we reckon we can get another 50 milk solids per cow by improving the feed."
They converted to pellets mid last year.
"We weren't getting the mixture of the grain right," Mark said.
"We could see that the last grain coming through the silo wasn't as good whereas the pellets stay pretty neutral all the way through."
They will continue using the old dairy until the new rotary, built on a rise near the existing yards, is online.
While Tracey says you need a sense of humour to get through the difficult times, it's obvious the Maddens love their farm.
And with a good season behind them and a major investment on the way, the future is looking rosy.
"Weather wise this is the best year we've had for a long time," Paul said.
"With price, it's got to have a $7 in front of it and if it balances out in the mid $7s we'd be happy."
For Mark it's all about doing what you enjoy.
"You've got to want to do it and enjoy it," he said.
"You don't turn off Friday night and start again Monday."