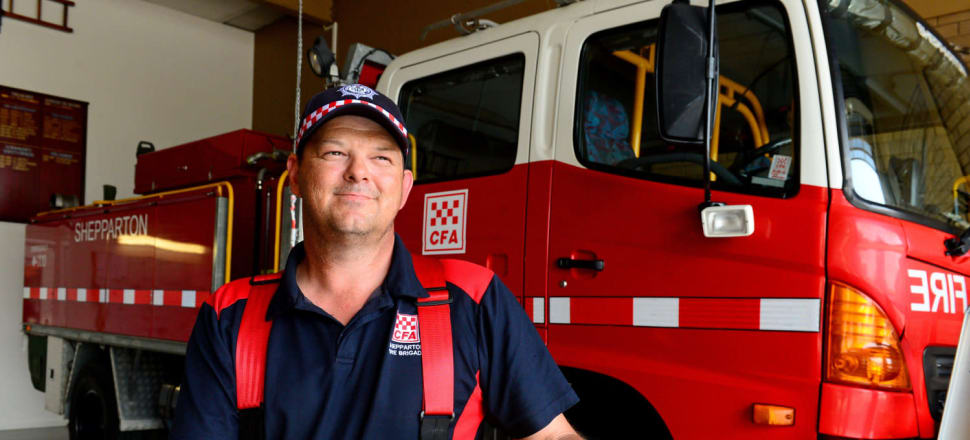 5370537724001
"I'll just get rid of these (dead cows), then I'll take that hay-bale for the rest," the farmers said as Shepparton CFA District 22 Second Lieutenant Adam Hermelin watched him tow four dead cows behind his tractor.
The farmer was just one of the victims of the bushfire crisis that has shocked a nation and leaves volunteer firefighter Mr Hermelin, 46, searching for the right words — words that might never come.
This particular Cudgewa farmer, Mr Hermelin said, was given free hay for his herd.
But sadly, for some, it was too late.
"It was the biggest eye-opener," Mr Hermelin said.
"The public don't see that kind of stuff."
Mr Hermelin has been a volunteer firefighter for six years.
Naturally, the past month of this bushfire season is the worst he has seen.
It has taken him to Kempsey in NSW, East Gippsland and Tallangatta.
"I'm feeling a bit tired but I've got a couple of days off," Mr Hermelin said.
"Where possible, I've put up my hand to help. These holidays I had a bit of time up my sleeve."
Mr Hermelin was asked to return to Tallangatta next week but he starts work at Goulburn Valley Flashings on Monday.
"It's probably been one of the busiest fire seasons in my time, there's lots of fires locally, as well as NSW's season kicking off early," he said.
"There's been a lot of strike teams heading up to NSW, and just before Christmas everything happened in Victoria."
Mr Hermelin doesn't choose where he gets deployed but he knows wherever he is sent is where he is needed most.
There have been many regions in need of strike teams, which is why Mr Hermelin put his hand up and registered all over Victoria and southern NSW.
The biggest challenge for Mr Hermelin — who has been a driver, crew leader and crew member of the trucks — was at Ensay, East Gippsland, on December 30.
"The fire broke out and it was basically us spotting it going up a hill towards properties," he said.
"We were run off our feet until other tankers came down to help.
"There was a lot of devastation in the area that day — we were basically going into asset protection, and there was a lot of livestock deaths, as well as native wildlife.
"It was hard to look at because it's such an asset to the farmers."
It was in situations such as this that Mr Hermelin said a lot went on in his head.
"The first thing I think is 'wow', the next thing is to ensure myself, my crew and my truck are safe, then we look at the priorities on the job — whether it's asset protection or protecting exposures — then we work our way down the list," he said.
Because everything is so dry, any fires that start are a major threat.
"We're not really in the peak of it," Mr Hermelin said.
"We still have January and February to go, which will keep us even busier. It's been a lot more intense this year."
Mr Hermelin said volunteer firefighting was something he had always wanted to do, so whenever he'd had an opportunity to fight fires he'd said "yes".
He said the support his team had received from some of the devastated communities had been astounding.
"We're just as appreciative of the communities and small businesses helping us out," he said. "Providing us and the devastated communities all these meals each day was absolutely brilliant.
"We came across some very distraught people but lots of people were still positive and looking towards the end of this season, and what they need to do to rebuild and get their lives back on track."
If there's anything Mr Hermelin can do to help that happen, he will.
"I do it because I like to help people in their time of need — and the need is great at the moment.
"Helping the community gives me a good feeling inside."