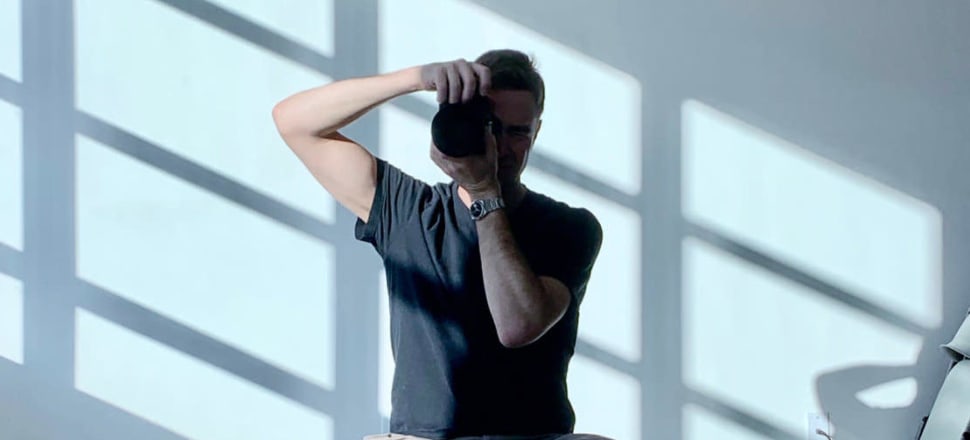 5370537724001
There are people doing all sorts of interesting thing across the world who call the Goulburn Valley home. John Lewis talks to a Toolamba man who has made his home in New York photographing people and products for some of the world's most influential companies and brands.
Sometimes, even the endless sky of the wide brown land is just not big enough.
Anyone watching a teenage Ben Pogue shoot pictures of a clothes shop mannequin in his Toolamba backyard using dress mirrors to capture the reflections of a Goulburn Valley sunset would realise he was probably not going to become a dairy farmer like his father Ross.
Today, Ben's painstakingly composed images are used to sell Rolex watches, Swarovski jewellery, Chanel perfume, Google phones, Nike sports shoes and Coca-Cola drinks. Open a page of US Vogue or the New York Times style magazine, or Esquire or high-end fashion publications such as V magazine and you will find images created by Ben.
Born in Shepparton, Ben went to Toolamba Primary School before attending Goulburn Valley Grammar School and then boarding school in Melbourne.
City life opened his eyes to a bigger, wider and more sophisticated social world.
"I loved motorbikes, I loved the outdoor camping and fires and getting muddy and messy, but I wanted to explore things and I was curious about what was happening in the world," he says in the backyard of his parents' Shepparton home, where he returns from New York once a year at Christmas.
His education included rummaging through garage sales in Elsternwick and discovering 1980s culture, music and fashion magazines such as British publications The Face, NME and i-D. He also flicked through his mother Gay's Australian fashion magazines, transfixed by the highly stylised images of perfume and clothes.
Then an uncle lent him a Pentax K-1000 SLR camera with a standard lens.
The mannequin came from his mother's Mooroopna women's fashion shop, Pampens Boutique, which still trades in McLennan St today.
"It was a good basic camera and I used it for a couple years. Looking back, I really liked playing with light and reflections," Ben says. "What I would do is take these mannequins from Mum's shop and build sculptures in the garden, and then reflect the sunset in the mirror and shoot these things which were very abstract.
"I wasn't into documentary or street photography. It was more about constructing something in front of the camera, versus capturing the moment. I'm not a Cartier-Bresson, I'm more of a Man Ray — building stuff in front of the camera."
After a BA in Photography at Melbourne's RMIT, Ben moved out from behind the lens and talked to people. He met other photographers, did more training programs, and eventually found work as a junior assistant in fashion studios in Sydney.
But of course, he fixed an eye on the bigger picture.
When a photographer friend offered him work in New York, he jumped and then spent years learning the ropes from the bottom up.
"When you work in this world, photographers are dealing with the clients, and the politics and you're doing all the practical stuff — lugging the equipment, setting up the lights, loading cameras," he says.
Ben has worked as an assistant on magazine photo shoots involving Leonardo DiCaprio and Beyoncé, and on fashion shoots in Thailand, Argentina and Morocco.
Today, he has an agent and works from his Brooklyn studio shooting what he calls "table top stuff" on a Danish-made Phase One XF medium format camera.
"I worked out that the fashion stuff long-term wasn't really for me," he says. "I really enjoy getting into the studio and playing with light and working with a smaller crew and less travel."
Ben says he has learned to switch off from the 24-hour lifestyle of the Big Apple.
"I know when to turn off the phone and when to answer emails," he says. "I don't get too caught up in it — otherwise you just get exhausted."
Ben was a newcomer to New York when the September 11 attacks happened, but says he was far enough away not to feel threatened.
"I was living in the East Village at the time," he says. "Some people were like business as usual, others were freaking out saying I've got to leave New York City. But I've always felt I could come back to Australia if I needed to — it's not like I'm trapped here."
He now lives in a leafy brownstone part of Brooklyn and walks 10 minutes to his studio overlooking a converted navy dockyard
"After 20 years it's become home — I do enjoy the creative atmosphere and the entrepreneurial aspects," he says.
"There's something to be said for staying somewhere long enough.
"I don't know that I'm any more talented than anyone else, but I know how to get the job done. If we need 10 shots today — then clients know 10 shots are gonna happen."
The News is keen to catch up with former district people who who are doing interesting things elsewhere. If you know of anyone - give us a call on 5820 3221 or email [email protected]