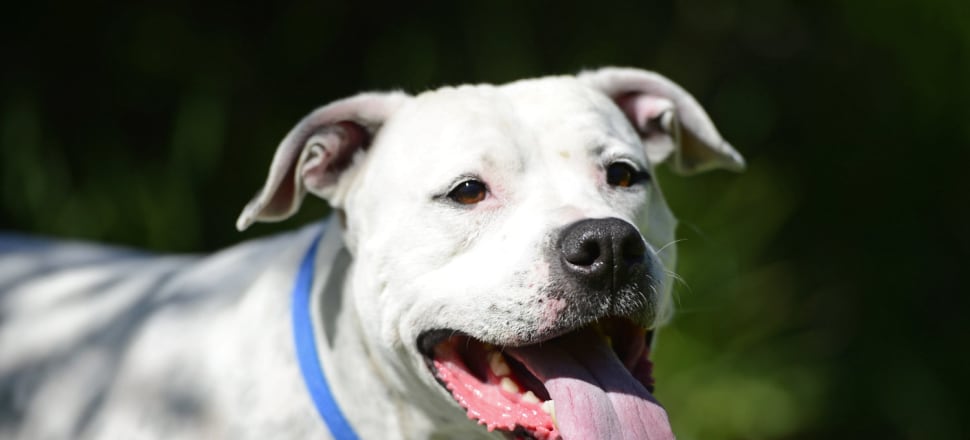 5370537724001
As the festive season draws closer, a Kialla family has been left wondering if this will be the last Christmas they will spend with their beloved pet pooch, Snoop.
David Moylan and Belinda Phillips adopted the Staffordshire bull terrier American bulldog cross in June 2018 from the RSPCA.
After a few months, the family was informed by Whittlesea City Council that Snoop had been involved in an attack which resulted in the death of another dog in April 2018.
When the family learned Snoop could be put down or seized, having been declared a dangerous dog, an immediate appeal was made to the Victorian Civil and Administrative Tribunal.
Mr Moylan said the case was supposed to be heard in Melbourne on October 22 this year, however the date was adjourned when his lawyer was unable to make it.
The family has not received a new court date, causing anxiety and unease as they eagerly await a resolution.
"This whole thing has been quite a burden and we just want to get it over and done with," Mr Moylan said.
Snoop was adopted by the family as a companion dog for their 17-year-old daughter Maggie, but now their beloved pooch provides emotional support for the whole family.
Mr Moylan said the family had been told they have a 50/50 chance of saving Snoop at their VTAC hearing.
"We started fighting for Snoop because we thought it was completely unjustified and unfair," he said.
Ms Phillips said although she was not confident, the delay in the hearing make her feel as though a positive outcome was possible.
"Initially I was really stressed but the longer it goes on the more I think we may be able to keep him," she said.
"I'm hopeful, but I'm not confident."
Determined to give Snoop a good life, Ms Phillips said the fact Snoop was up for adoption in the first place was questionable.
"If he was dangerous, he should have never been put up for adoption," she said.
"We've had him for nearly two years and by the time it goes to court it could be another two years.
"You can tell he has not had a good life, and we're willing to give him that."
The family describes the lovable eight-year-old as a cuddly sook who had never shown any aggression while in their care.
Mr Moylan said if VCAT ruled that Snoop's status as a dangerous dog must remain, Greater Shepparton City Council would need to consider whether he could be registered in its municipality.
Council could deny this registration, meaning the family would need to seek another local government area willing to register a dangerous dog and allow Snoop to be housed there.
In the meantime, the family is taking everything one day at a time and looking forward to spending Christmas with Snoop.
"Thankyou to everyone who has supported us and Snoop throughout the year," Ms Phillips said.
You can keep up-to-date with Snoop's story on his Facebook page @savesnoop
READ MORE DOG STORIES
Snake attack prompts reminder to keep pets safe
Ruby looking for her forever home
Gowrie Street Primary School's furriest staff member ready to help