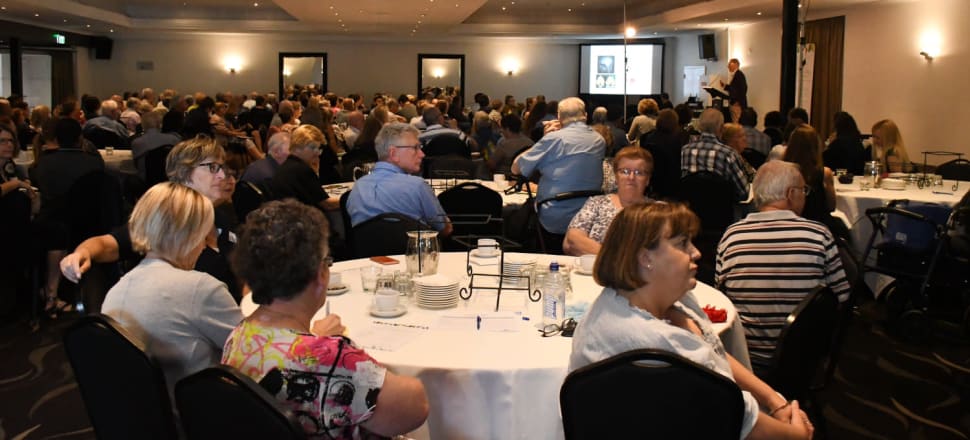 5370537724001
All aspects of Parkinson's disease were discussed at a huge seminar in Shepparton last week.
More than 300 people attended the event which featured a huge program of guest speakers involved in different areas of the diagnosis, treatment and research of Parkinson's disease.
Goulburn Valley Health's Dr Arup Bhattacharya welcomed guests before they heard from Professor Malcolm Horne from the Florey Neurosciences Institute who discussed whether the disease could now be better explained.
"Are we nearly there? Well, the answer is a resounding maybe," he said.
Prof Horne presented a history of research into Parkinson's disease and discussed the current treatments used, and those in research phases, to slow the progression of the disease.
"Therapies always have a side effect, so we need to know what is the risk versus the benefit," he said.
Neurosurgeon Girish Nair from the Royal Melbourne Hospital said there were 64,000 Australians currently living with Parkinson's disease.
"Twenty-five people are diagnosed with Parkinson's disease every day," he said.
While researches still did not know what the risk factors for Parkinson's disease were, Prof Horne said it was a matter of continuing to peel the layers off the onion to discover the answers.
Other topics discussed on the day included the use of deep brain stimulation to treat Parkinson's disease, presented by Mr Nair.
He said DBS had been an established model of treatment for more than 20 years but it was a therapy that could not be offered to all Parkinson's disease patients.
"It can be very effective in a well-selected person," Mr Nair said.
"Only around 10 to 20 per cent of Parkinson's disease patients may be eligible for DBS."
He stressed this was not a cure for the disease, rather a treatment of the symptoms.
Several other guest speakers provided insights into the disease at the jam-packed event, which was held at the GV Hotel in Shepparton.