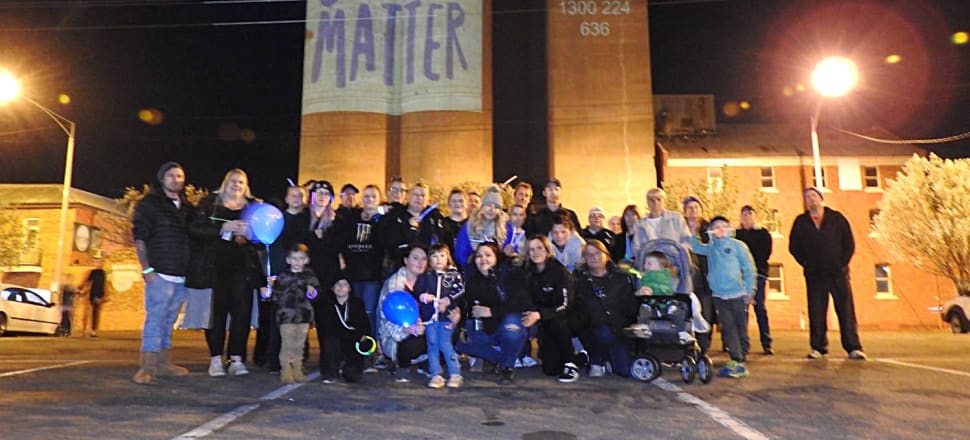 5370537724001
Emotions ran high in Mooroopna on Tuesday night as the community gathered for a special memorial for those lost to suicide.
Hosted by Verong Vittles Café and Takeaway on McLennan St, the Let There Be Light Tribute Window was unveiled to coincide with World Suicide Prevention Day, giving families the chance to come together and remember their loved ones.
Café owner Kerrie Verhoeven said raising suicide awareness was a cause close to her heart, after losing her partner Kenny in 2017.
A life partner of 24 years, Ms Verhoeven said her and Kenny opened Verong Vittles almost seven years ago.
"Suicide does not discriminate, suicide is everywhere," she said.
"We need more awareness, more understanding and more support to those who suffer and to those who are left behind."
In the lead-up to the event, Ms Verhoeven reached out to the community to gather photos of loved ones who died by suicide to create the memorial window at the front of the store.
"We had 14 faces light up on the night and about 50 people came to take part," she said.
Attendees were also encouraged to create a 'Hand of Hope' on the night, by tracing their hand print and attaching it to window displays as a sign of support for one another.
"It was a great opportunity to meet others who share similar stories and losses, which helps you to know you are not alone on this journey," Ms Verhoeven said.
Ms Verhoeven also organised for the Mooroopna water tower to be switched to blue lighting for the evening and for a message to be projected onto the silos across the road from the store.
"We lit up the town blue," she said.
"With the help of Rotary, we were able to light up the silos with the message 'You Matter', along with the Lifeline and Beyond Blue phone numbers."
Ms Verhoeven said the window display is set to remain for the week, however it may be extended to the rest of the month due to popular demand, as part of Suicide Prevention Awareness Month.
"Unfortunately there is still a stigma attached to suicide," she said.
"Suicide shouldn't feel like a taboo subject, but more often than not it does, especially to those grieving such loss.
"We hope to change this and we want people to know there is always someone out their to talk to."
If you, or someone you know is in need of mental health support call Lifeline on 13 11 14.
MORE ABOUT SUICIDE AWARENESS AND MENTAL HEALTH
Boost for local mental health services
Shepparton students at higher risk of mental health issues