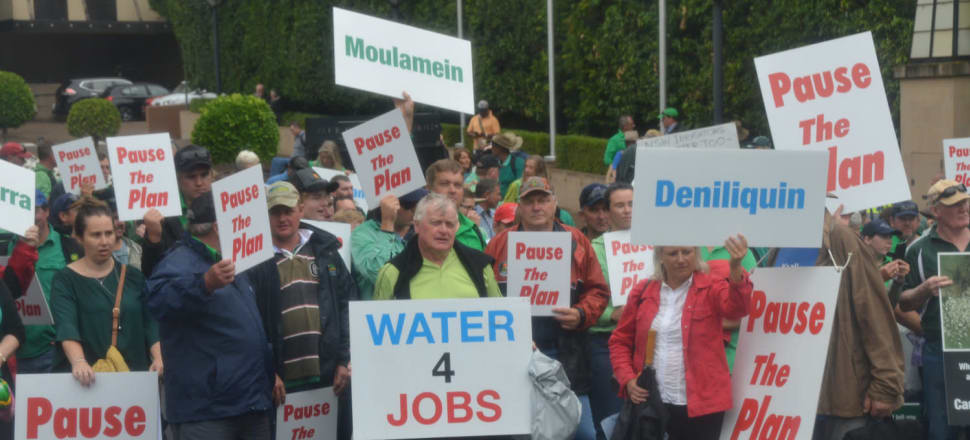 5370537724001
A decision by state water ministers in Melbourne yesterday on the Murray-Darling Basin Plan has been hailed a common sense outcome by irrigation communities.
The ministers decided any more water to be transferred out of agriculture to the environment can only happen where there was a neutral or positive impact on communities.
More than 200 people, mostly from northern Victoria and the southern Riverina, marched to the meeting venue in Melbourne to demand better consideration for irrigators.
Peak dairy body, the Australian Dairy Industry Council has described the decision as a coup for struggling agriculture.
''We are relieved and grateful that the ministers agreed to a socio-economic test that is fair for all farmers because, as it stands, local dairy dependent communities cannot tolerate more water and job losses,'' ADIC water taskforce chair Daryl Hoey said.
The Murray Darling Basin is home to about 1405 dairy farms, representing more than 1.8billion litres, around 20 per cent of Australia's total milk pool.
Victorian Water Minister Lisa Neville said yesterday's agreement ensured there was a strong socio-economic criteria required for the 450Gl of extra water.
There was also agreement on a Victorian motion the Murray-Darling Basin Authority would do extra work on deliverability, constraints and impacts of higher flows and agreement on funding to allow states to deliver environmental offset projects.
She said the socio-economic criteria reflected the neutrality test Victoria and NSW agreed on this year and provides the community with confidence socio-economic impacts will be properly addressed, including the consideration of cumulative, region-wide impacts, water prices and any impact on jobs.
''Victoria has already done much of the heavy lifting on water recovery and the adoption of these criteria will mean further recovery will need to have neutral or positive outcomes for communities,'' Ms Neville said.
Federal Member for Murray Damian Drum, who attended the MINCo meeting, praised the agreement and said all states had now agreed any future water efficiency project must have social and economic benefit or detriment tested across the community, not just the participating individual.
''The wording and detail in today's agreement mirrors what our irrigators and community have been calling for,'' he said.