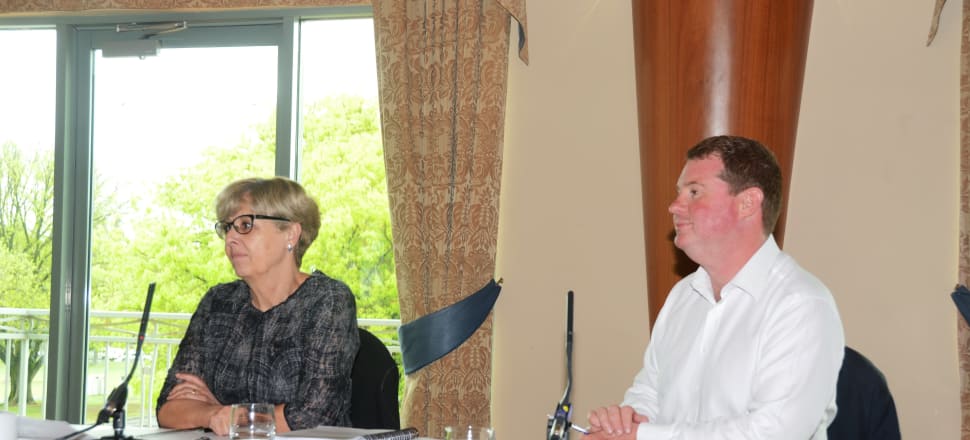 5370537724001
The Murray-Darling Basin Plan is holding the Greater Shepparton region back, a Productivity Commission inquiry into the plan has heard.
Appearing at yesterday's meeting at Shepparton's Parklake Hotel, Greater Shepparton City Council's sustainable development director Geraldine Christou said the uncertainty regarding the 450Gl of ''up-water'' had had an effect on the region.
''It's stifling this region. It's holding the region back because there is uncertainty,'' Ms Christou told the commission.
Although pointing to the dairy industry as a source of investment — including the multi-million-dollar expansion of Freedom Foods' Shepparton plant — Ms Christou and council chief executive officer Peter Harriott voiced concerns regarding the impact the basin plan could have on future manufacturing and food production in the area.
''Our community is sitting on the edge of a cliff,'' the council told the commission in an earlier submission.
''An additional 450Gl would tip the community over the edge, milk production would be reduced by a further 235millionlitres, $100million farm gate value and $200million in dairy manufacturing.
''450Gl cannot be recovered if the Commonwealth cannot guarantee that further job losses will not occur.''
Although supportive of a number of environmental outcomes achieved under the basin plan, Environment Victoria healthy rivers and nature campaign manager Juliet le Feuvre told the commission there were still a number of areas of concern.
She said discussions regarding extending the timelines for a suite of projects that sought to deliver 605Gl back to the consumptive pool needed to be carefully considered. ''If we can't sort them out by 2024 then I don't think they're viable options,'' she said.
Ms le Feuvre also raised concerns about the governance of the basin plan by the Murray-Darling Basin Authority and compliance across the basin.