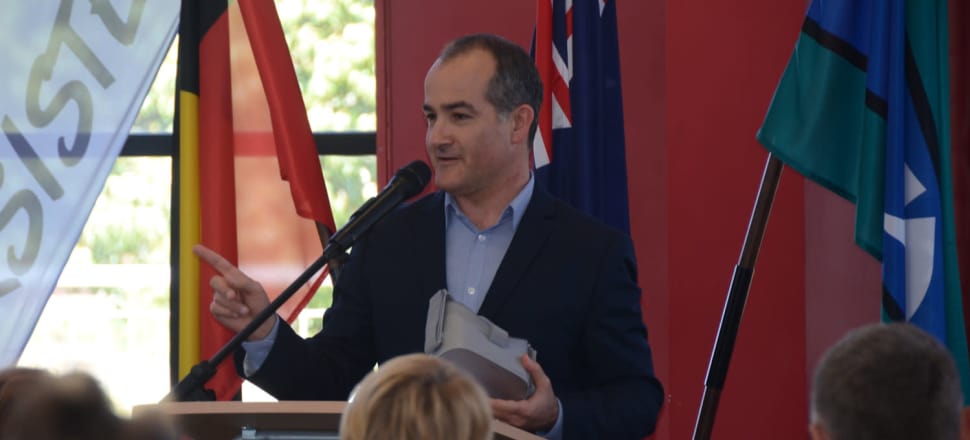 5370537724001
A day after the final sitting of the 58th Parliament of Victoria, Education Minister James Merlino swept into Mooroopna to announce a new early learning centre.
The new facility to be located at Mooroopna Primary will offer a range of early learning, family and health services.
It will be funded through $20.5million allocated in the last state budget via the Shepparton Education Plan which also includes funding for the new Shepparton High School.
Mr Merlino countered a question that political parties tend to favour the electorates they hold for funding.
''We make the investments where they need to be made ... Some of those seats are Labor seats. Some of those seats are National seats. Some of those seats are independents. Some of them are Liberal,'' he said.
''The reason we're making this investment is quite simple; the student outcomes in Mooroopna and Shepparton are nowhere near where they should be and, it's a hard thing to hear for the community, but in terms of student outcomes at almost every indicator Mooroopna and Shepparton are below the state average.
''I'm not going to sit by as education minister and allow those outcomes to continue. It's not because the students here are any less capable. It's not because the teachers here aren't as excellent as anywhere else in the state,'' the minister said.
''But there are things in Mooroopna and Shepparton that are holding students back and we've got to address that.''
Mooroopna Primary School principal Steve Rogers said he was delighted by the announcement.
''It's fantastic news for our school community and for the Mooroopna community. What a great thing to be able to support every child from the day they're born up to when they're 12 years of age,'' he said.
''We're looking forward to working with our whole community and improving the opportunities for every child and every young person in Mooroopna. We're not sure of all of those details at this stage, but we're looking forward to getting it completed as soon as possible.''
The minister said Independent Member for Shepparton Suzanna Sheed had been a driving force behind the project.
''Suzanna as the Member for Shepparton has been an incredibly strong advocate for the investment in education,'' he said.
''She has taken a leadership role in engaging with the community and making the recommendations to me about what Shepparton and Mooroopna need.''
Ms Sheed emphasised Shepparton and Mooroopna were lagging behind the rest of the state for educational outcomes.
''It was in my first year in parliament that I spent some time looking at education in our region and reading auditor-generals reports that showed the really poor outcomes for country kids as compared to metropolitan kids,'' she said.
''When you delve into that and look at our four secondary schools, which is where I started, we were just below the state average on every counter. To me that wasn't good enough. It wasn't hard to persuade (the minister and the department) to the fact that we needed attention.''
Part of the plan for the new Shepparton High School is to divide the school into four houses which are yet to be named.
''I think that'll be a great community exercise to get students, teachers and the community to have a think about that. We've got a long history,'' Ms Sheed said.
''There's been some amazing educators come out of this region, some amazing leaders across a whole range of communities, including our indigenous community. I think there's a great opportunity to come up with some terrific names.''