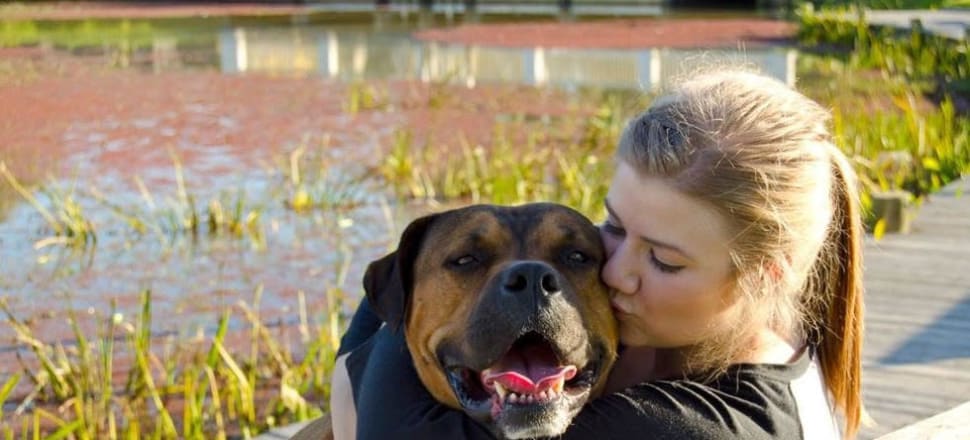 5370537724001
Fate would have it that an unborn boxer cross found his way into the home of Waaia couple Shane and Lizzi Lewis after they purchased his pregnant mother in 2010.
The puppy who became known as Trigger was one of 11 puppies born, and Lizzi was quick to form a bond.
"He was born on my birthday, October 24, and he was the second biggest of the litter with four white socks," she said.
Trigger's brothers and sisters were rehomed but Lizzi says Trigger was destined to become part of the family.
Although looks may be deceiving, the now nine-year-old dog is a gentle giant.
"For a big dog he's never been aggressive, he's always been lovable and caring — especially with children," Lizzi said.
"Even with our niece Emila, she used to cuddle up to him and pick the goop out of his ears and wipe his eyes and he would repay the favour by licking the food off her face."
When Trigger was four, the couple thought they might lose him after he "devoured" a marrow bone.
"He didn't process the bone properly and it gathered as shards of chomped up bone in his bowels," Lizzi said.
Local vets advised the couple to consider an enema administration rather than operating.
"It was the nicest way we could have done it and it worked really well; it was about a week that he stayed with the vets and they were fantastic," Lizzi said. "They cared for him and walked him every day and made sure he was eating and passing everything.
"We got him back and he was understandably timid about bones for a while, but we put him on a good diet and he was back to his normal self in no time."
When Shane opened his own automotive restoration business in Wunghnu, Trigger would travel into town to spend the day greeting customers.
"One of the reps brings him Schmackos, and Trigger knows the sound of the car," Lizzi said.
"He'll come out from under the work bench, demand his Schmackos and then go straight back under the bench."
Lizzi said Trigger is happy to come home at the end of the day and relax in front of the fire with his cat sibling Ginger.
"We have two cats, Ralph and Ginger, and he loves Ginger and tolerates Ralph," she said.
"Ralph used to tease him and bop him on the nose, so Trigger would lick him from top to tail to sort him out — but again, never aggressive, just loving."
More My Pet features
My Pet: Sparty the clydesdale cross
My Pet: A hobby that's taken wings