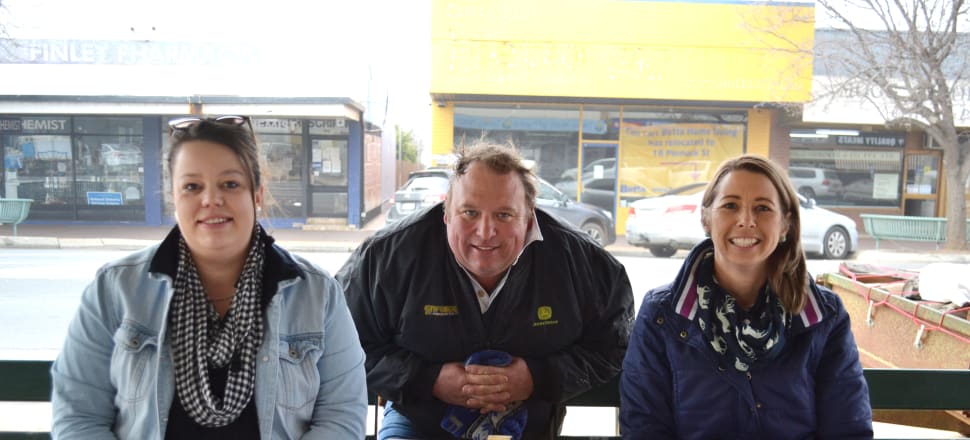 5370537724001
Unfortunately, the Finley Regional Care garden trip has become another casualty of the COVID-19 pandemic.
The weekend in Bendigo which was planned for November 7/8 has had to be cancelled because of current travel restrictions.
However, the committee is investigating the possibility of something local early in November which should be exciting.
Further information will be published in this column at a later date.
●●●
The recent Finley Arts Network Youth Photography Competition was initiated under a grant from Murrumbidgee Health.
The aim of the competition was to encourage young local artists and to provide a creative outlet for young people in the Murrumbidgee local health area during the COVID pandemic.
The theme of the competition was Isolation.
Entrants were invited to express what isolation meant for them through their photography. The style of photo was open, and could be a landscape or urban scene, or a portrait of a person or even an animal.
Photos were judged on quality, creativity, degree of difficulty and how well they expressed the theme of isolation.
The judges were Val Lee, David Stillard and Maureen Arthur from the Finley & District Camera Club.
The standard of entries was exceptionally high and the judges were impressed by the quality of the entries, making their task a difficult one!
The competition was a huge success.
Finley Arts Network commends all entrants on their creative efforts and enthusiastic participation, and there are plans to hold more photography and art competitions for young people and adults in the future.
●●●
Some interesting stories have come from the Arts Network Youth Photography competition. One in particular is related to the Everingham family.
Annelise tells their story in her own words:
"A family friend encouraged my brothers Zach (14 years old), Elijah (12 years old), Peter (10 years old), Josiah (8 years old) and myself (15 years old) to enter the Finley Arts Network Photography competition.
"I have always enjoyed photography and have considered forensic science as a career choice so included photography as an elective choice for school.
"I am currently completing this course through Dubbo School of Distance Education.
"Last year I was fortunate to be selected to participate in Operation Art which aims to produce cheerful, uplifting artwork for children's hospitals and to fundraise for sick children.
"In the Finley Arts Network photography competition I received the following awards: First place, highly commended and a merit award for senior black and white photography, second and third place in senior photo art and editing and third place and a merit award for senior colour photography.
"My brothers Zach (14) and Peter (10) also won highly commended for senior colour photography and junior colour photography."
With the theme based on Isolation, it is interesting to note the subjects given to some of the entries.
Young Harley Dundon who inherited his love of photography from his mother Liana, based his entry on "Freddie the Lonely Frog". This won him third place in the Junior Section.
Winner of the Junior Section Charlotte Rafferty commented:
"My name is Charlotte Rafferty and I am 12 years old and I live in Finley.
"I entered this competition because at the start of COVID-19 I started to find an interest in photography so a few days later I went outside multiple times and went around the farm and started to take photos until I found the perfect photo.
"One of my plans in the future could be taking up photography for a hobby. "
Well done to all those who participated in the competition. Finley can rest assured there is plenty of young talent in our community.
●●●
Trish Malone was the lucky winner of last Saturday's Finley Lions Club wood raffle.
Organisers were delighted with the wonderful financial result and were happy to report they didn't even have time to have their usual coffee before starting to sell tickets.
●●●
The Finley Show Society held a very successful street stall last Friday and the organisers would like to thank all those who contributed saleable items and the community for its continued support.
Joyce and Alex Brain were the winners of the raffle prize of a trailer load of wood.
This popular pair of volunteers should have a warm winter having won the Lions Club wood raffle recently as well.
President Matt Mueller thanks all the committee and community for their time and contributions.
Society members are now working towards the online show to be held in place of a physical show.
●●●
Just a reminder that the Finley RSL Sub-Branch will be holding a street stall this Friday at 8.00am.
Donations of cakes and other saleable goods would be most appreciated.
All monies raised will go towards the building of two cabinets at the entrance of the RS Club to display war memorabilia.
●●●
Many local charity and sporting organisations have been finding it difficult to operate successfully with the restrictions in place because of the current pandemic.
It has been suggested that, if members of the community would like to assist these groups, they might consider becoming members.
This would not only benefit clubs now but also in the future when operations return to the new normal.
●●●
With the current compulsory wearing of masks in Greater Melbourne and Mitchell Shires and the recommendation for residents of NSW to wear them when in situations where social distancing is difficult, many locals have dragged out the sewing machines and got to work on homemade masks.
Helen Wastle, Ros Lockhart and Lyn Little were seen hard at work last week with a production line in operation at the request of friends in Melbourne for masks for family members and people in need.
It has also been noted that one young lady in Finley has become innovative making mask relief bands with great success. Well done everyone.
●●●
Items for 'From Finley' may be submitted by phoning 0428 293 922, emailing [email protected] or left at the Southern Riverina News office.
Please include a contact name and phone number.