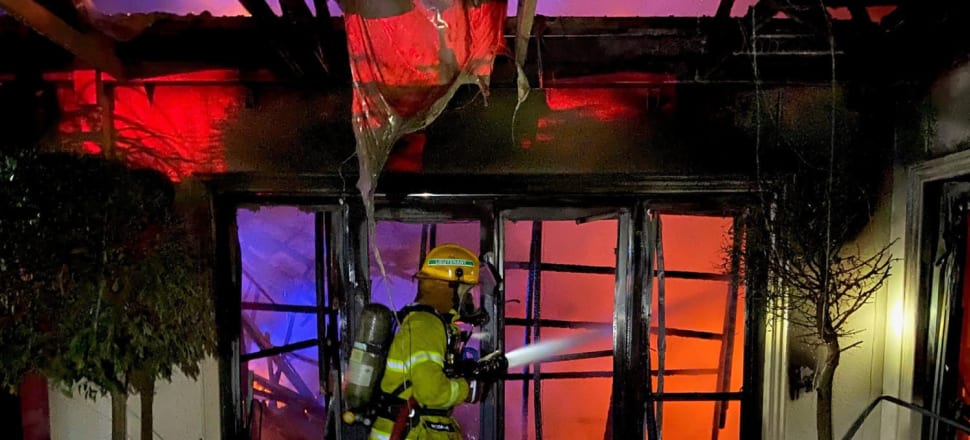 5370537724001
THE cause of an intense blaze that gutted an elderly Echuca woman's home on Thursday night remains unknown.
Firefighters were alerted to the fire on the corner of River and Tyler Sts just before 9 pm, arriving to find the home well alight.
"There's a fire investigation going on so we're not sure how it started, but it probably started on the right side of the house because that's where the most intense heat has been,'' Echuca CFA captain Rob Amos said.
''That's where the main bedroom, walk-in robe and ensuite were. It looks like it's moved through the central heating ducting and back down and we've stopped it before it's gone through the other end, which is good because there's some pictures and stuff that we've managed to save."
The occupant, a woman in her 80s, was seen screaming outside her home while flames and smoke billowed from the house.
The woman was treated by paramedics for shock and taken to the Echuca hospital for observation and discharged a couple of hours later.
A family member told the Riverine Herald on Friday the woman was doing well and being looked after by loved ones.
"She wants everyone who has sent messages and offers to help to know that she is doing okay and would rather have them donate to a charity or community organisation," she said.
Mr Amos said 15 firefighters and four appliances battled the blaze.
"We had three crews in breathing apparatus, one doing internal attack and the other external to stop the fire spreading, and we had another crew attacking the main fire to slow it down," he said.
"We also ran an exposure line, which is just another fire hose, down the back driveway as there was a little concern about the house next door."
About 60 per cent of the home was destroyed and would likely need to be demolished, he said.
''The garage and the car has been saved, which is good for her,'' Mr Amos said.
''All her valuables in her bedroom were destroyed but there was some photos and other bits and pieces down the other end which weren't burnt.''
Firefighters spent more than two hours at the scene.
"The initial knock-down was about half an hour but it was quite complicated because we were concerned about the roof collapsing on the firefighters, so the blacking out took at least an hour and a half. It was quite complicated to just get it cold,'' Mr Amos said.
The CFA is urging the Echuca community to have all electrical appliances checked and maintained and working smoke detectors in all living areas.
It is unknown if the smoke detectors in the fire-ravaged house were working.
MORE RIV NEWS
Third car set on fire in Echuca
Friendships important for Echuca CFA captain