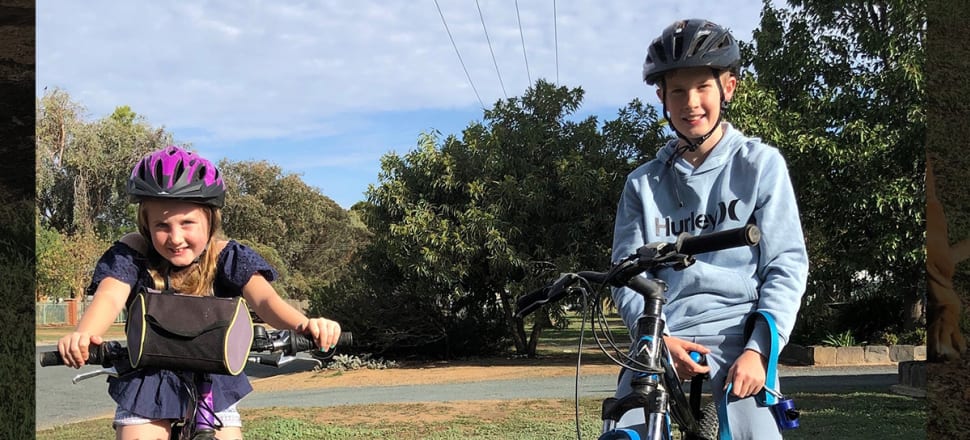 5370537724001
ACTIVE Transport Echuca East Group is calling on bike riders to report on unsafe cycling spots in the town.
In the hope Campaspe Shire will invest in safe pathways so people can cycle and walk without risk.
A new interactive map is now available for people who ride and other road users to help identify specific areas for improvement in Victoria.
ATEEG member Jodi Ujimoto said the data from BikeSpot 2020 would go to the Department of Transport and Campaspe Shire.
"We need safe spaces to walk and ride for locals, however creating connected cycle paths right across Echuca and the entire shire will also help attract new and old tourists to the area once restrictions are lifted," she said.
"We really believe that once people can start travelling domestically again, they will be looking for travel experiences where they can safely cycle and walk and enjoy the great outdoors.
"Echuca and the entire Campaspe Shire thus has a significant opportunity but to enable local businesses to reap the benefits, Campaspe Shire needs to invest in safe pathways.
"Imagine everyone in Echuca being able to cycle downtown and easily finding a bicycle park in order to stop and enjoy a coffee and re-connect with friends. Cycle tourists typically stay longer, spend more and engage in more experiences."
Jodi said the COVID-19 crisis had further highlighted the importance of exercise for people's health, mental wellbeing and for the environment.
"We are the third most obese shire in all of Victoria and we need to take drastic action," she said.
"Across the nation, more and more people are out on bikes. In the news recently, we learned Melbourne is taking advantage of reduced traffic to build an additional 50km of separated cycling lanes, away from cars, as they want to encourage more people to cycle.
"We Ride Australia has also advised that a group of health and transport experts have requested the Australian Government do more to create safe spaces for walking and cycling and The City of Bendigo has just opened its first separated bike lane. What are we doing in Campaspe Shire?
"Campaspe Shire's proposed Budget has allocated funds to complete the footpath along Eyre St and has also allocated fund for the Echuca East Rec Reserve which is brilliant news for those families whose children attend Echuca East Primary School and for all of Echuca.
"Nevertheless, locals shouldn't have to load their bikes into their car to ride a bike in the planned Echuca East Rec Reserve as they should be able to ride from their front door.
"We need connecting footpaths on all of the major through streets in Echuca East at a minimum so people can safely walk and ride from their front door."
And while it was great to see works on the Sturt St intersection progressing, which will provide a safe crossing for cyclists and pedestrians, Jodi said footpaths needed to be extended down Sturt St so residents could safely use the intersection.
"What is the good of a safe intersection for cyclists and pedestrians if they can't walk or cycle to the intersection?" she said.
"Echuca East residents want to be able to walk or cycle to Bunnings, the pool and other sporting facilities on High St. High school students want a safe cycling pathway down Sturt St so they can cycle to school as currently it is impossible to walk or cycle safely.
"The other missing and unsafe link for cyclists and pedestrians along Ogilvie Ave, between Sturt and High streets, is the block between Annesley and Hare streets.
"This a busy street to cross with cars turning from both directions off Ogilvie Ave as well as traffic from Annesley St. There is no footpath here, and if you are walking or riding, the only option is to cycle or walk through the Caltex service station.
"As a result, this is not enabling or encouraging residents to walk or ride across town."
With the BikeSpot project, supported by Bicycle Network, people can add spots to a map that indicates risky or comfortable places to ride, and comment or vote on other spots.
To add a spot, go to bikespot.org/
MORE CYCLING NEWS
Cycling the safe option during coronavirus, Echuca group says
Echuca East transport group calls for cycle paths so kids can ride to school