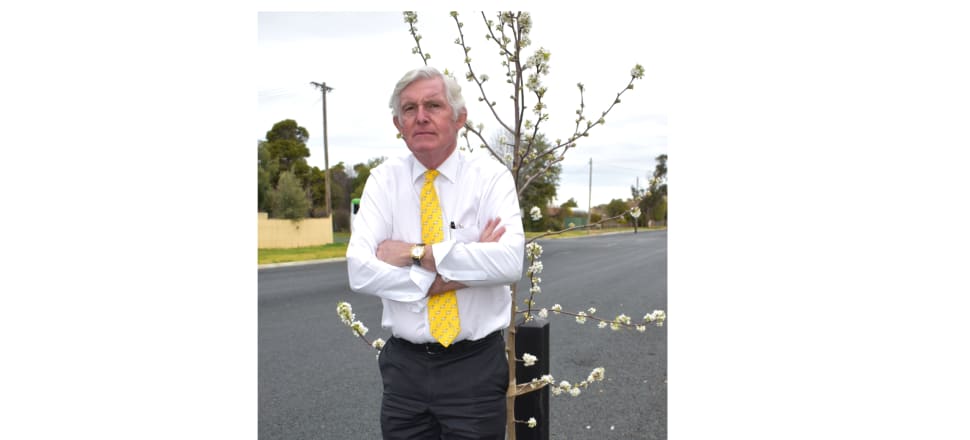 5370537724001
Business owner Lester Wheatley is fed up with vandals.
He is so fed up, he's willing to put up a $1000 reward for information that leads police to whoever has been damaging the new trees along Crispe St in the town's east.
It is double the reward he initially offered in May, when the trees were fairly new and were being damaged on a regular basis.
Mr Wheatley yesterday upped the ante when on his way into town from his home, he noticed another tree was snapped near the base.
It had been replaced by Edward River Council with a new tree by mid-morning, but Mr Wheatley said the damage needs to stop.
''It is ridiculous that this keeps happening,'' he said.
''I have no sense of humour when it comes to things like this.
''We have been calling out for years for the council to do some beautification, and then this happens.
''And where does it stop? Will the Waring Gardens and CBD upgrades be the next targets?
''People should be respecting and nurturing these changes, not breaking them.''
Mr Wheatley said he is willing to put up his own money as a reward to try and stop the damage, and encourages people to say something if they see the damage being done.
As well as being an unnecessary cost, Mr Wheatley fears continued damage to the trees will ruin the concept of the project.
''Eventually we will have a great avenue of trees, but if the trees continue to be broken and replaced some will be more mature than others.
''It would take some real effort to snap one of these trees the way they have been, so it cannot be an accident.''
The new trees — which are located both on the nature strips and on the road verges between Lawson Syphon Rd and End St — were planted in early April as a part of a program to beautify Deniliquin's entrances.
Edward River Council was able to plant the trees with the help of drought funding. Each tree costs about $150 to replace.