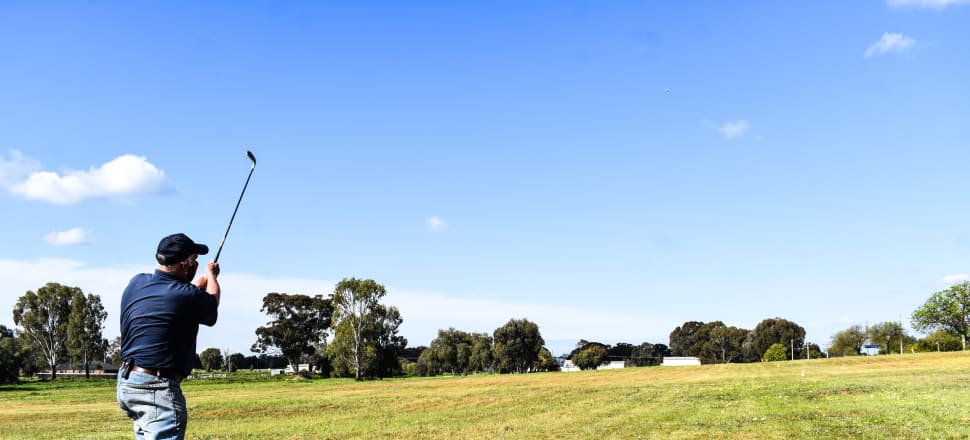 5370537724001
Border closure restrictions on Victorians being able to play golf in NSW has led to an enterprising golfer from Wahgunyah to create his own golf range.
Situated on the old railway land, The Royal Wahgunyah range is steeped in rich history. Once a bustling station filled with people and goods, it now provides an escape for local golfers to practise their swing.
Wahgunyah resident and mastermind behind the range, Terry Johnstone said it offered local golfers an opportunity to get out of the house and keep themselves entertained.
"There are a number of us who can't go over to the Corowa Golf Club, so we are using this land to drive us out of a bit of boredom," Mr Johnstone told The Free Press.
Mr Johnstone first brought his mower down to the land last month and created a strip with markers at 30m, 50m, 80m, and 100m. Volunteers have since contributed to the mowing efforts adding more detail to the exclusive hitting range.
"There is always a bit of discussion on the course at Corowa. Our NSW mates like to tell us to go back to Wahgunyah and play on our course. One bloke even told me to go back and play on 'The Royal Wahgunyah.' Well, now we can," Mr Johnstone laughed.
"If it weren't for Victoria, they wouldn't have a golf course anyway!"
It seems Mr Johnstone's idea is paying off with several Wahgunyah residents coming down and trying out the range.
"A few of my mates have come and had a hit. We've seen other people come down and check it out too. It's all a bit of fun really, nothing serious," he said.
Meanwhile, on a path close to the hitting range, a Spoonville has mysteriously appeared causing a 'stir'. The craze involves creating colourful spoon characters and planting them in villages. Like the bear hunt and rainbow movements, Spoonville is sure to put smiles on the faces of Wahgunyah children during this pandemic.