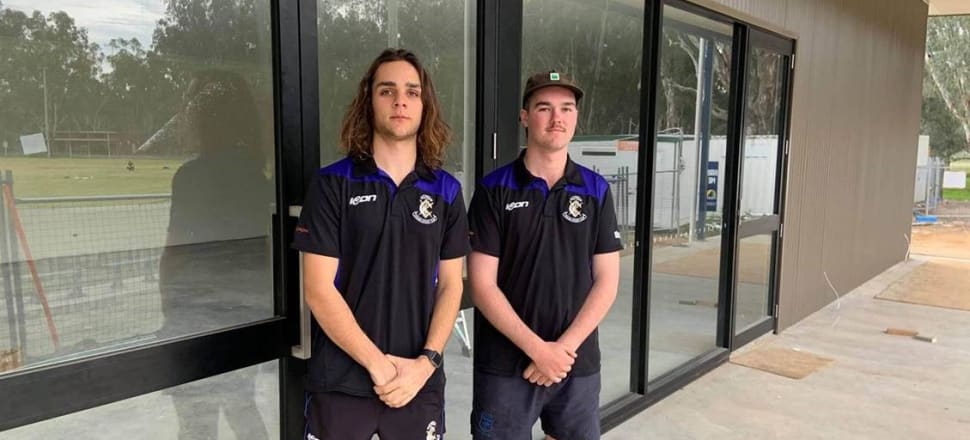 5370537724001
Corowa Cricket Club is entering an exciting period in the club's history in what will be its first season in the higher Cricket Albury Wodonga (CAW) Provincial competition and in brand new clubrooms at Ball Park.
Corowa has also appointed a new playing coach in much credentialled, left-arm speedster Jarryd Hatton of Albury.
The 185cm (6'1") 25-step run-up, 26-year-old is "really excited" about his appointment.
"Obviously it's not going to be easy," he told The Free Press. "But I think we'll be good enough to match it with anyone.
"I'm a very optimistic person. It's no good being negative."
Corowa Cricket Club's Facebook page was bombarded with congratulatory messages following Hatton's appointment as coach.
The Xavier High School Albury learning support officer who is studying Youth Work is regarded as close to the fastest bowler in Albury.
A decorated stint at St Patrick's saw Hatton represent the Riverina on many occasions and also NSW Country in the Australian carnival in season 16/17.
That carnival attracted the interest of the Canberra Comets. His two seasons with Ginnindera in the strong ACT competition culminated in a drought breaking premiership in 2018/19.
Illustrious Sydney Premier league club Eastern Suburbs came calling last year for the left-arm quick before injury cruelled his season.
But the back fractures suffered last pre-season have healed according to the speedster. "They're healed and it's just about strengthening. I'm monitoring it and am on a rehab program. I have very positive hopes about getting my total speed back," he said.
"If it didn't mean top speed, I'll be happy to modify and in the meantime I've been working on my batting to become a handy number seven or eight bat.
"And commuting to Corowa often is no problem – my parents live in Rutherglen."
Corowa Cricket Club President Paul Lavis said it was a great pleasure to welcome Jarryd as coach for the new season in CAW Provincial.
"A Rutherglen boy, as many will know, Jarryd brings a wealth of experience to our young group," the president said.
"Back in Albury with the lovely Georgia, Jarryd's enthusiasm for our game will be evident to all.
"We look forward to having all of Jarryd's family and friends made welcome at the club."
The president's message to players, members and supporters.is: "Get behind Jarryd as he prepares us for an exciting period in our history."
One of the numerous congratulatory messages upon Jarryd's appointment was from immediate past playing coach, Daniel Athanitis, who stepped down after three seasons at the helm.
"Daniel turned our young group from part time cricketers to serious competitors," the president said. "Dan will continue at the club and his experience will continue to be vital.
"He led us to a flag three years ago and tight preliminary final losses in the last two seasons. A number of former players are considering options for the coming season and we are hoping to entice a top class bat."
Mr Lavis also praised the CAW board. "Chairman Michael Erdiljac and his board have been of great support to the club since our move and we are very thankful they have allowed us a crack at Provincial cricket," he said.
Corowa's entry into Provincial makes it 11 teams, meaning a bye. The other teams are Albury, Belvoir, East Albury, North Albury, New City, Lavington, St Patrick's, Tallangatta, Wodonga and Wodonga Raiders.
It is three seasons since Corowa's change to CAW district, after leaving the Wangaratta and District Cricket Association it joined in 1984/85.
"Our club has progressed and prospered since our move to CAW," Mr Lavis said.
"We continue to enjoy the benefits of its organised structure and have also been appreciative of other clubs in the District comp in being made feel welcome.
"With a large junior base and a young playing list we discussed and decided on the idea that we tackle provincial cricket."
Among the club's reasons for the move included less travel for senior and second grades (all other grades will be unchanged), offering the best cricket for all players in the area and wanting to continue to build momentum for the game overall in the area.
"We presently have four senior men's teams who all played finals last year. In addition we have under 16s, two under 14s, two under 12's teams and a girls team. Our under 12s were division one premiers last year along with our B grade. C2 lost a close grand-final."
Broad support for the move among the playing group was indicated beforehand, with quite a few living in Albury.
About the move to Provincial, the president said: "We're nervous but happy. You just have to keep going forward or you tend to go backwards."
Corowa Cricket Club's AGM will be at Ball Park this Sunday, July 26 at 1pm. All existing members and anyone interested are welcome with a light training session at 11pm prior to the AGM.