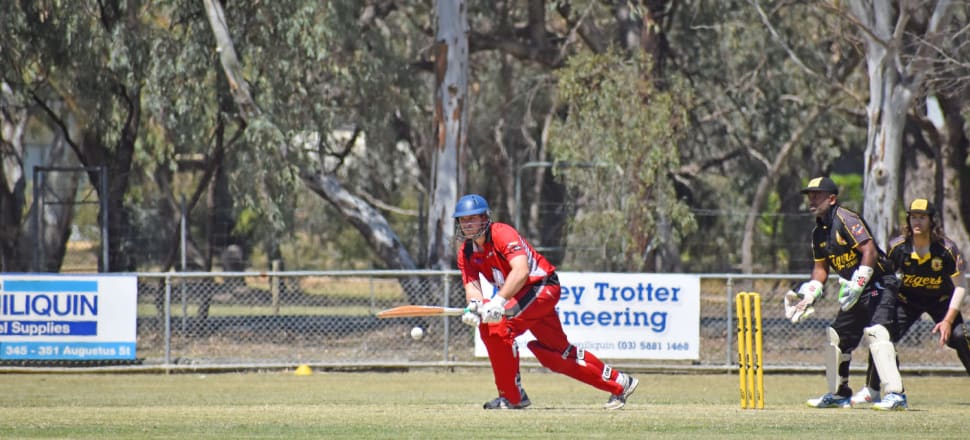 5370537724001
Round one of the Murray Valley Cricket Association's new season is in the book.
While it was not a brilliant weekend for premier division batsmen as a collective across the three matches played, it was certainly individual brilliance with bat in hand which steered the victorious outfits across the line when the dust settled at the end of play.
Reigning premier Cobram started the defence of its crown with a three-wicket win against Deniliquin in a replay of last season's grand final.
The Rhinos claimed first use of their Memorial Park pitch after winning the toss, but only Boddie Arthur (31 not out) was able to make it past the 20s as the Tigers turned the screws with the ball.
South African all-rounder Wian Van Zyl was the pick of the bowlers with 3-24 from his nine overs, while Adam De Cicco (2-27) and James Daniel (2-29) also snared multiple victims to reduce the Rhinos to all-out for 158.
Andrew Hogan (27) and Brodie Bennett (25) had also shown plenty of resistance with the bat for the home side.
Van Zyl set the pace early for the Tigers once more with 38 at the top of the order, but once he departed wickets started to fall around De Cicco at an alarming rate.
The Tigers skipper was in no mood to let a winning position slip though, reaching 68 not out to guide his charges to 7-161 inside 41 overs.
Cobram number nine Nic Hoban (13 not out) was the only other Tiger to reach double figures as Deniliquin's Hogan (2-26), Bennett (2-40) and Dylan Rotherham (2-41) did their best to reign in the opposition.
Elsewhere, Ash Saunders made a Katamatite debut to remember - striking 112 among a score of 4-285.
Brayden Beaton (61 not out) and Jeremy Van Zuyden (44) also batted well as Cobram-Yarroweyah's bowlers toiled hard without much reward at Katamatite Recreation Reserve.
The combine started well with the bat, thanks to captain Kane Goldsworthy (42) and fellow opener Ayden Latessa (29), but from there the chase spluttered to 7-125 in 45 overs.
Tom Casha (3-24) and Jordan Dickie (2-17) did the damage for the home side with the ball.
Nathalia also started its new campaign with a win, but it took a standout effort from skipper Luke Quinn to chase down Tocumwal's innings with four wickets to spare.
The Bloods had opener Daniel Hibberd (64) to thank for their total of 124 as no other batsman made it to a dozen runs.
It was Clancy Congues (3-16), Quinn (2-12 from nine overs) and Adam Jorgensen (2-30) who were making the ball talk for the Purples, but Chris Shaw (2-18) and Andrew Arthur (2-39) relished their turn for the Bloods as well.
Nathalia's chase did not get going until Quinn strode out to the crease at number six, with openers Ash Quinn (15 retired hurt) and Jorgensen (12) the only members of the top five to reach five runs.
From there, the captain was able to steer his side home though, making an unbeaten 63 in a total of 6-131.
Barooga had the bye in round one.
● Cobram's division one side also started with a win, defeating Deniliquin by three wickets in a tight clash.
Daniel Harris was superb with the ball to help dismiss the Rhinos for 130, taking 5-22.
Darcy McCormack (42) and Justin Peace (37) then set a platform for the chase and the Tigers were able to reach 7-133 after 38 overs.
Barooga also had the bye in division one.
● Will Slatterie (2-5), Matteo Allen (35 retired) and Hugh Hyde (30 not out) were the stars of the show for Cobram in the under-16 competition as the Tigers defeated rival Barooga.
The Hawks were best-served by the performances of Jake Poole (29 not out), Flynn Griffiths (20), Caleb Goesch (2-10) and Brody Tenney (2-14).
● Cobram batted first in a two-day clash against Tocumwal Red in the under-14s, making 5-150 in 40 overs.
Ciaran O'Sullivan (39) and Joseph Allen (25) top-scored.
Barooga made 7-82 from its 40 overs against Katamatite as Nathan Gossayn (25) and Cody Harris (20) were seeing them nicely.