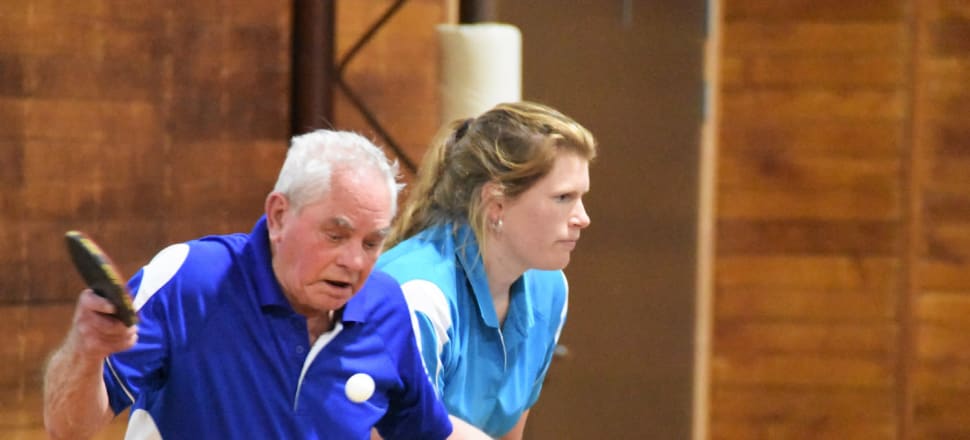 5370537724001
After winning their semi-final in a 3-0 blitz, Wallabies showed that they were the best team in the competition in the grand final of the Spring Pennant last week.
A magnificent team effort saw the Wallabies outplay the Taipans for a convincing 3-0 victory, with Stephen Lane and Ray Grant pouring on the pressure from the first point.
Lane started off proceedings with a superb three-set victory over the in-form Michelle Feldtmann, fighting back for the 19-21, 21-8, 21-9 win.
Wanting in on the action, Grant played his best game of the season to post a hard-fought 23-25, 21-19, 21-13 victory over tough rival Phil Keast.
The doubles match was hotly contested, but it was the teamwork of Lane and Grant that proved superior, with the duo playing with determination to take the match in straight sets and claim the grand final prize.
B-grade
With the top two teams in the competition meeting to sort out who was best, it was always going to be a close contest between Mozzies and Frogs.
Frogs got away to a solid start with spin-king Brian Perry winning the first singles against Matt Parkinson in straight sets.
Mozzies' Jackson Squires then levelled the contest as he stepped up to snare a 21-13, 21-10 victory over Kathleen Gibbs
The doubles went the distance, with Frogs just holding on to win a 21-17, 12-21, 21-12 marathon to take back the lead.
Perry was then pitted against Squires, and in a match full of great rallies, Perry called on his experience to score a 21-14, 21-18 victory to seal a grand final win for Frogs.
C-grade
The C-grade grand final went down to the wire as both teams fought it out for the title.
After leading the competition all season, Koalas capped off their dominance with a 3-2 victory over Magpies.
The first singles proved to be a great contest, with Helen Sharp pouring on the pressure to notch an outstanding straight-sets victory over Kaye Grosser.
The tables were turned in the second singles, with youngster Archer Irwin playing impressively for a straight set win over Trevor Lansley to level the match.
Grosser and Irwin were on top early in the doubles and continued to fight on, finally prevailing for a 21-14, 17-21, 21-11 victory over the Magpies.
Sharp then went on to claim her second singles in a convincing straight-sets victory over Irwin to again level the score.
But with a grand final victory on the line, Grosser played with full confidence to score a straight-sets win over Trevor Lansley to seal the title for the Koalas.
Spring Pennant's leading players:
● A-grade: John Bajada, Mick Kelly with 21 wins
● B-grade: Brian Perry with 20 wins
● C-grade: Helen Sharp with 23 wins