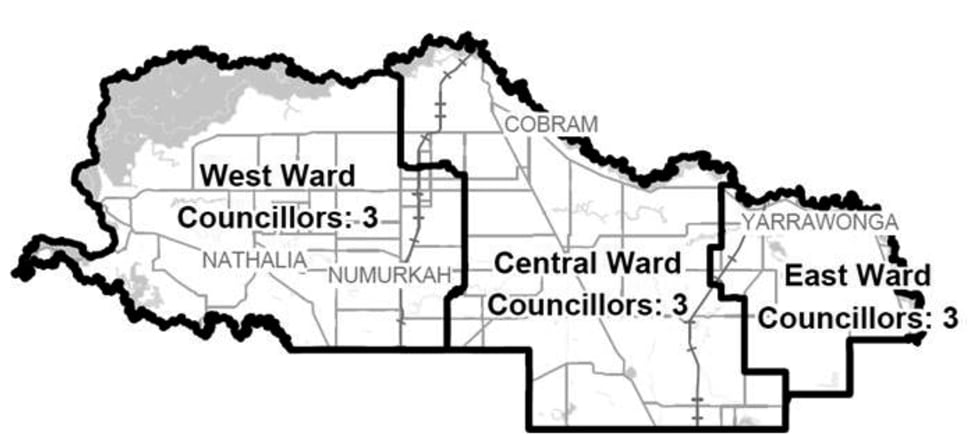 5370537724001
Moira Shire ratepayers have a unique chance to decide on two options for the 2020 Moira Shire Councillor elections which could determine how the next nine councilors are elected.
Options include an unsubdivided structure, where nine councillors are elected from the whole local council area or an option of a subdivided structure where nine councillors are elected from three, councillor wards (East, Central and West).
Moira Shire Council's existing structure is unsubdivided with nine councilors and has been the same since the last electoral representation review took place in 2007.
Prior to the review, Moira Shire Council had a subdivided structure with nine councillors elected from three wards with three-councillors elected from each.
Following the 2007 review, the VEC recommended that Moira Shire Council change to an unsubdivided municipality.
Former local Moira Shire councillor Brian Keenan who served on council for 16 years during both a subdivided and an unsubdivided structure said a three ward subdivided structure is the best outcome for Moira Shire ratepayers.
"Without a doubt, when we had three wards splitting the east, central and west of the shire it provided for an evenly regulated election of council," Mr Keenan said.
"The shire is over 160km wide. How can someone over here know exactly what Nathalia's concerns and needs are or visa-versa?
"If you don't have wards you could have all councillors elected from one end of the shire and that's not a great outcome.
"To have wards is a lot more practical and provides for a better representation for ratepayers and that's what councilors are there to do."
Mr Keenan said the council of 2007 wanted wards to remain but the then Minister of Local Government decided on the current unsubdivided structure.
The Local Government Act 1989 (LG Act) requires the Victorian Electoral Commission (VEC) to conduct an electoral representation review of each local council in Victoria before every third general election of that council (or approximately every 12 years).
The proposed options for Moira Shire Council's 2020 electoral structure were released from a report from the Victorian Electoral Commission (VEC) last Wednesday.
The preliminary report is part of the VEC's electoral representation review of Moira Shire Council, which commenced in January 2019 with information sessions and a month-long public submission period. The VEC asked community members to consider the number of councillors and whether the council should be subdivided into wards.
Fifteen preliminary submissions were received, all of which were carefully considered in drawing up the options. The VEC also analysed demographic, geographic and electoral data and trends.
Electoral Commissioner, Warwick Gately AM, encouraged community members to get involved by reviewing the report and making a submission.
"We want to ensure all voters are represented in a fair and equitable way, so now's the time to speak up," Mr Gately said.
"You have one month to consider the options and make your submission supporting or opposing the options."
Submissions responding to the preliminary report should address the options and must be received by the VEC by 5pm Wednesday, May 1. Submissions can be made online at vec.vic.gov.au, by email or by post.
A public hearing will be held at 6pm on Wednesday, May 8 at the Cobram Civic Centre, Punt Road, Cobram for anyone who has requested to speak in support of their submission. If there are no requests to speak, the hearing will not be held.
The preliminary report is available at vec.vic.gov.au. Copies are also available for inspection at Moira Shire Council offices.
A final report containing VEC's recommendation on the structure will be provided to the Minister for Local Government on May 29.