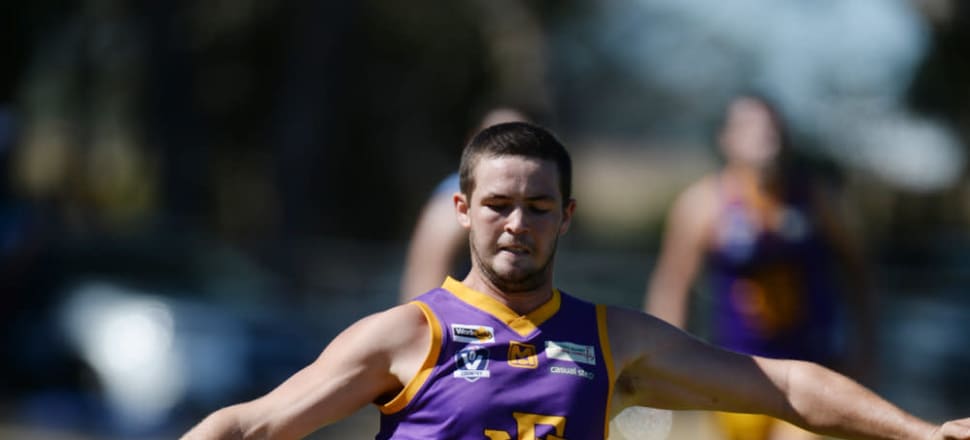 5370537724001
Question — How do you boil down an entire league's worth of footballers into a list of just 50 players?
Answer — With extreme difficulty, and that's before you even try to rank them from 50 to one.
But Musings HQ has never been an organisation that shirks hard work.
Loyal readers of The News will have noticed this column has been on hiatus for a couple of weeks, and now you know the reason — Maher's Musings is again putting together its much-anticipated Murray Football League Top 50.
It is also the reason why this column is running on a Saturday, because Murray fans go directly to their closest provider of The News before they even think about starting their weekend to digest all of the latest happenings across the region.
But enough of the waffling — let's get down to business.
More than 100 players — 122 to be exact — made the initial shortlist for the second early-season edition of the Top 50, and that number was whittled down without too much trouble to 76 names, especially when year-ending injuries to the likes of Cobram's Tyron Baden and Tim Garlick were taken into account.
The next cut was certainly excruciating though.
Some of this columnist's most loved stars of the competition found themselves out in the cold after much deliberation and many torn and scrunched up pages.
But this is a ruthless game, and we simply play it.
As a reminder — although I am sure all of you have read every column Musings HQ has produced — this early-season list is more of a prediction and a speculation.
Taking into account form, reputation, injury history and many other mitigating factors and spitting out a definitive list of who will rank as the Top 50 players by the end of this campaign is the cross this columnist must bear.
At the end of the year we will revisit the list and adjust it for what actually happened during the season — and that is where your feedback will be important.
So without further ado, here is the names who have landed in positions 50 to 31 on the list — look out for part two next week.
50. Xavier Chalkley (Katandra)
The young gun from Katandra is having a ripping start to the season and I fully expect him to go on with it and make his mark on the competition this year.
49. Clancy Congues (Nathalia)
Another young talent ready to explode this campaign, Congues has plenty of promise and is keeping some big names from playing on the wing he has made his own this year.
48. Sam Ferguson (Congupna)
It would not be a Top 50 without one of The Road's prime movers in Ferguson. Some may say he is a bit low here, but I am very happy for him to prove me wrong.
47. Matt Demaio (Cobram)
The switch to Cobram from Barooga during summer was much publicised, but Demaio is walking tall in yellow and black colours and will be among the best forwards in the league again this year.
46. Ash Quinn (Nathalia)
Quick, silky and smart — exactly the traits you need to be as good as Quinn is on the wing for the Purples.
45. Jordan Souter (Tongala)
Tongala's midfield bull has plenty of help around him this year and will relish the opportunity to lighten his load out on the field.
44. Lucas Olson (Barooga)
Has started the season on fire and will continue that way. If the Hawks are to have a big say in September then Olson is one of the men who will make it happen.
43. Kane Murphy (Finley)
With a SANFL premiership and NEAFL experience under his belt it will only take Murphy playing 10 to 12 games for him to justify his spot on this list.
42. Cam Robertson (Finley)
Another Finley star, you know exactly what you are going to get with Robertson and that is a great showing week in, week out.
41. Josh Chapman (Congupna)
A general across half-back and has added coaching to his bow this season at The Road — Chapman is one of the most experienced players in the league.
40. Luke Dunham (Moama)
It will be a tough year for the Magpies, but Dunham will certainly help guide the club's next generation as they watch him produce stellar performances consistently.
39. Farran Priest (Echuca United)
The perfect foil to Josh Mellington in attack for the Eagles, Priest will kick plenty of goals this season.
38. Jason Limbrick (Nathalia)
Limbrick can produce match-winning efforts in defence, attack or the ruck — making him one of the most versatile stars in the game.
37. Grant Gallus (Numurkah)
Speaking of versatility, Gallus is one of the best medium-sized utilities in the competition and does not receive the recognition he deserves for it. Can play a shut down role or take the game by the scruff of the neck down back or up forward.
36. Kian Wise (Rumbalara)
It would be un-Wise to underrate Kian Wise once more this season. He will become one of the best small forwards in the league and even push himself into the midfielder category.
35. Levi Power (Rumbalara)
Back out of retirement and loving it, Power gives Rumbalara plenty of class on the field.
34. Nathan Hicks (Numurkah)
Can kick a bag almost every week and is rarely outmarked. Hicks is up there with the best full-forwards in the competition.
33. Jye Warren (Numurkah)
One of Numurkah's co-coaches and leading the interleague squad, Warren has pace to burn and knows how to use it.
32. Ryan Butler (Nathalia)
Supremely talented defender who would be one of the unluckiest blokes going around when it comes to injury.
31. Alex Hicks (Nathalia)
Hicks is also a utility in that he can play anywhere on the field. A big game player and knows how to win a medal.