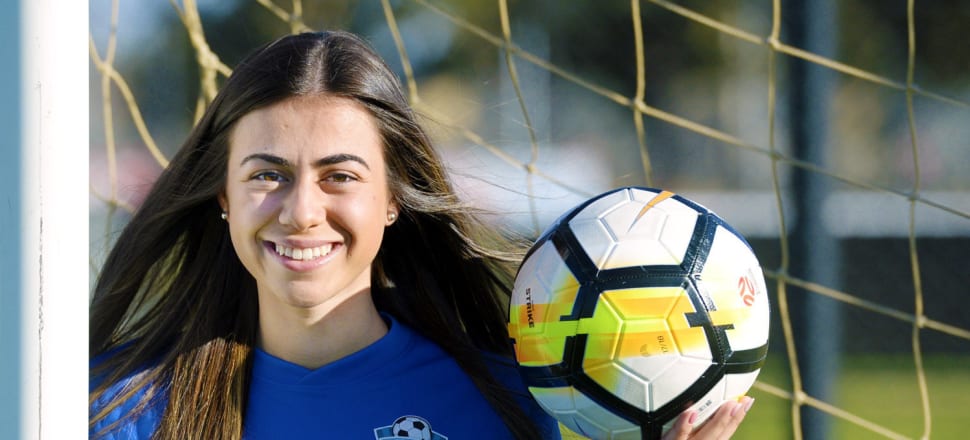 5370537724001
Shepparton United's women's side is the region's most unstoppable footballing force — and its most sparkling asset is 19-year-old phenomena Sophie Papalia.
Since debuting for the Blues' open age side at 13, the Kyabram product has compiled a goal-scoring record any footballer would envy, SportsTG records show she has scored 88 goals in 81 appearances.
A wicked winger with pace Usain Bolt would almost envy, the young Blue finished fourth in the Bendigo Amateur Soccer League's Player of the Year race last season — but given the way she has run the game in her first two outings of the season, she is an odds-on chance to claim the top gong this campaign.
Papalia caught up with Youth Academy's finest to plot the downfall of her footballing rivals.
United front
Calling a 19-year-old a stalwart might seem crazy, having donned United's famed number 10 shirt for some years now, it is fair to call Papalia a part of the club's furniture.
With seven grand final victories to her name — four senior and three junior — success follows the winger like a Jayco follows a Jeep.
Youth Academy: What is Shepparton United's women's side like to be a part of? And how has the club had so much success?
Sophie Papalia: It's amazing to be a part of, it's like a big family. It's like my second family and I love it.
There's no secret — it's just teamwork, and a lot of love for your teammates. It's all about working as a team and being family-based.
YA: Personally, how have you had so much goal-scoring success?
SP: I guess I'm just in the right place at the right time. The ball obviously has to get through all the girls to get to me and I'm just there to finish it off.
Probably my pace (is a strength) — that's what a lot of people say to me. I'm a left-footer too and you can't seem to find many of them these days.
YA: Last year's grand final was a tough game, but you found a way to beat Shepparton South 3-0. What was it like to be a part of?
SP: I was actually very sick that game. I remember, I came off the field and I couldn't talk. The girls were like 'what's going on?', but I just couldn't talk.
But the atmosphere was amazing, it's great having your family on the sidelines and everyone supporting you. It's great for women's soccer as well.
The past couple of years that's been our goal and what we've always been thinking about, the atmosphere and getting the chance to win the title.
YA: How do you feel about United's prospects this season?
SP: To come back and win our first game 4-1 was pretty good — it was like we never left. It's the same team with the same girls, so it's great.
From humble
beginnings
While she has now fallen in love with the great game of football, Papalia said that had not always been the case, initially reluctant to give the sport a crack.
Now her side's biggest weapon, given her wicked ability to run with the ball and break defenders' ankles, she said the time to try her hand at football's next level was quickly approaching.
YA: You come from a very football-oriented family — how do you feel that has helped your development?
SP: It's obviously helped me a lot having my brother (Rocky) and my dad (Rocky), just getting me motivated to get outside and play and stuff like that.
I've been playing since I was about 11 or 12, at the start I didn't like football at all.
I was a netball person, but one day Dad dragged me along to Rivers FC training in Wangaratta. It took me about half an hour to get out of the car and join in and I didn't want to. Ever since then, I've just loved it, I absolutely fell in love with it.
YA: You started playing open age games at quite a young age, how do you feel that has helped you?
SP: I first started playing in the open women's side when I was about 13 or 14. I was in the under-14s as well, so I was playing under-14 games in the morning, then switching over to the women, then playing the 16s in the afternoon.
Playing with the older girls at a young age, it was amazing to watch their skill and just grow from them. Hopefully the young girls in the United squad now can grow from us.
When I was younger and first started playing I was in the defence actually. As the years went on, I've kind of worked my way up, to the midfield and now up front.
YA: You played for the Victorian Country team at the 2013 National Youth Championships — how was that experience?
SP: Making that team was awesome, it was fantastic, just the best experience. The carnival was just a week, but the trials and training process was twice a week in Melbourne. That definitely helped me grow as a player, developed my skills and all that.
YA: Have you considered having a crack at a Melbourne-based NPL Women's side?
SP: It has been considered, Dad and I have had many discussions about it, but that might be something for next year. I just couldn't leave my United family yet. It's always good to come back home, it breaks things up from being in Melbourne all week, being able to come home and see all the girls from United.
YA: If the Goulburn Valley Suns had an NPL Women's side, would you want to play for it?
SP: Definitely. In previous years I've spoken with people about getting a women's side together, but they can't pull it together just yet. But if they do in the future, definitely.
Tiki-taka
YA: What has been your favourite footballing moment?
SP: It would definitely have to be Coffs Harbour for the nationals. The last game, it was either 3-2 or 3-3 in the last couple of minutes. We had a corner, the ball came in to me — I was the smallest girl on the field. I managed to get my head on to it and it went in.
I just remember turning around and looking and trying to find the ball. The girls were yelling at me 'it's gone in the net'. I looked to the sidelines and my dad and Mark Georgiou were trying to jump over the fence they were that happy.
YA: In saying that, what has been a low-point in your career?
SP: I haven't really had too many injuries, maybe a low point was a couple of years ago, I got really sick. I was diagnosed with Graves' Disease, which is an overactive thyroid. I was out for a couple of months, I wasn't allowed to play soccer or go to school or anything.
YA: Who is your footballing idol?
SP: Most girls look up to Sam Kerr, as I do as well. Her skill and obviously her pace is incredible, and what you aspire to play like.
YA: If you could play for any team, who would it be?
SP: The Matildas would be awesome.
YA: What is your next career goal?
SP: Hopefully at the end of this year we'll take home another cup, and maybe next year I'll try out for the NPLW, and see how far I can get there.
Youth Academy is an ongoing investigation into the Goulburn Valley's footballing wonderkids. Each week we will profile an upcoming talent who has captured the attention of the local football scene.