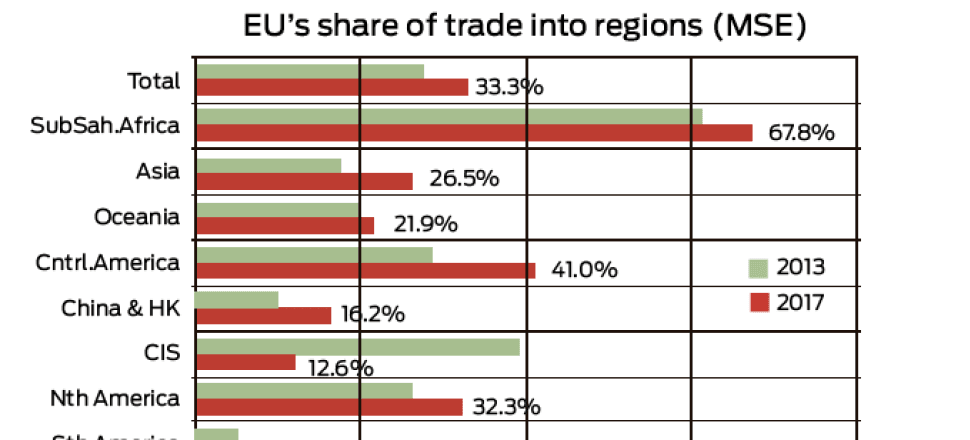 5370537724001
AS PART of our work, we have a unique ability to add up the dairy product that is traded around the world and look at the larger trends that will continue to influence returns for farmers.
We recently did a round up of 2017 trade, which at first glance grew an impressive 3.2 per cent in milk equivalent — based on exports of milk powders and cheese.
However, this was compared to the 2016 year when the EU was busy building its SMP intervention mountain. In 2017 EU-28 SMP exports grew 36 per cent after falling 17 per cent in 2016, with the bloc accounting for 35 per cent of trade.
It's been an impressive performance from EU exporters overall in 2017, who have more than recovered from the loss of the 250, 000t Russian cheese market, which continues to be closed to them.
EU's trade expansion since the Russian embargo was imposed back in August 2014 has been broadly based — including Middle-East and North Africa (MENA), where there is a proximity and some preferential access, but also growing Asian and North American markets. [See Graphic 1]
Looking at overall dairy trade on the basis of milk solids (based on fat and protein in common product specifications for WMP, SMP, butter, AMF, whey powder and FFMP and taking account of estimated composition of cheese sales) - the actual volumes of butterfat and protein exported is more indicative of the market reality.
In milk solids equivalent terms trade improved marginally — just 0.4 per cent over 2016, but with divergent underlying trends. Supply shortages and high prices stifled trade in butterfat, which fell 4.4 per cent in 2017. [See Graphic 2]
On the other hand, protein trade increased 4.4 per cent, thanks to increased SMP trade. In fact, global SMP trade grew 8 per cent in 2017 to reach an all-time high, underpinned by demand from frugal buyers stocking up on cheap ingredients.
The other growth product for global bargain hunters was fat-filled milk powders (FFMP) — a range of products and mixtures that substitute non-dairy components to reduce ingredient costs.
FFMP exports grew 14 per cent in 2017 — key demand regions included sub-Saharan Africa, MENA and the CIS.
Cheap SMP and the rising popularity of FFMP have kept a lid on WMP prices and demand. Global WMP trade fell 3 per cent in 2017, and almost 13 per cent since China's late-2013 buying frenzy peaked.
WMP demand in China and SE Asia improved in 2017, but this was more than offset by reduced imports from price-sensitive MENA buyers and a more self-sufficient South American region.
New Zealand is highly exposed to WMP, and its exports actually fell 5.6 per cent in milk solids in the face of more aggressive competition from EU and US competitors.
Infant formula gets a lot of coverage in the media in Australia, but when it comes to trade it's all about EU and China. Global trade in infant formula grew 13 per cent in 2017, with the EU accounting for a massive 76 per cent share.
On the demand side China (including Hong Kong) accounted for 47 per cent of infant formula imports, as the trend toward finished products and away from base ingredients continues.
To put this demand growth in perspective, in 2014 China represented less than 30 per cent of trade. Just in 2017 Chinese infant formula imports grew 38 per cent.
Where did Australia figure in dairy trade in 2017? On a milk solids basis, the industry accounted for 5.2 per cent of global dairy trade.
This ranks the industry fifth — behind Belarus, which has been a significant beneficiary of the Russian embargo. In fact, Australia's dairy imports were slightly more than half of it exports on a milksolids basis in 2017.
Cheese is the key product exposure for Australia's southern dairy industry, and global trade in that category grew steadily at 2.5 per cent in 2017.
EU exporters increased shipments by 4 per cent in 2017 to account for 41 per cent of trade in the category. Australia had an 8 per cent share of cheese trade in 2017. While cheese is an important export, Australia has also steadily increased cheese imports over the years, and in 2017 there was a notable increase in cheaper US product.
This reflects global sourcing strategies of quick service restaurant and food manufacturers and underlines the fact that Australia is part of a global dairy market.
Even if exports account for a smaller share of milk production, imported product ensures the domestic market for tradeable dairy commodities can't be insulated completely from international price trends.
It was a strange year for dairy trade in 2017, and it's largely a story of EU policy and market dominance across the major product categories.
In the face of intervention policy and resurgent milk production, New Zealand weather gyrations have been something of a side show in 2017 — with arguably much less influence on commodity prices than we have seen for most of the decade.
As the 2018 global dairy trade story unfolds it will continue to be mostly about the EU. Grab the popcorn and watch this space.