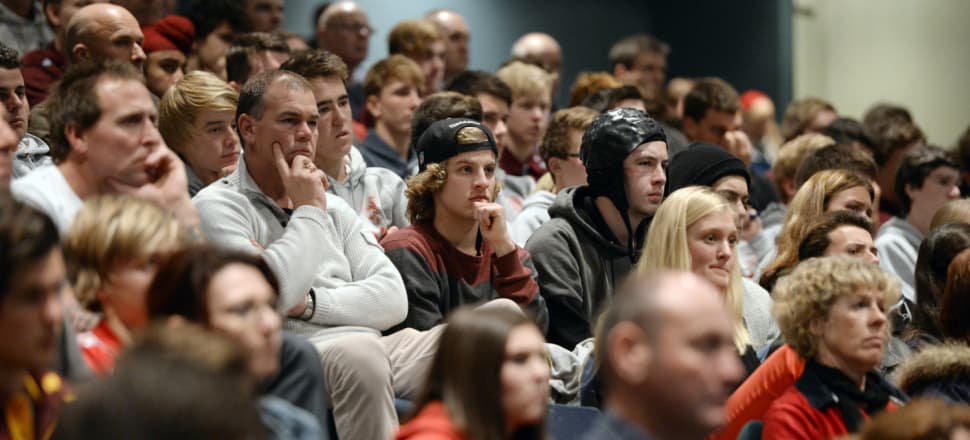 5370537724001
The fact that a program started in Shepparton and dedicated to saving young lives is celebrating its 10th birthday is something that the community should be proud of.
Cool Heads was introduced in 2008 because too many young people were dying or being seriously injured on our roads — and local police realised something needed to be done.
Remarkable statistics show that the program has undoubtedly had an impact. Drivers aged 16 to 25 are now 72 per cent less likely to be killed or suffer a serious injury than they were 10 years ago.
Three Cool Heads events are organised each year, with attendees hearing impactful stories from those who have been directly or indirectly affected by road trauma, including family and friends, police and other emergency services.
Some attendees are forced to be there due to a court order while others are there voluntarily, including those from regional sporting clubs.
The program makes no apologies for the fact that it is graphic. In addition to the often emotional stories of guest speakers, the events also feature strong imagery that is designed to open people's eyes to the dangers.
While it may be confronting to many, that's exactly the point.
It's designed to shock, provoke thought and ultimately bring about change in behaviour.
It's also meant to get people to imagine how things would be if it happened to them, or one of their family or friends.
Leaving a Cool Heads event after reporting on it for the first time more than two years ago, I could not help but be affected by the content presented in the program.
It makes you acutely aware of what is possible if you don't pay attention, lose concentration, take a risk or speed.
If people take a different perspective on driving out of the event and are more aware of the dangers they and others face if they take risks, then the program has done its job.
Statistics show that, resoundingly, the initiative is absolutely succeeding.
Police involved in setting up the program, and those who have ensured its ongoing sustainability over 10 years, should be proud of what has been achieved.
Community partners who have shown their support for Cool Heads over that time should also look back on the success and know they have played an important part.
It is an incredibly worthwhile initiative that The News is proud to be a supporter of, and long may this crucial program continue.
Cameron Whiteley is The News' editor.