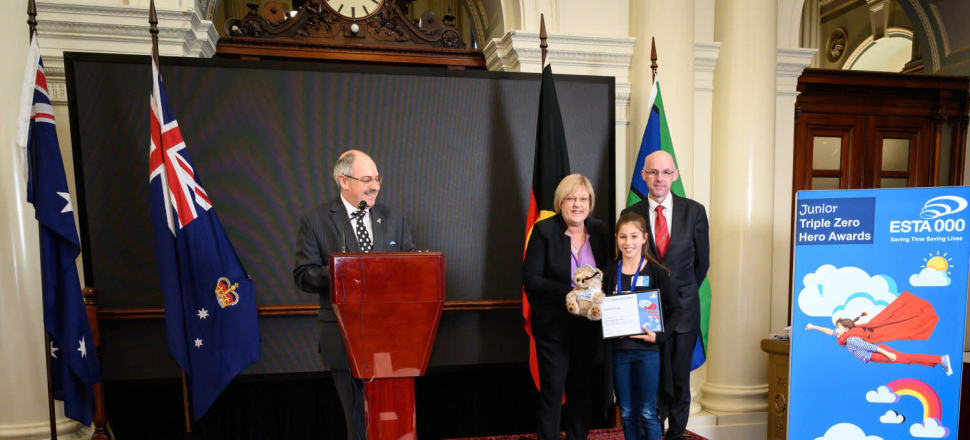 5370537724001
Two Mooroopna youngsters have been recognised among some of Victoria's bravest and named Junior Triple Zero Heroes by the Emergency Services Telecommunications Authority.
A total of 28 young Victorians aged between three and 16 were given awards on Thursday at a ceremony at Parliament House in Melbourne.
Amongst the young heroes recognised, Jessica Church, 10, and Jorden D'urso, 10, were nominated by the ESTA operators who took the emergency calls.
Coincidently, the Year 5 students are friends who attend the same class at Mooroopna Primary School.
Ten-year-old Jessica called 000 when her mother, Angela Church experienced difficulty breathing due to sharp pains in her chest.
''The ambulance officer talked me through the call and helped me monitor mum's condition,'' Jessica said.
Mrs Church said it was surreal listening back to the triple zero call at the ceremony.
''I don't remember a lot after lying down on the bed so listening to the call yesterday I was just so proud,'' she said.
Jessica said the officer stayed on the phone with her until the ambulance arrived.
''They told me if I didn't call triple zero mum could have gone into a coma,'' she said.
A similar experience occurred at 10-year-old Jorden's home when her mother, Rebecca Wells experienced difficulty speaking between breaths due to chest pain.
''They talked me through mum's symptoms and I gave them our address and phone number,'' Jorden said.
Ms Wells said she kept the nomination a secret from Jorden to surprise her oldest daughter at the ceremony.
''It was an even bigger surprise to see Jessica there — I just thought what are the odds,'' she said.
Police and Emergency Services minister Lisa Neville said the bravery and courage shown by young Victorians during emergencies was inspirational.
''More than 2.5 million emergency calls are made to ESTA through the Triple Zero service every year, but the actions of these brave young Victorians in situations that would unsettle most adults deserves our recognition and praise,'' Ms Neville said.
''I congratulate them on their outstanding efforts.''
ESTA CEO Marty Smyth said teaching children when and how to call triple zero, including knowing their home address can save lives.
''We tell parents and carers that the life a child might save could be yours," Mr Smyth said.