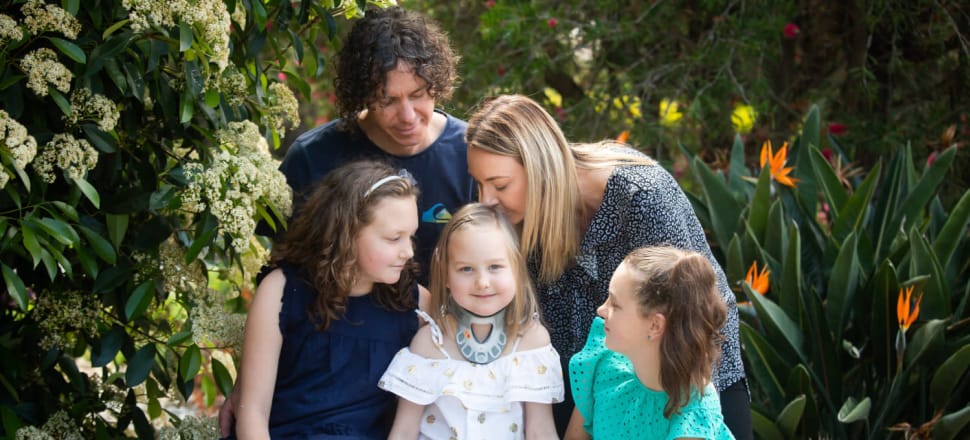 5370537724001
The lives of the Sharp family were turned upside-down recently while on a routine trip home from school.
Jane Sharp and her three daughters were involved in a three-vehicle collision at the Kialla West Primary School crossing on Goulburn Valley Hwy last month.
She had been travelling north with her children in the car when a truck collided with the rear of their vehicle, which had been stopped at the school crossing.
The force of the truck pushed Mrs Sharp and her daughters forward, narrowly missing students who were using the crossing after finishing school for the day.
The collision left Mrs Sharp with head lacerations, a concussion, a fractured rib, whiplash and a torn biceps.
Her eldest two daughters — Laylah and Milly — were taken to Goulburn Valley Health with soft tissue and whiplash injuries but it was the condition of her youngest daughter — Addison, 6 — that would see the family spend almost one month at the Royal Children's Hospital.
Mrs Sharp said they had many sleepless nights following the incident, after her daughter was scooped up and airlifted to Melbourne with her husband Steven.
''Addison was put in an induced coma and had a breathing tube to keep her airways safe,'' she said.
Upon arriving at the Royal Children's Hospital, Mrs Sharp said they were told Addison was in a critical condition.
''She went straight to theatre for a four-hour procedure to have a Codman (brain monitor) put in,'' she said.
''Words can't describe how I felt seeing her, my heart was breaking and my whole body hurting from head to toe.''
There was a long road ahead for the Sharp family who, at that stage, did not know the full extent of Addison's injuries or if she would make a full recovery.
''It was frightening; a lot of tears were cried in that ICU room, feeling helpless as she lay there,'' Mrs Sharp said.
''The worst part was that the next 24 to 48 hours were going to be the most critical as the swelling increased.
''They could not tell us the extent of Addie's injuries as she was too unstable for an MRI scan — this was agonising.''
Addison had suffered a severe head injury.
She had two eye socket fractures, two zygomatic fractures, a mandible facture that required surgery and for a plate to be put in, a C1-2 fracture and unstable ligaments in her neck which required a hard collar for 12 weeks. Addison also lost eight of her teeth and suffered a moderate brain injury.
It was a terrifying time for the family.
''When she woke up, a whole new journey started. The days and nights were long; we had amazing family and friends sending food to the hospital for us so we could just heat it up,'' Mrs Sharp said.
''We stayed in ICU for eight days, then moved to Cockatoo neuro ward and then to Kelpie the rehabilitation ward.
''It was the small wins we had — like she was able to sit up for 30 seconds with me holding her; the next day she put her feet over the edge of the bed, and the next day she put them on the floor and shuffled a little.
''Her walking improves each day; she still needs to be followed around as the collar she has on prevents her from seeing what's in front of her. Her legs get tired very quickly so she is a high falls risk.
''She still has a long way to go with her cognitive fatigue, more surgery on her jaw and the missing teeth; her jaw hasn't lined up.
''And they hope to start a graded return to school within the next month for a few short social visits.''
While Laylah and Milly have returned to school, Mrs Sharp said the collision and the injuries that resulted had a huge impact on the family.
''The impact the accident has had on me, my family, friends and everyone who witnessed it has been huge; lots of tears and sleepless nights,'' she said.
''Someone stayed by Addie's bed at all times; she was never alone the whole time.
''Steven and I shared sleeping there, and the nights I didn't sleep there I was back there at 5am.''
While the family has now returned to Shepparton, Mrs Sharp said things had been challenging for Addison in terms of having visitors or going on outings as well as getting sleep.
Mrs Sharp said it had been frustrating — parents and staff at Kialla Primary had been pushing for safety improvements at the Goulburn Valley Hwy crossing site for years.
''It's not until something serious happens that they look into it,'' she said.
''Whether they do anything about it remains to be seen.''
According to the Victorian Government, a safety audit was conducted by Regional Roads Victoria following the collision.
Despite the tragic nature of what has happened, Mrs Sharp said they had encountered so many amazing people on this journey.
''There are so many people I would love to thank, but I certainly don't want to leave anybody out so I won't mention anyone individually. They know who they are. There are beautiful people close to my heart — they message, call, send food, gifts and most of all lots of love.
''Thanks to all of the parents and teachers that came to our aid and comforted Laylah and Milly while I was with Addie.
''Thanks to the ambulance officers and the amazing ICU staff and nurses. Thanks to all the children and teachers at Kialla West PS for all the cards and gift packs.
''And a special thanks to the children — they held a footy day and all the children donated a gold coin and then the kids donated that to our family.''