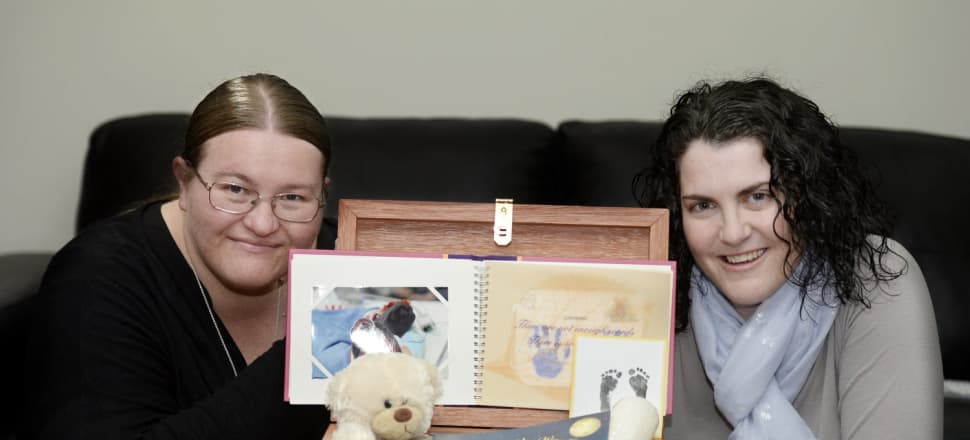 5370537724001
Two local women are turning their own tragedy into support for other mothers and families who experience the death of an infant, and they need community help in the form of an online vote.
Tammy Mills-Alexander and Erin McCarroll both suffered the loss of their babies and both were helped through the grieving process by a gift of various items presented to them as they left hospital in Melbourne.
The pair have developed a similar program titled the 'With Love Project,' which they currently run via donations to source a gift box of handmade items to be given to local mothers experiencing grief.
If they secure enough online votes from the public a Victorian Government grants scheme will allow them to expand their efforts and guarantee the program for up to a decade.
Eight years ago, Ms McCarroll's son Cormac died six days after his birth. Ms Mills-Alexander's baby Ryan was nine weeks old when he died in 2015.
A chance discussion lead the two to compare experiences and ignited a desire to help families going through the same tragedy.
"We felt there was a need to assist Goulburn Vally Health in the procedure they already have and try to expand it using our community resources," Ms McCarroll said.
"At the moment we have between four and 12 babies a year at Goulburn Valley Health that pass away either at birth or shortly after."
The hand crafted boxes contain a number of items including quilts, plaster casts, a teddy bear, candles and photo album.
"The idea between all the different things in the box, throughout the journey of grief, different things have different degrees of importance at different times," Ms McCarroll said.
"We both have two other children. With us originally the rug was really important, then when the kids got older the plaster was really tangible for them to understand," Mills-Alexander added.
"The idea of the box is for people to take home and some may never open it. Some may take months to open it, some may take years."
Various Shepparton groups and businesses are already involved in the creation of the gifts.
Local toymaker Steve Harmer crafts the boxes and the Shepparton Quilters Guild supplies the blankets. GV Health donates gowns and teddy bears.
A grant of $21,000 from the Victorian Government's Pick My Project scheme would secure the With Love Project for years to come according to Ms Mill-Alexander and Ms McCarroll.
The community grants initiative will fund $30 million dollars' worth of projects, with each receiving between $20,000 and $200,000. The money is awarded based on the number of online votes a project receives.
The 'With Love Project' organisers aimed their grant request at the very low end of what was on offer seeking only to cover the cost of production for the various objects involved.
Anyone wishing to vote for the 'Wish Love Project' can do so by visiting pickmyproject.vic.gov.au, facebook.com/pickmyproject or by phoning 1800 797 818.