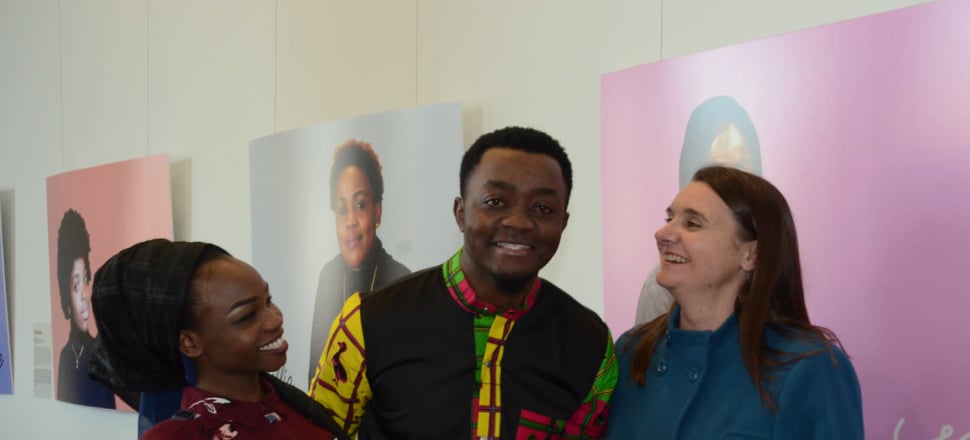 5370537724001
'Natural is beautiful' is the message being spread through Shepparton's African Hair Project — I Am Beautiful.
Congolese-born Jean Michel Batakane, local photographer Liz Arcus and Sydney-based artist Jagath Dheerasekara have captured 15 African people living in Shepparton, exploring their ideas of ''good hair'', their relationships with their hair and how beauty ideals had influenced their lives.
''Culture is what makes someone,'' Mr Batakane said.
He said the project was a way to make African people feel proud in their skin and their hair, given there was a lack of representation of African people in modern pop culture and the media.
''Shepparton now has more Africans than ever,'' Mr Batakane said and added the project was as much about educating the general public as it was about showcasing the beautiful people in the exhibition.
''A lot of people don't understand African culture,'' he said.
''Africa is very diverse; there's people from all backgrounds, skin colours, hair types, etc.''
The project is facilitated by Multicultural Arts Victoria and STARTTS (NSW).
A Multicultural Arts Victoria spokesperson said hair had aesthetic, social, psychological, cultural and religious significance across the globe and was interwoven with so many aspects of life.
''Since colonisation, Western hairstyles and colour as archetypes of beauty have often suppressed natural African hair and beauty as unconventional, uncivilised and problematic,'' the spokesperson said.
''Despite this, many innovations such as braids, cornrows and dreadlocks have been borrowed from African hair culture and are now considered mainstream.
''And yet, most non-African people are naive about the everyday maintenance of African hair, let alone its politics.''
Ms Arcus hoped the stories of the models involved in the project would bring people from all different backgrounds together, sparking conversations and creating inspiration.
''Hearing the messages from the community is why I get so passionate about working on these types of projects,'' she said.
Model Sahar Elnour said she had enjoyed being involved in the project and added ''beauty came from understanding who you are and loving yourself''.
''Before I came to Australia, I used to think a Caucasian style of hair was more beautiful than my own, but now I think I am becoming more accepting of my hair,'' she said.
Ms Elnour and Mr Batakane agreed the movie Black Panther had helped Africans to accept their hair type and who they were.
''We can't all be the same; if we were all the same it would be boring,'' Ms Elnour said.
Showing in the Riverlinks Eastbank foyer until July 30, Mr Batakane and Ms Arcus encouraged everyone to visit the exhibition.
There will be a night of celebration this Friday from 6pm to 9pm for a free event in the exhibition space with live music, dance performances, artists' talks, a film screening by Mr Batakane and a special performance that playfully explores beauty, empowerment and self-expression of African Australian women by Wanyika and Niwa of 2 Sydney Stylists.
For more information, visit the website at www.multiculturalarts.com.au