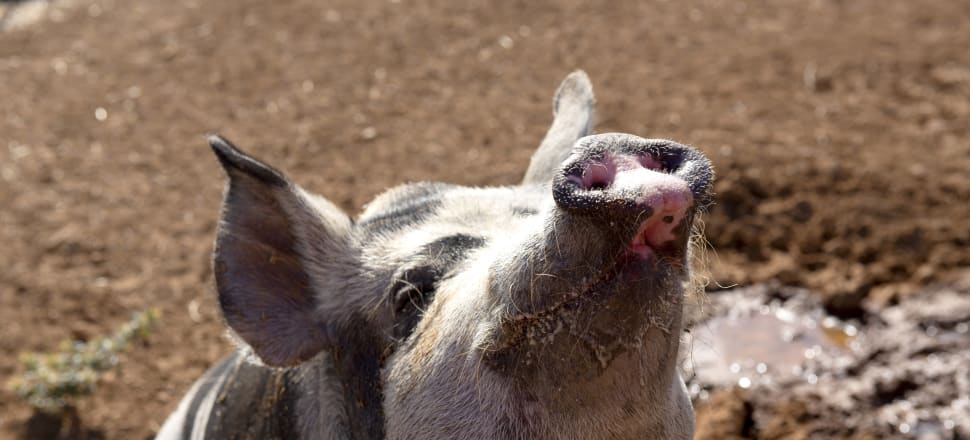 5370537724001
Dotti the pig will celebrate her fourth birthday in April on the Duckworth-Humphreys farm at Invergordon where she has left her days of bottle feeding and destruction behind.
The beloved pet was brought home as a birthday present for Ian (Lou) Humphreys by his wife Karen at four weeks old.
''Dotti was supposed to be of small variety, she was supposed to be handled and quiet and when she was grabbed out of the cage she screamed the joint down and bit and kicked and squealed,'' Ms Duckworth-Humphreys said.
''I put her in her pen and I couldn't get near her, she would charge at me and try and bite me and I thought, 'Oh my God, what have I done?'.''
Ms Duckworth-Humphreys said in a bid to soften Dotti's character, she began to bottle feed the piglet.
After a day of bottle feeding, she said Dotti became the gentle piglet the family had intended.
''I then started training her to sit before she had her bottle and she used to roll over if she wanted a scratch — just to teach her some manners really,'' she said.
''I used to have a harness and she used to come around and check the cows with me every day — so I'd have the dogs and the pig and we would walk the farm.''
Dotti spent her days playing chasey with the dogs, but Ms Duckworth-Humphreys said as Dotti grew older she gained an attitude.
''As she grew, she grew very big and she got to the stage where she became very food-oriented. She would try and get into the chook pellets and all the bird aviaries and it became quite dangerous because she would head-butt the bird aviaries and just knock them over,'' she said.
Ms Duckworth-Humphreys said one story that stood out was the day she came home to powdered milk everywhere.
''We've had a few days where she's escaped and got out of her pen — one time I had bags of calf powdered milk in the pergola and she's got into the pergola and ripped them, and I had milk powder and slobber all over my decking,'' she said.
Now Dotti is ''living the pig life'' in a paddock of her own.
''I go over there twice a day, she gets morning and night feeds so that I do interact with her regularly. She still loves her scratches, she's just too big, too strong but still very spoilt,'' Ms Duckworth-Humphreys said.
If you have a story about your pet you would like to share with the News, phone Madeleine on 58203226 or 58203221.