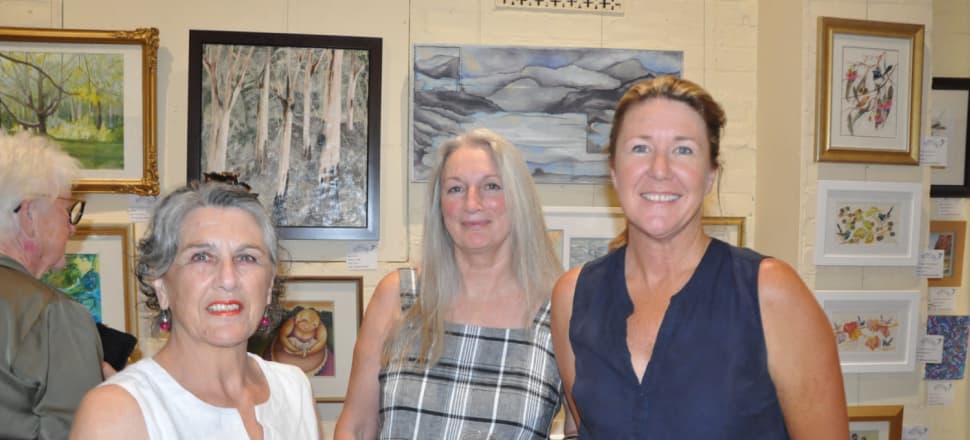 5370537724001
As the doors opened to the ArtLife exhibition, former art teacher Sylvie Munson sold one of her artworks almost immediately.
Mrs Munson is one of the 18 artists whose works are currently displayed at the Peppin Heritage Centre.
Her 10 paintings and five sculptures have attracted much interest with one selling for $240.
''My first exhibition was in 2008 and that is where I sold my first piece of artwork,'' she said.
''At every exhibition I've sold artwork, it's a thrill to be able to produce works that sell.''
Despite either working full-time or part-time and running marriage workshops, Mrs Munson still makes time for art, saying it's a priority and passion in her life.
''People who say they don't have enough time is a load of rubbish; I will get up at 5am to give myself time to work on some art,'' she said.
''At night when I go to bed after working on something I can only think about how much I just want to keep painting.''
Mrs Munson thrives in mixed-media and sculptures which will usually have a touch of blue in them.
''Blue is my favourite colour, I love to use it.''
The ArtLife's members were once a part of the Edward River Art Society but just over a year ago separated and formed a new group due to creative needs not being met.
''I have been with this group of ladies since 2006,'' Mrs Munson said.
''They have inspired me and encouraged me in my artworks ever since I moved to Deni.
''This is a very happy, peaceful and productive group. We support and encourage each other's artistic endeavours.''
Artist Jill Hooper also praised the group, saying they are all very caring and nurturing.
''People who come along are welcomed and helped with the technicalities of art,'' she said.
''Most of my work is inspired by nature. It's the macro and micro parts of nature.
''I love the outback, and the texture of anything from nature is really interesting.
''I've always needed to do something creative since I was a child; I just have to create and have projects to work on.''
Mrs Hooper has seven paintings and seven photographs on display at the exhibition all inspired by nature.
She also has a collection of more than 500 glass vials with her own assortment of acrylic paint.
''I mix my own paints and put them in vials so that I have all the different hues available.
''I also paint the cap of the vial because acrylic paints change when they dry, unlike watercolours or oils.''
ArtLife founding member Bronwyn Bathgate opened the exhibition with some help from their guest speaker and local pharmacist Eric Sim.
''It is lovely to have someone who supports everything in the community,'' Mrs Bathgate said.
''We also actually buy some of our art supplies at his chemist, much to his surprise.
''We really do have a lot of fun and the group enables us to do that,
''We have exhibited around the region, with our artists winning awards, prizes and sales.''
The group's first Deniliquin exhibition is on show at the Peppin Heritage Centre in George St until February 20.
Most works on display are available for purchase.
Entry to the exhibition space is $3 per person.